---
Other Catskills Locations
---
These are locations in the Catskills other than mountains that are above 3500 feet in height. Even though they are not high peaks, some of them payed off with great views, and provided some very enjoyable hiking and camping.
---
Climbed: 10/11/97
10/10/97 Friday Ken arrived a little after 8; made lunch, put stuff in the car, etc., hit the road a little after 8:30. Picked up Dunkin Donuts breakfast, and headed upstate. Hit Dunkin Donuts again at a rest stop and picked up lots of little creamers for camp coffee. Passed through Tannersville, then up through backroads to a parking area at the trailhead. Somewhat chagrined to see a high-school bus parked there, but it was loaded with packs, so we didn't know what was happening there. Not much different with the packs this time; Bill has some additional quick release straps instead of rope for the sleeping bag, and we have a little extra water (6x~17 ounce and 1x~12 ounce each) because we know there will be little opportunity to find water sources. Ready to hit the trail about 12:45, unfortunately leaving the creamers in the car.
1:00 Signed in at the register on the Black Dome (BD) trail. Noted that the bus of people had been out for a night, and were heading out for a day hike in the other direction (whew!). Started up the BD, on a picture perfect day - deep blue skies, peak foliage colors, cool - just great.
1:20 Intersection of the BD/BK (Batavia Kill) trails (0.5 miles). We have been following the Batavia Kill since the start (and drove along it on the way in), and will continue to follow it most of the way along the BK. Hiking is great - gentle climbs and not bad footing, although leaves can obscure rocks and roots.
2:00 Reached the BK lean-to (1.2 miles). A nice little area with a couple of fireplaces and a good sized lean-to. Rested, had our lunch (sandwiches and granola bar). Emptied one water bottle with lunch, so decided to fill up from the Kill. Had a problem with the water filter, so just filled up the bottle directly for boiling later. Another couple stopped here also, but they were going to camp at the lean-to and take day hikes. Back on the trail at 2:25.
2:40 Intersection of the BK/ES (Escarpment - part of the Long Path) trails (1.45 miles). More difficult climbing involved in this last stretch, but given the beautiful weather and conditions, real easy compared to last hike!
3:10, 3:25 Nice views of the Hudson valley. A little bit of haze, but very pretty scene with all the fall colors. At this point the plan was to pass Acra Point and look for camping area on the flatter sections beyond. As we proceeded we realized we weren't seeing as many likely places as we hoped, and also didn't have a great feel of how far we were from the Point, or how far we would have to go beyond. Gave ourselves until about 4:30 to find something.
4:30 Not having hit Acra Point, we backtracked a short way and bushwhacked into a likely area (~3.05 miles). Many trees in this area (meaning no obvious large clearings) and lots of stone.
10/11/97 Saturday Up at 7:00. Overcast skies and a little fog, all burning off by mid-morning (pretty chilly though). Got the bear-bag down, etc.
7:30 Breakfast time. Started with a great cup of coffee from dip-bags and Creamora, followed by 3 eggbeaters eggs with Bacos each. After that came a full serving each of oatmeal with raisins. Food was eaten in record time, and tasted exceptionally good - must be the outdoors.
8:30 Break camp. Pretty simple - dry weather meant no mud or water to clean off. Done by 9:15-9:30.
9:40 Last cup of coffee, broke down the stove and finished packing.
10:00 Left camp, and bushwhacked back down to the ES trail. Hit another nice view of the Hudson valley about 10:15.
10:40 Great view south on a rocky ledge near Acra point. Good views of Thomas Cole, Black Dome and Blackhead mountains south, and of Burnt Knob to the west. Met a young family here day-hiking. From here started heading down from the escarpment to a saddle between Acra Point and Burnt Knob.
Ken at a junction, near Acra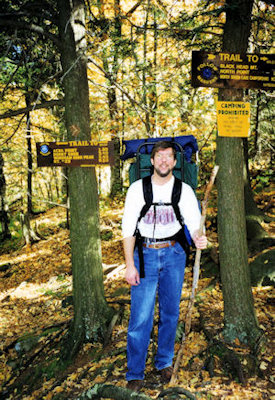 Me holding up a tree, enjoying the view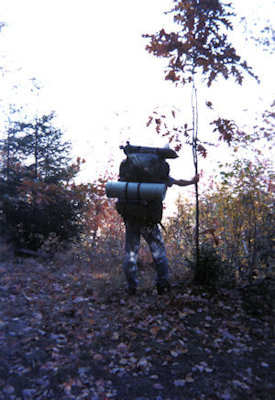 ---
Climbed: 10/11/97
(continued from Acra Point 10/11/97) 11:00 Intersection of ES/BD trails (4.0 miles). Bushwhacked off a little and dropped the packs, putting lunch and water in garbage backs tied to our waists.
11:15 Continued along the ES trail up Burnt Knob. Some difficult climbs here, making us glad we didn't have the packs. Passed a nice view back towards Acra Point (could see the south view ledge we were at) and circled the summit of Burnt Knob to the west side.
12:15 Reached the great view north (~4.85 miles). Off in the distance northeast we could see some tall buildings; probably Albany. A double rock ledge made a nice spot to sit with a backrest, enjoy the view and have lunch. Lunch consisted of canned chicken, cheese, carrots and pudding, with a last beer for Ken. As we were finishing up the couple that was staying at the lean-to showed up.
12:45 On the trail, backtracking around Burnt Knob.
1:15 Arrived back at the packs (~5.7 miles). Packed the lunch garbage, and started down the BD trail. Easy hiking, with gentle downhill slopes.
2:00 Dried fruit snack on the trail. We have run into a number of other hikers, not surprising given the beautiful weather and it being Saturday.
2:20 Hit the road we came in on. Took a few photos at a bridge over a stream.
2:30 Back at the car - end of the trail (~6.8 miles). The road is packed with cars parked all over - very glad we had Friday to ourselves. Loaded the car, changed shoes, and walked the short ways back to the register to sign ourselves out.
2:45 Back on the road home. Stopped in Tannersville for gas and snacks, and at a rest area for coffee for Ken, dinner for Bill. Back in Levittown before 6:30 - a perfect backpacking trip.
A view back to Blackhead and Black Dome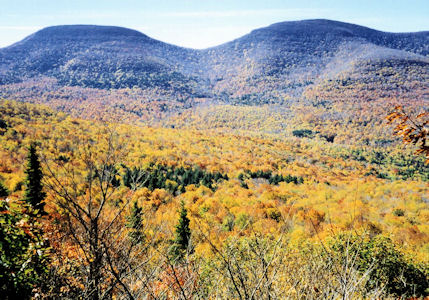 Our destination of Burnt Knob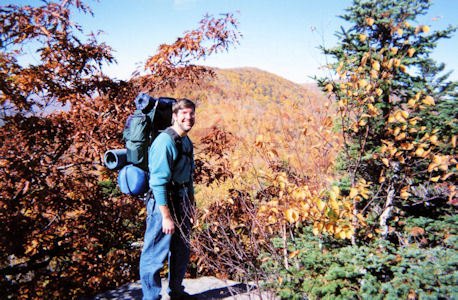 Ken looking back to Acra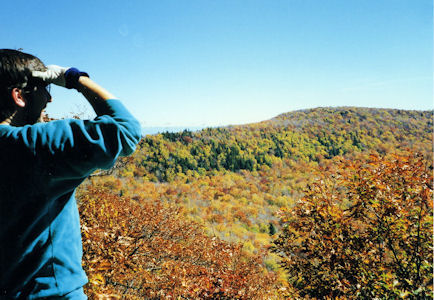 Me at a view from Burnt Knob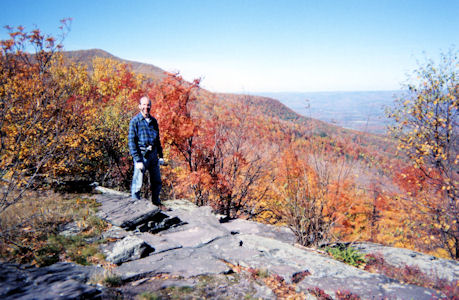 Me on a bridge near the end of the trail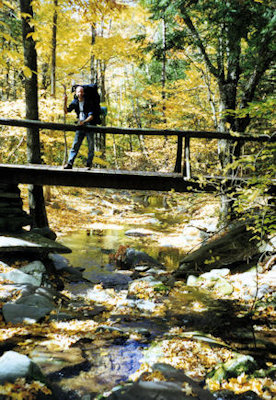 ---
Climbed: 5/10/05
05/10/05 Tuesday 7:30 Out of the tents, and did the usual first coffee, eggs, and oatmeal breakfast, which never fails to disappear in seconds. Making breakfast was very convenient, having set up on a huge log down on the streambed rocks, allowing the cook (Bill) to stand up. This also made cleanup by the busboy/kitchen staff (Ken) easy, as the stream was just feet away.
9:00 Started breaking down the camp, got the tents down, made the last cup of coffee, and got ready to move out.
10:35 (delta 0.1, total 8.0 miles) Back at the car. Organized the day packs again, and hit the road, going back down Platte Clove Road to the Long Path trailhead which heads up High Peak. Hit the trail at 10:50. A lot of the first parts of the trail were nice and easy, since we were following an old "road", now also a skimobile trail. The weather was still spectacular, maybe a little hotter than yesterday, and really not many bugs at all either day.
~11:20 (delta 1.05, total 9.05 miles) Junction with the Huckleberry Point trail. Continued on a fairly gentle trail. Passed foundations from some old structures, and saw a couple of deer. Near the end of this stretch, had to climb a reasonably steep stretch (but nothing like yesterday), then back down again (unfortunately, since we knew we'd have to climb on the way back).
12:30 (delta 1.4, total 10.45 miles) Wow! Reached Huckleberry Point, with a magnificent view south and east, voted by us as best in the Catskills (so far). We were on a rock ledge high over the Platte Clove below, looking at the Devil's Path to our right and off to the Hudson Valley to our left. The cool part was that all the mountains we could see, from Indian Head all the way to Hunter, we had climbed. We could even see the Hunter tower. We looked down into West Saugerties and picked out a spot in town we hoped we could stop in and look back at the ledge. After taking photos and enjoying the view for a while, we broke out our lunch of carrots, chicken and cheese. What a spot for a picnic! Hung out a while more, then hit the trail back at 1:30.
2:30 (delta 1.4, total 11.85 miles) Junction with the Long Path.
3:00 (delta 1.05, total 12.9 miles) Back at the car. Cleaned up and hit the road. Stopped in West Saugerties and managed to find a spot to look back at the mountain. On the road, stopping for gas and snacks before the Thruway, dinner for Bill at the Ramapo rest area, and back to Long Island, hitting traffic starting at the Cross Island. A great couple of days in the Catskills, and one more 3500 in the bag.
Me signing in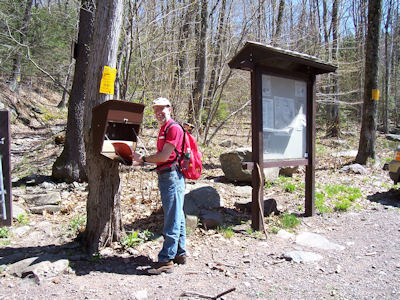 We're on the right trail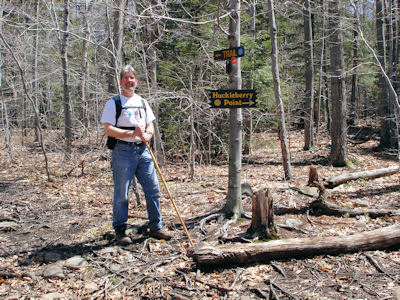 Me enjoying the view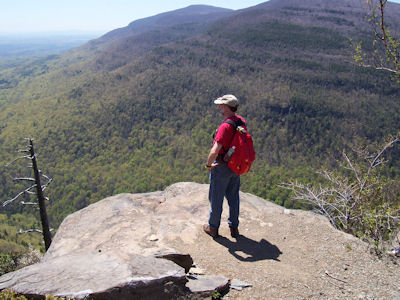 Ken checking out the Hudson Valley
What a panorama!

---
Climbed: 5/6/09
5/6/09 Friday With work and travel pressing, and weather being really unpredictable, we decided to give a day hike a shot. Bill to Ken's house at 6:15 in the Explorer and immediately on the road, stopping at Dunkin. Usual route up the Thruway and 28, but soon off onto side roads through Woodstock and to a parking area just north. Weather is cool, in the 50's, with rain clearing but fog hanging in there. A number of cars already in the parking lot – this is a very popular hike. Loaded up quickly and on the Overlook Spur trail at 9:40. Calling this a "trail" is misleading, as it's a wide road-like path covered in gravel. It's still pretty steep, so we needed rest breaks as usual, but the footing made the hiking easy.
10:50 Hotel (delta 1.85, total 1.85 miles) Appearing out of the fog is the skeleton of the Overlook Mountain House. This third shot at a Catskills resort was started in 1928 but never completed. We wandered around the shell, going up stairs with no destination, down into lower rooms (tricky footing at times) and generally checking things out. The shell is stone and concrete, and we noted that there had been wooden beams that were secured in the edges of the rooms that had since rotted and fallen down into the rooms. The whole place was very cool and somewhat eerie. We thought at this point that the fog was breaking, and actually caught some sun for a bit, but it slowly faded away. Right behind the hotel the trail terminated in the Overlook trail, which we got onto at 11:15.
11:30 Peak and Overlook (delta 0.5, total 2.35 miles) Passed the mountain peak with tower and museum/ranger cabin (closed), which we'll return to, and reached the overlook. According to a woman with whom we chatted here, the view is incredible, looking over Woodstock, the reservoir and the Hudson valley; unfortunately, our view was about 50 feet from the open rock ledge. Oh well. We had our usual lunch here, hoping for clearing, but no go. Back on the trail at 12:20 and went back short way to the tower, now completely in fog. Bill climbed up to take photos of Ken (barely seen), and then back on the trail down. Except for the usual pounding on the knees going steadily downhill, we blasted right down the mountain. Note: everyone else we saw was pretty much just in basic walking-around clothes, and maybe had a dog, so we were a bit over-equipped with our packs and GPS.
1:20 Parking (delta 2.35, total 4.7 miles) Back at the car. More people showing up here as we prepared to get back on the road. The weather down here was clearing up, but we could see the mountain top was still socked in. Maybe we'll redo this sometime (from the north?) to catch the great view. On the road, with quick stops for gas, drinks and bathroom in pretty light traffic. Arrived at Ken's house around 4:30, and Bill home a little after 5. Not the most exciting of hikes, but at least we got one in.
The front of the Overlook Mountain House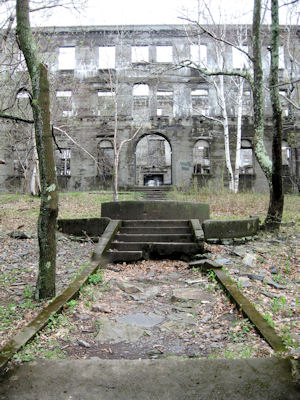 Views of the inside ...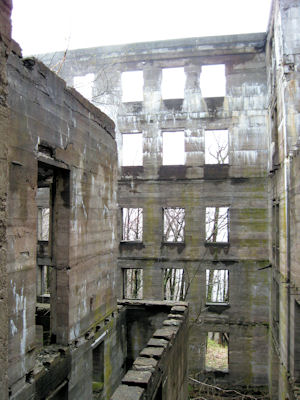 ... with me ...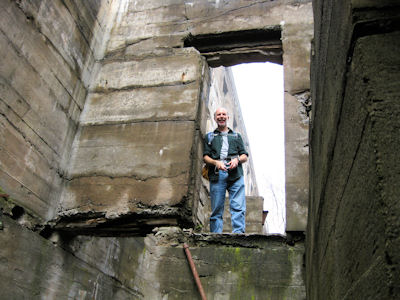 ... and Ken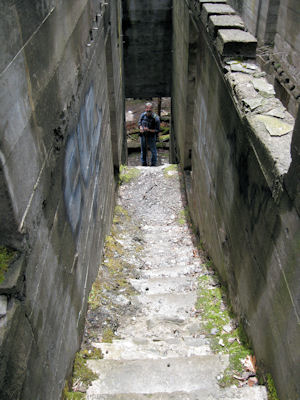 A panorama of the inside

The smaller building behind the main hotel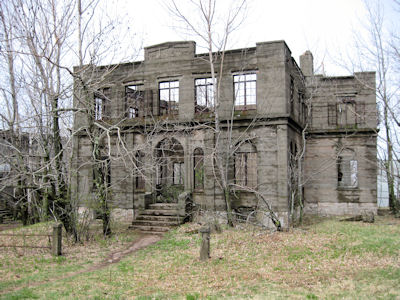 Ken and me in the fog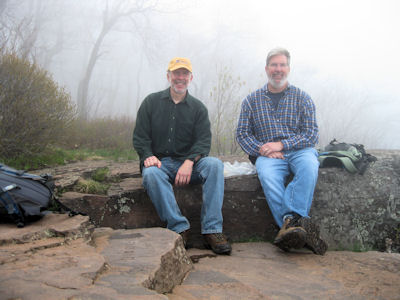 The hotel after the fog set in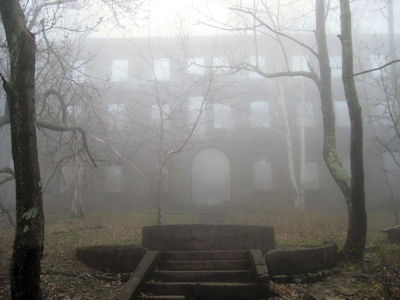 ---
Climbed: 10/26/09
10/26/09 Monday Bill arrived at Ken's house at 5:55 in the Explorer; quickly loaded up and headed out with the requisite Dunkin stop. Easy ride upstate, leaving the Thruway west at Saugerties. Drove over Spruce Creek, viewing the lower part of Kaaterskill Falls, then soon after got off the main road and looped back north and east towards North South Lake. Parked a short way down Scutt Road at the trailhead for the Escarpment Trail, along with some horse trails, at around 9:20. Quickly got our packs loaded with food and water, and hit the ES trail at 9:45. Weather is cool (low 40s) but clear and sunny and reaching low 50s by mid-afternoon– a great day. The trail wound down through the woods, a little steeper and more surrounded by dense trees than we anticipated. We hit two closely-spaced abandoned railroad beds (one on a very well-defined berm, the other less so), and considered camping there so we dropped our backs for more looking around. Finally we spotted a good site near the river, with adequate tent area and some rocks from an old campfire, so we put the packs back on for the short walk.
10:30 (0.4 delta, 0.4 total). Arrived at the camp site. Ken put his beer in the river for cooling, we loaded up the day packs, took a few photos of the river in the early sun, and hit the ES trail at 10:50.
11:20 (0.8 delta, 1.2 total) Reached the Layman's Monument, a stone pillar and plaque dedicated to Frank Layman, a firefighter who lost his life in 1900. Also here is a nice view down into Kaaterskill Clove. We continued on the trail, and passed some very nice rocky overlooks into the Clove, including Sunset Rock.
12:10 (0.7 delta, 1.9 total) Reached Inspiration Rock, a set of flat ledges with very steep drop-offs and great views into the clove, west to Hunter and east to tease peeks of the Hudson Valley. Given the time and view, we decided that lunch was in order. We made quick work of the chicken/cheese/celery/roll lunch, then spent a little more time enjoying the view and taking photos. Back on the ES at 12:55. The trail wound along the ledge that skirts the Hudson Valley, offering occasional nice views east.
1:30 (0.8 delta, 2.7 total) Intersection with the Long Path, which we joined along with the ES, heading up South Mountain.
1:45 (0.45 delta, 3.15 total) Intersection with the SC trail; we continued on the ES east.
2:00 (0.65 delta, 3.8 total) Intersection with the spur (half loop) trail to Boulder Rock, which we followed. Along this trail we passed a balanced rock, and Split Rock, a section that had neatly cleaved from the main surface rock and fallen off.
2:15 (0.2 delta, 4.0 total) Reached Boulder Rock, which is a large boulder sitting on the flat rock ledge (hence the same, we suppose). This offered a really spectacular view east over the Hudson Valley, with Albany just out of view to the North, and the 'Gunks way south. After enjoying and photoing the view, had a snack. Bill forgot to bring the pudding, but we were saved by Rice Krispie treats made by Kim. Scarfed them down in no time, then returned to the trail at 2:40.
3:00 (0.5 delta, 4.5 total) Reached the site of the Catskill Mountain House. Nothing is left of the hotel but the flat grassy area and the entrance road pillars, but it still offered a nice view, similar to Boulder Rock, and there are some old (1800's) graffiti here on the ledge rocks. We could have returned up the mountain past Boulder Rock, but we decided to take the easier way which was to head down to the North South Lake Campground road, skirt South Lake (where we viewed the dam at the east end), take the connector horse trail, and pick up the ES trail just south of the campsite.
3:45 (2.0 delta, 6.5 total) Back at camp.
Me on a bridge
Frank Layman Monument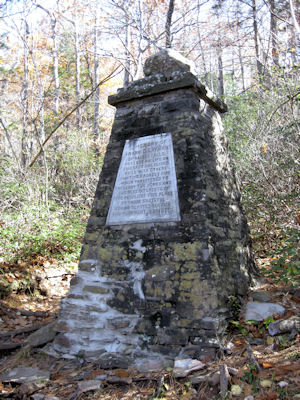 Wow - what a view

Me on a comfy ledge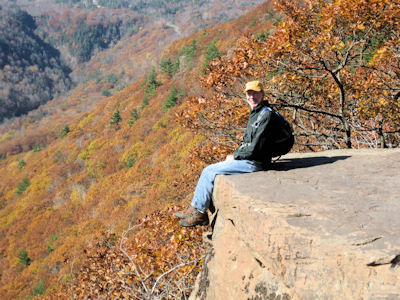 Boulder Rock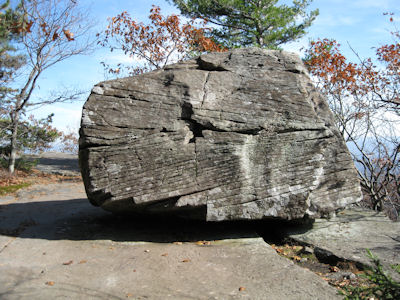 Ken taking photos at Boulder Rock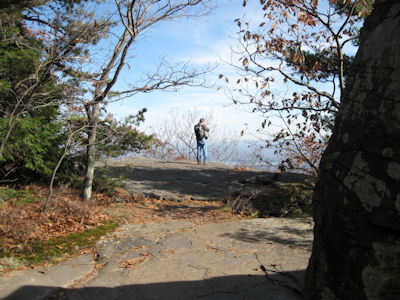 Ken at the Catskill Mountain House site ...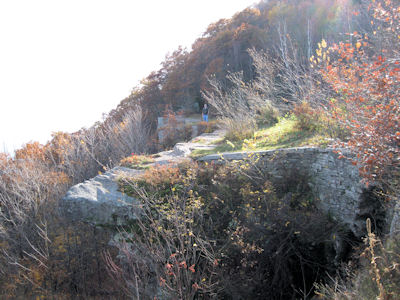 ... and his view of me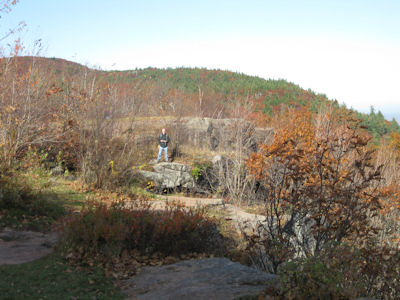 South Lake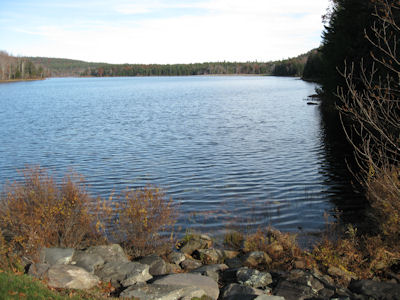 ---
Climbed: 4/29/10
4/29/10 Thursday Bill arrived at Ken's house at the new standard meeting time of 5:55 in the Explorer. Loaded up in no time, Dunkin stop and headed north. Bill spent part of the ride up playing with his new Nuvi GPS device, although we had the old StreetPilot there as backup. Headed right for the North-South Lake area, where we were in October. First checked out the parking area by the dam (didn't see any problem), and then parked at the Scutt (a.k.a Schutt) Road lot at 9:30. Loaded up the main and day packs with water, the day packs with the remaining stuff needed, and put on our boots. Drove down Scutt to a pull-out area near the railway bed and parked there, leaving a note (for the crowds of folks driving and wandering by) that we'd be moving it soon. We loaded up the main pack, and Ken also carried a new item – a plastic bag of 7-Eleven wood. We angled through the woods to the trail and then up to the railway bed which we followed east. Ken felt we had gone too far and a check of the GPS agreed, but not much – down off the railway bed and a little shift back west brought us to the downed log by the old bear bag and then the campsite at 10:00, still intact and showing the flat spots where our tents were. Dropped the packs, and Ken put his beer in the stream (which surprisingly was VERY low compared to last time), but not much else, and headed back to the car (~0.1 miles each way). Drove back to the dam, and were finally ready to hike.
10:30 (delta 0.2, total 0.2 miles) Hit the yellow trail along the lakeshore. We could have walked along the road, but that wasn't the point. Along the way we walked down to the lake. Although the day was amazingly clear, the winds were gusting into the 30's, and would dog us all day long.
10:50 (delta 0.4, total 0.6 miles) Reached the Alligator. This is a large boulder with a horizontal split, into which people placed pointed rocks, making the whole thing look like an alligator head. Continued along this Lake Trail and took a little stub off to the side.
11:05 (delta 0.5, total 1.1 miles) Reached the Escarpment (ES) trail, just about 0.2 miles north where we left it last time, and headed north. Along the trail we passed view points and caves, some of which were not noteworthy.
11:25 (delta 0.4, total 1.5 miles) Reached Prospect Rock, apparently mislabeled, according to some sources, as Artists Rock. Really great views of the Hudson Valley, far south and up to Albany, like we enjoyed last time and will do today as we continue north.
11:55 (delta 0.5, total 2.0 miles) Intersection with a yellow spur trail. Took it, which lead us up and south again above the rocks which formed some of the caves.
12:00 (delta 0.2, total 2.2 miles) End of the trail at the Bear Den, on a rock labeled Sunset Rock. We had hoped to have lunch here, but the winds were insane, which we expected, so headed back to the main trail.
12:10 (delta 0.2, total 2.4 miles) Back to the ES. This was a more shielded area, so we chose a nice big rock for the usual chicken/roll/cheese/celery lunch. Back on the trail at 12:49.
1:00 (delta 0.2, total 2.6 miles) Newman's Ledge. Another really spectacular view from a steep, overhanging rock ledge far above the valley. Ken stayed on one ledge while I walked around to another, for good photo-ops of each other.
1:40 (delta 0.55, total 3.15 miles) Intersection of the ES and the Rock Shelter (RS) trails. We could have cut off a bunch of hiking here, but that wasn't the point, and we soon agreed to head up the steep continuation of the ES trail.
2:05 (delta 0.7, total 3.85 miles) Intersection of the ES and Mary's Glen (MG) trails. Took the ES up some very steep sections, requiring scrambling and climbing the rocks. Also passed the Ledge on this path, with nice views but we knew better were coming.
2:20 (delta 0.2, total 4.05 miles) Reached the North Point. This large, flat section near the top of North Mountain offered more great views, which we enjoyed while trying not to be knocked over by the wind. From here we could see down onto North and South Lakes, which looked quite far away considering we had to hike back down and around them. Hung out a bit, then started down.
2:40 (delta 0.2, total 4.25 miles) ES/MG intersection; continued on MG. Much of the remainder of trail hiking for the afternoon included both rocky and boggy sections.
3:05 (delta 0.8, total 5.05 miles) Hit, in quick succession, two intersections with the RS trail, which we joined for about .05 miles. We could have taken the RS tral in a more direct shot back, but elected to continue on MG. Along here we saw some little waterfalls over ledges, and stopped for a quick pudding snack break.
3:30 (delta 0.35, total 5.6 miles) Reached Mary's Glen, and crossed a bridge over the stream that formed Ashley Falls. Went down the slope, and over a little to the base of the falls. These were somewhat underwhelming, given that the stream was running low, so we moved on.
3:45 (delta 0.4, total 6.0 miles) Hit North Lake Road and continued west on pavement. We thought this would be easy, but hadn't counted on the gentle UP slope of the road!
4:00 (delta 0.7, total 6.7 miles) Intersection of North and South Lake Roads.
4:10 (delta 0.5, total 7.2 miles) Back to the car at the dam. We put everything we needed into Bill's day pack and a garbage bag, drove back to the Scutt Road lot, and walked back down the road (picking up some cut tree sections along the way) and along the railway bed.
4:30 (delta 0.5, total 7.7 miles) Camp.
Our destination of North Mountain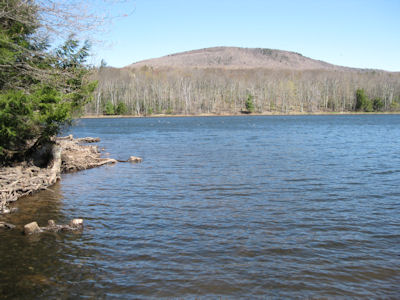 Alligator Rock
The great view from Newman's Ledge

Ken on Newman's Ledge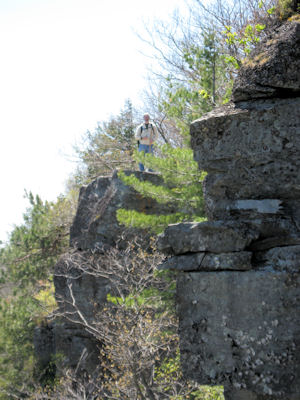 Me just hanging out at Newman's Ledge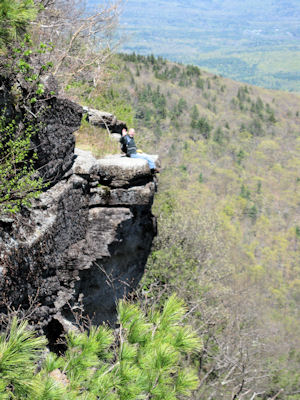 Ken at near the peak of North Mountain at North Point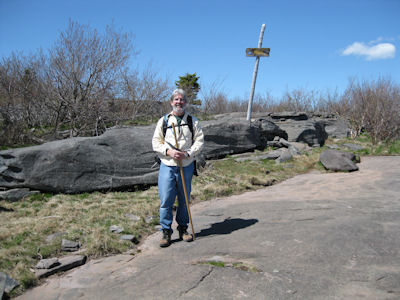 Me at North Point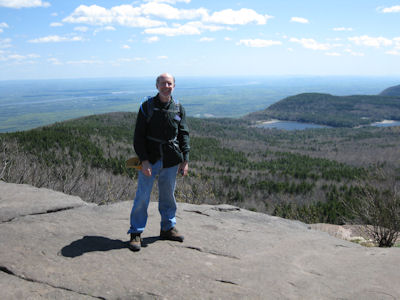 ---