---
States with National Parks
---
---
Montana National Parks
---
Glacier National Park
9/18/1989 Left for Glacier National Park in rain. ... Started through park [on Going-To-The-Sun Road] in rain/heavy clouds. Entered into clouds, heavy snow on ground (but not road) at Logan Pass - very cold! Started down mountain, halfway down sun started breaking through; magnificent views for last third of park.
The park sign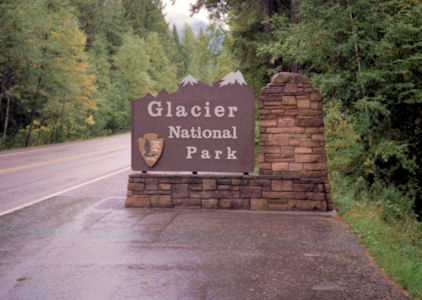 A valley appears as the clouds lift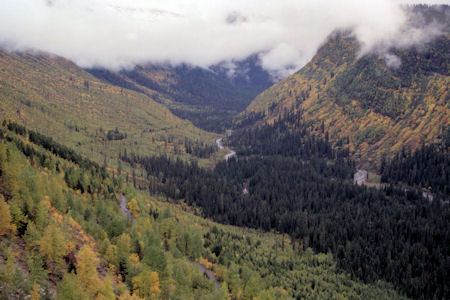 Logan pass in fog and snow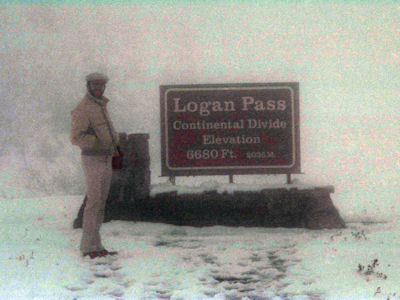 One of the many mountain views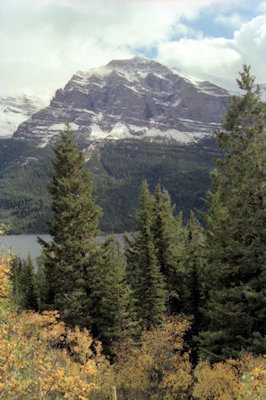 Looking down Lake Saint Mary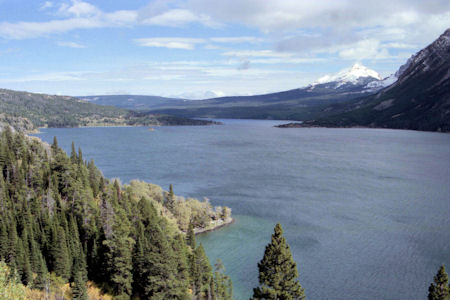 Lots of snow on top already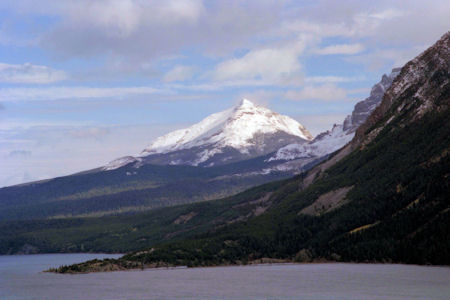 9/20/2018 We then entered the Park on Going-To-The-Sun Road, itself an NHL. Completed in 1932, it is a scenic mountain road in the Rocky Mountains of Glacier National Park, the only road that traverses the park crossing the Continental Divide. We were really quite happy - until days before our trip the road had been closed to Logan Pass due to a big fire, but luckily they got it under control. We did smell smoke, and saw signs of the firefighting effort including closed pull-outs and the firefighter's camp at a KOA. Not far in we stopped at Lake McDonald Lodge NHL. This is a 1913 historic lodge located within Glacier National Park, and one of the nation's finest examples of large-scale Swiss chalet architecture. We couldn't go inside because it was evacuated due to the fire, but we walked around outside (in some rain) and down to the lake. The rest of the afternoon was spent following GTTS through the park, enjoying the views. While the clouds and occasional rain blocked some views, at other times the sun broke out and created some magnificent vistas. At Logan Pass we took a nice walk around with beautiful views. Ken wanted to see an eponymous Glacier, and we were being fooled by pockets of remaining snow. Luckily we found a pullout with signage directing us to a view of the Jackson Glacier. We also hit a pullout where we could take a pleasant short walk along the Continental Divide NST [MT] where it crossed the GTTS. In a number of places we noted the scent of balsams in the area, adding to the enjoyment. We stopped at a few spots where Ken thought we could get to a beach on the lake for some views but we failed to find that, although we did get a nice view of Wild Goose Island. Near the east end of the park, we saw a bunch of cars pulled over (and ranger types keeping people off the shoulders and moving them on) - we then spotted the grizzly bear pair that everyone was interested in! There was a short wait to let the bears cross the road, then onwards.
The park sign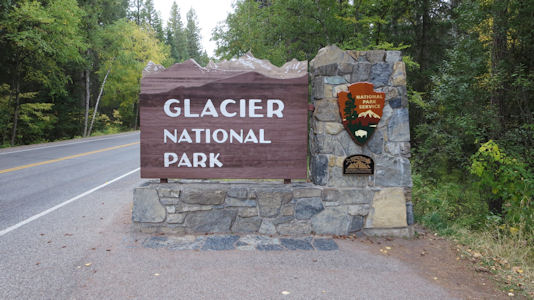 Lake McDonald Lodge NHL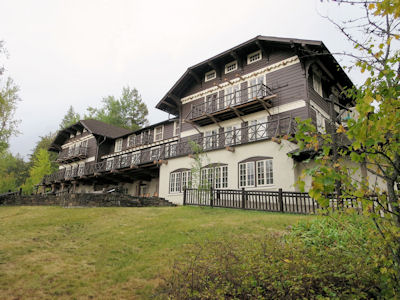 A view from Going-To-The-Sun Road NHL

Ken and me at a hairpin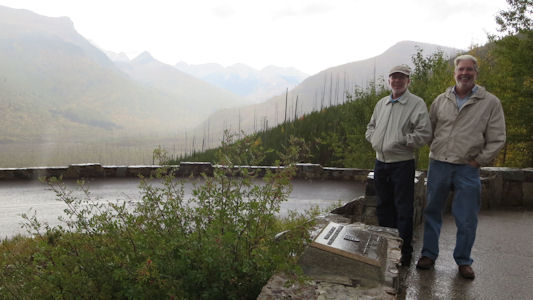 Beautiful view as the rain clears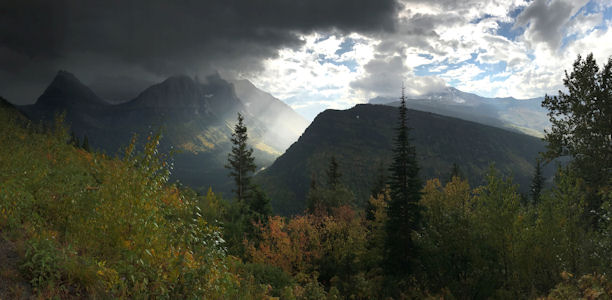 A little closer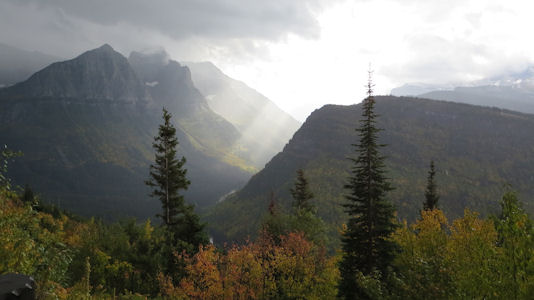 Mountains from Logan Pass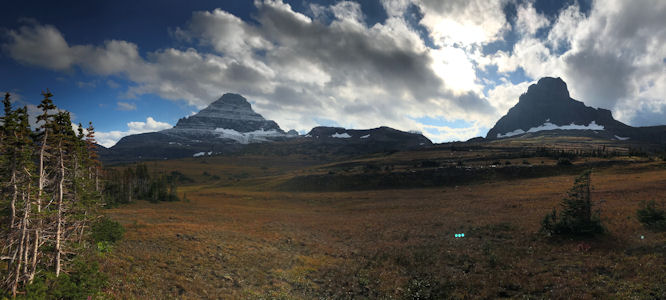 A rugged peak with remaining snow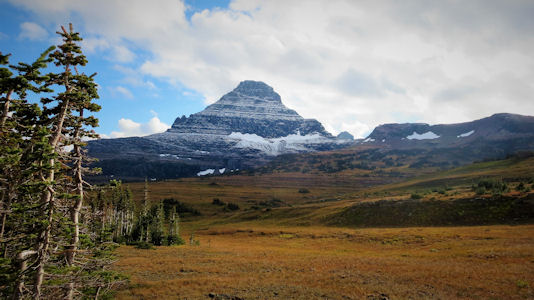 Another direction ...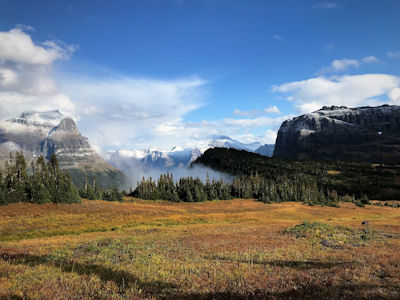 ... and with us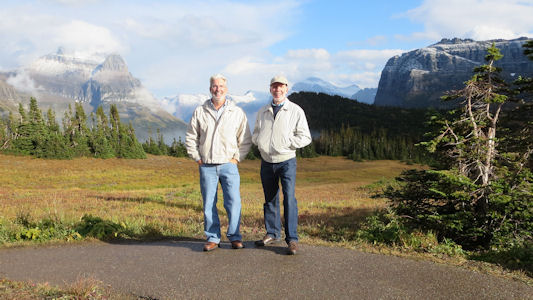 Signage about ...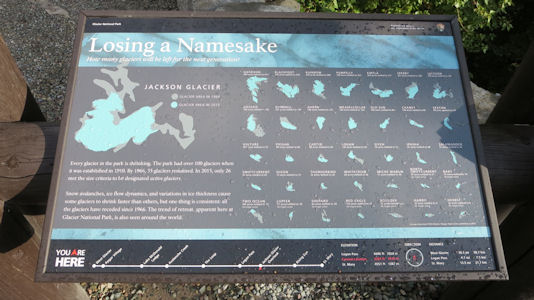 ... Jackson Glacier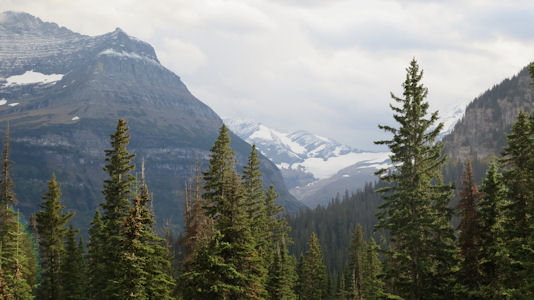 Ken at signage ...
... and me taking a photo of ...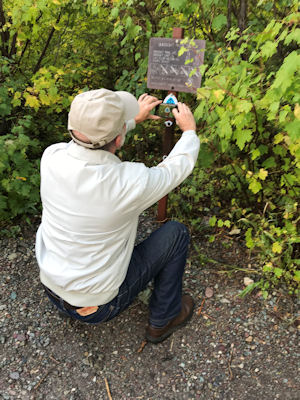 The Continental Divide NST emblem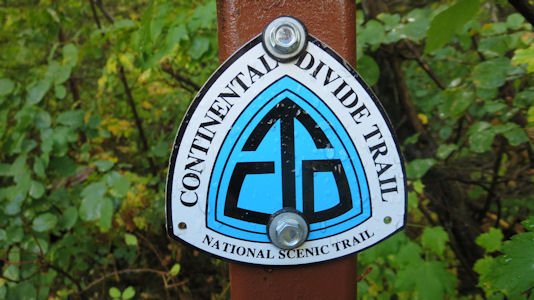 Lake and mountains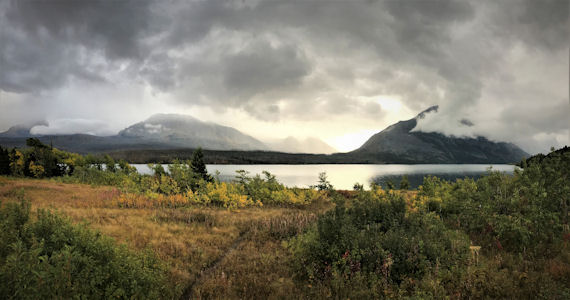 Wild Goose Island view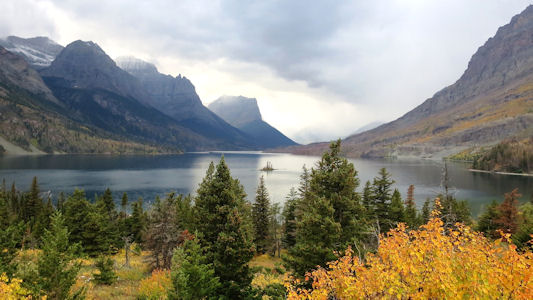 ---