---
National Historic Landmarks
---
---
276 New York National Historic Landmarks
---
69th Regiment Armory (New York)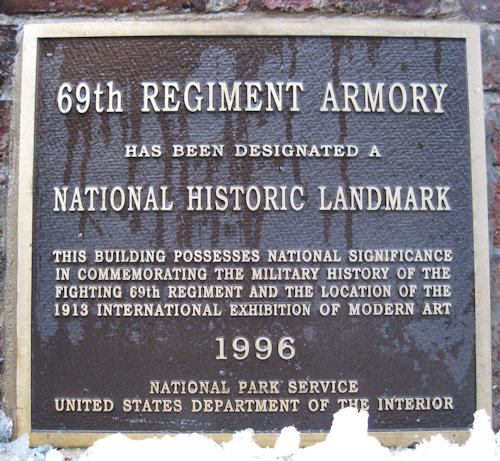 (New York) - 12/30/2010
Designed by the firm of Hunt & Hunt, completed in 1906, and the first armory built in New York City not modeled on a medieval fortress (designed in the Beaux-Arts style), it is still used to house the U.S. 69th Infantry Regiment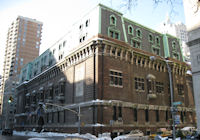 7th Regiment Armory (New York) - 2/17/2014
The armory was designed by Charles Clinton in the Gothic Revival style and dedicated in 1880, with highly crafted interiors designed by Louis Comfort Tiffany and others, and originally served as the headquarters and administrative building for the 7th New York Militia Regiment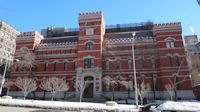 97 Orchard Street Tenement Building (New York) - 6/26/2004
A five-story brick tenement building that was home to an estimated 7,000 people, from over 20 nations, between 1863 and 1935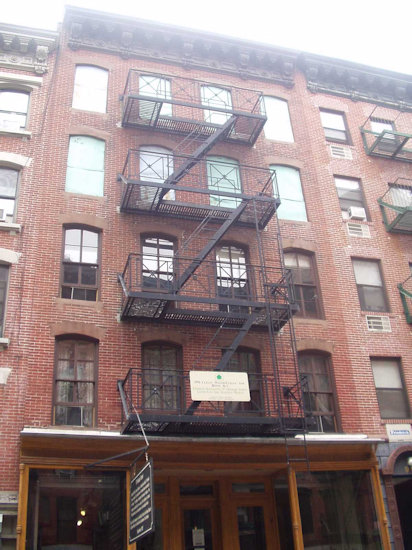 A. T. Stewart Company Store (New York) - 11/26/2011
The site of America's first department store, the "Marble Palace" was built by mercantilist Alexander Turney Stewart and later housed The New York Sun newspaper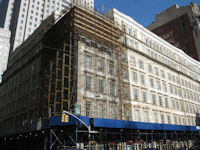 Adams Power Plant Transformer House (Niagara Falls) - 7/20/2020
The only remaining structure that was part of the 1895 Edward Dean Adams Power Plant, the first large-scale, alternating current electric generating plant in the world
Adirondack Forest Preserve - 7/1971
Part of the Adirondack Park, which is a publicly protected area in northeast New York and the largest park and the largest state-level protected area in the contiguous U.S.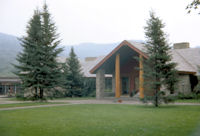 Admiral David Farragut Gravesite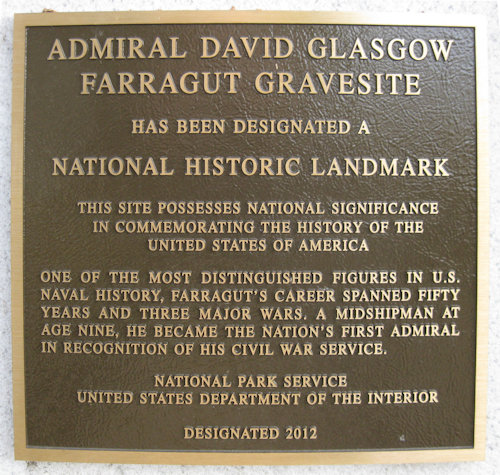 (New York) - 12/28/2013
The final resting place of the first rear admiral, vice admiral, and four-star admiral of the United States Navy, most well known for his order to "Damn the torpedoes, full speed ahead."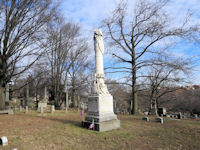 African Burial Ground (New York) - 7/20/2009
A site in lower Manhattan containing the remains of more than 400 Africans buried during the 17th and 18th centuries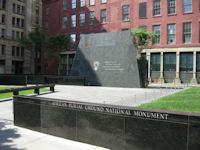 Alfred E. Smith House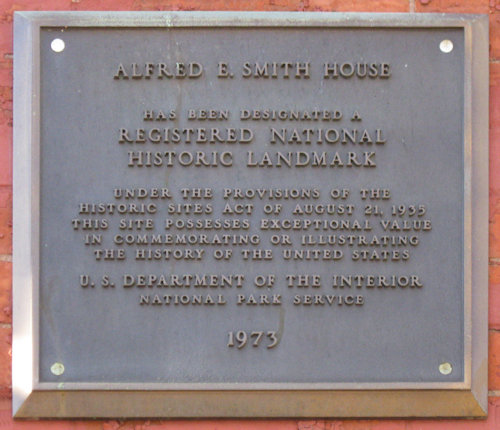 (New York) - 12/28/2012
The home of four time New York State governor Alfred E. Smith from 1907 to 1923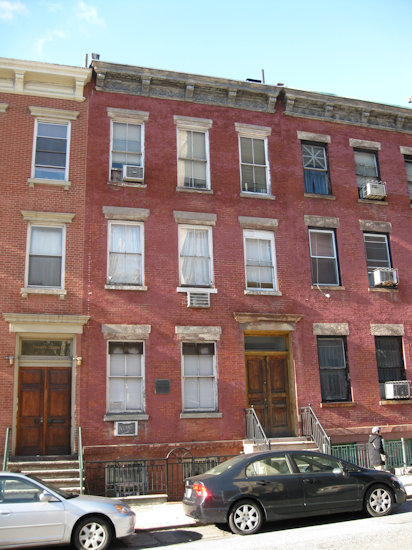 Alice Austen House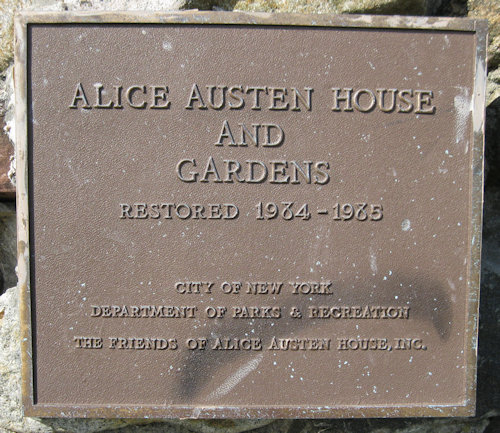 (New York) - 4/14/2012
Built between 1690 and 1750 as a one room Dutch Colonial House, it was later the home of photographer Alice Austen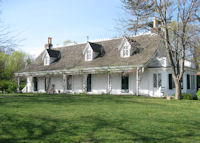 American Stock Exchange (New York) - 11/26/2011
In 1921, the outdoor "curbstone brokers" moved into the current building, and in 1953 the Curb Exchange was renamed the American Stock Exchange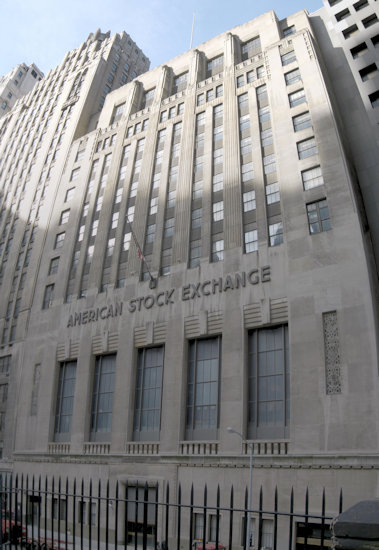 Andrew Carnegie Mansion (New York) - 6/7/2015
The industrialist built his mansion in 1903 and lived there until his death in 1919; the building is now the Cooper-Hewitt National Design Museum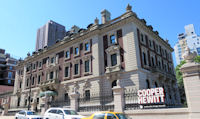 Armour-Stiner House (Irvington) - 12/16/2010
Also known as the Carmer Octagon House, it is a unique octagon-shaped and domed Victorian style house built in 1859-1860 by financier Paul J. Armour based on the architectural ideas of Orson Squire Fowler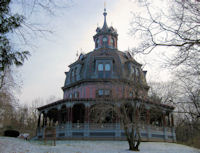 Bartow-Pell Mansion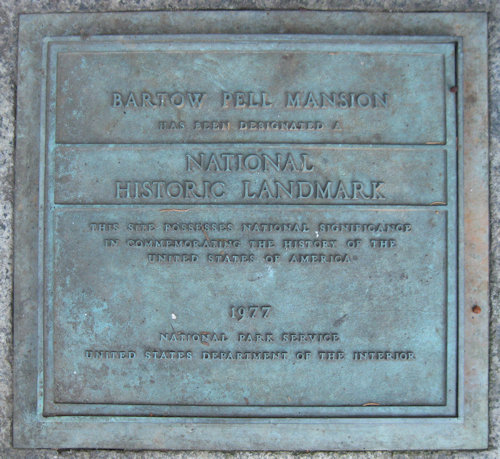 (New York) - 12/28/2013
On the original 1654 Bartow estate, the current 1836 house passed between the Bartow and Pell families until it was finally sold to the City of New York in 1888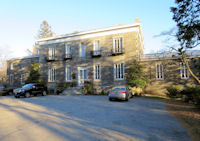 Bayard-Condict Building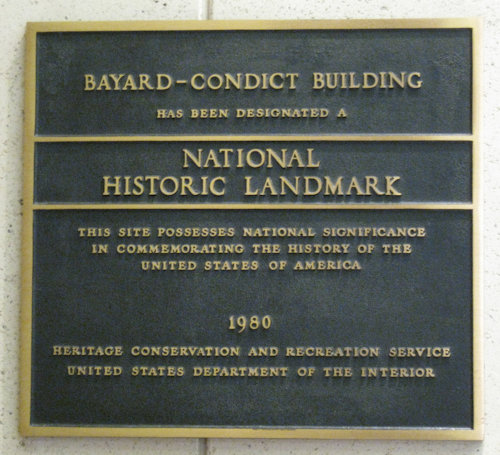 (New York) - 11/20/2010
The only New York City work of architect Louis Sullivan in, built between 1897 and 1899 in the Chicago School style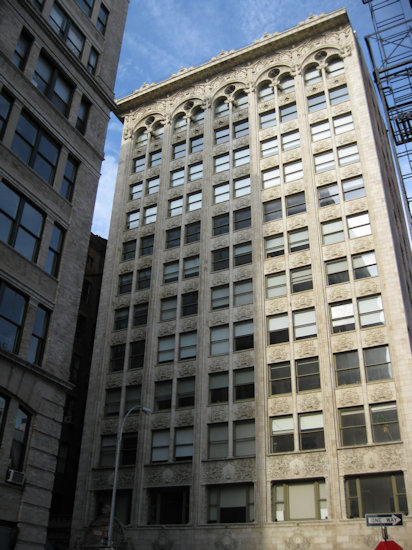 Bell Laboratories Building (New York) - 12/29/2011
Originally the home of Bell Telephone Laboratories between 1898 and 1966 and for a time, it was the largest industrial research center in the U.S.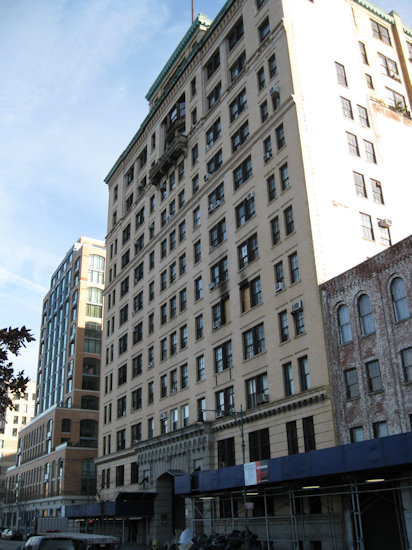 Bennington Battlefield - 10/17/2020
The site of the 1777 Battle of Bennington where Colonial militia rebuffed a British attempt to capture American stores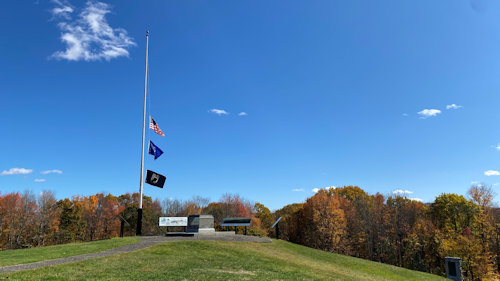 Boston Post Road (Rye) - 12/28/2013
The District includes three pre-civil war mansions and their grounds and touches on the nation's oldest road, Boston Post Road, where mile marker "24" out of 230, designated in 1763 by Benjamin Franklin, is set into the perimeter wall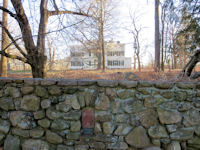 Boughton Hill - 7/21/2020
A mansion, built in 1837 in the form of a 2 story Greek temple with six Ionic columns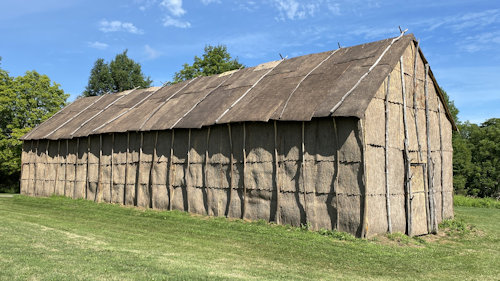 Bronck House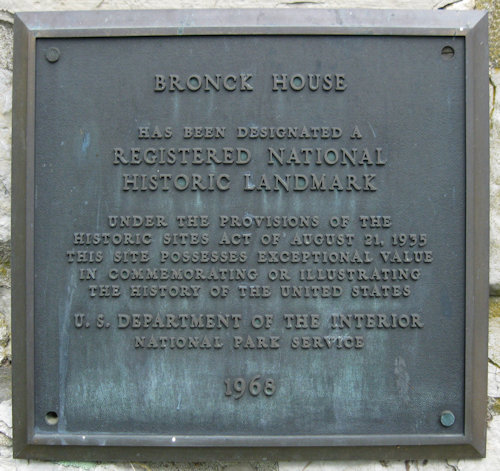 (Coxsackie) – 8/8/2011
A Dutch homestead, with a stone house built by Pieter Bronck in 1663, and a brick section added in 1738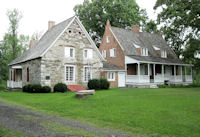 Bronx Community College (New York) - 12/28/2013
Established in 1957 through the efforts of civic-minded groups who felt that there was a growing need for more higher education facilities in the Bronx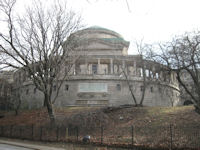 Brooklyn Bridge (New York) - 8/18/2007
One of the oldest suspension bridges in the U.S., and the first steel-wire suspension bridge, it was initially designed by John Augustus Roebling and completed in 1883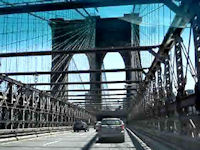 Brooklyn Heights Historic District (New York) - 12/28/2012
An historic district that comprises much of Brooklyn Heights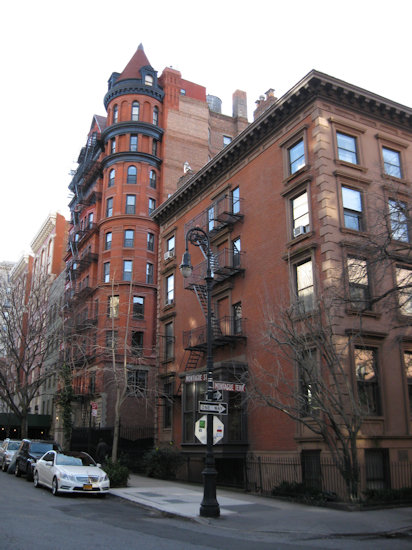 Brooklyn Historical Society Building (New York) - 12/28/2012
Designed by George B. Post and constructed in 1881 for what was then named the Long Island Historical Society, which became the Brooklyn Historical Society in 1985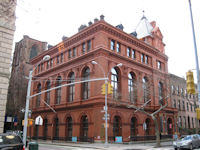 Buffalo Historical Society (Buffalo) - 7/20/2020
The 1901 building that houses the Buffalo History Museum, previously the Historical Society, was constructed as the New York pavilion for the Pan-American Exposition, and is the sole surviving permanent structure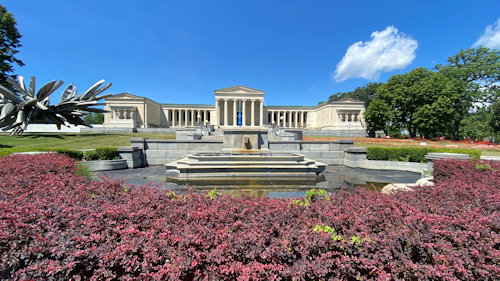 Buffalo State Hospital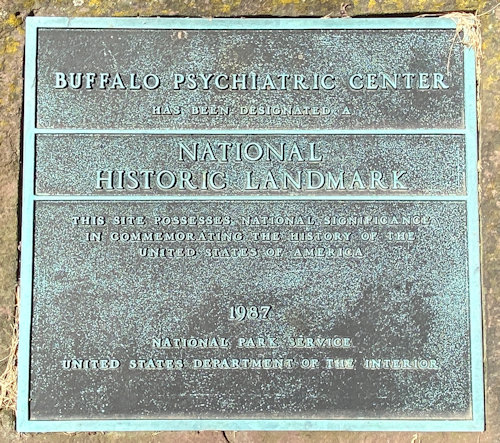 (Buffalo) - 7/20/2020
The late 1800s site was designed by architect Henry Hobson Richardson, in concert with the landscape team of Frederick Law Olmsted and Calvert Vaux, incorporating a system of enlightened treatment for people with mental illness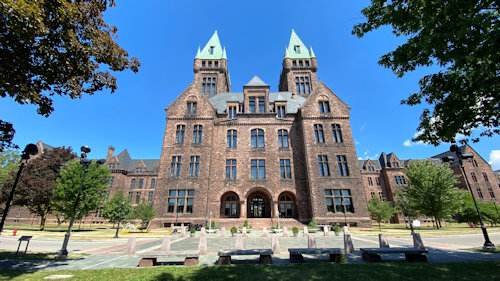 Canfield Casino and Congress Park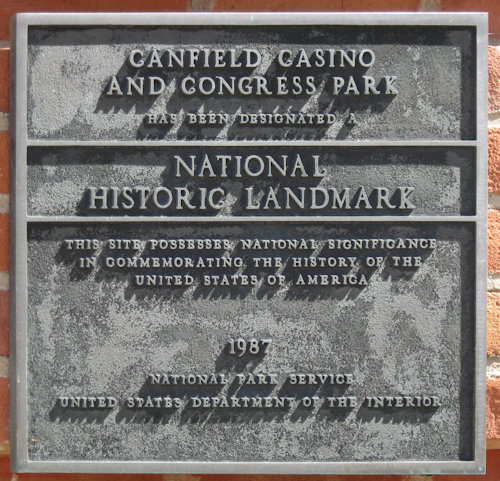 (Saratoga Springs) - 7/25/2012
The site of the former Congress Spring Bottling, the park includes a landscape design by Frederick Law Olmsted; the Canfield Casino building was built in 1870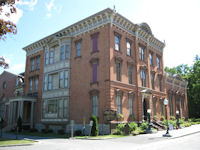 Carnegie Hall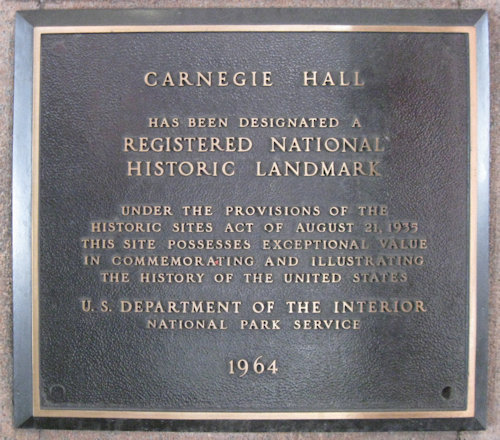 (New York) - 3/19/1989 (photo 9/6/2013)
A world-class concert venue in Midtown Manhattan, it was designed by architect William Burnet Tuthill and built by philanthropist Andrew Carnegie in 1891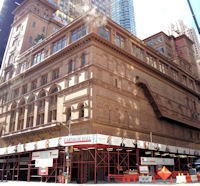 Central Park (New York) - 9/2/2011
A public park in the center of Manhattan initially opened in 1857, and expanded on a design by Frederick Law Olmsted and Calvert Vaux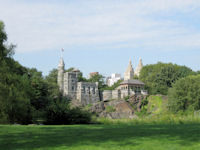 Central Synagogue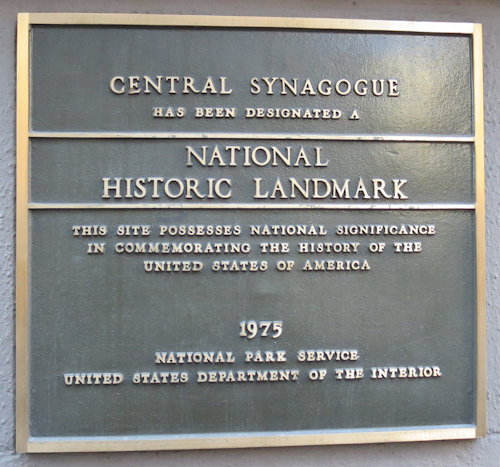 (New York) - 9/2/2011
Built in 1872 in the Moorish Revival style as a copy of Budapest's Dohány Street Synagogue, it has been in continuous use by a congregation longer than any other in the city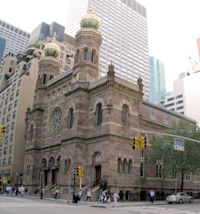 Chamber of Commerce Building (New York) - 11/26/2011
Built in 1901 to house the Chamber of Commerce of the State of New York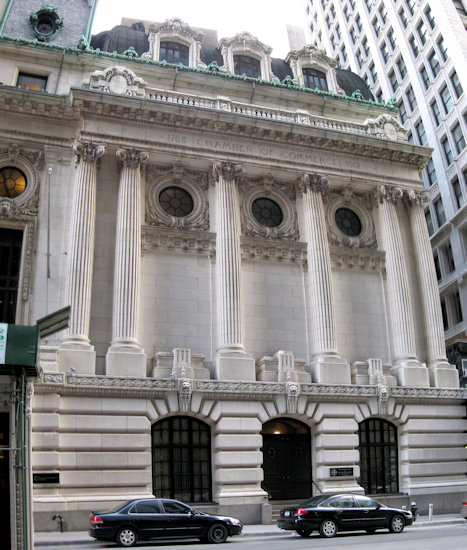 Chester A. Arthur House (New York) - 12/30/2010
The residence of the twenty-first President both before and after his rise to national fame, and where Arthur took the oath of office after the assassination of Garfield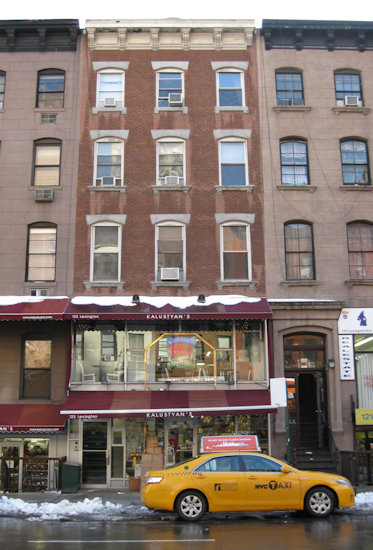 Christeen (Oyster Bay) - 6/16/2013
She is a gaff-rigged sloop, the oldest oyster sloop in the U.S., built in 1883 for Captain William Smith to harvest oysters in Oyster Bay and Cold Spring Harbor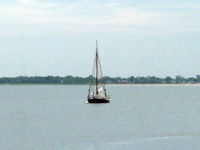 Chrysler Building (New York) - 12/29/2011
A classic example of Art Deco architecture and constructed of masonry, with a steel frame, and metal cladding, it was the headquarters of the Chrysler Corporation from 1930 until the mid-1950s; the corners of the 61st floor are graced with eagles; on the 31st floor, the corner ornamentation are replicas of the 1929 Chrysler radiator caps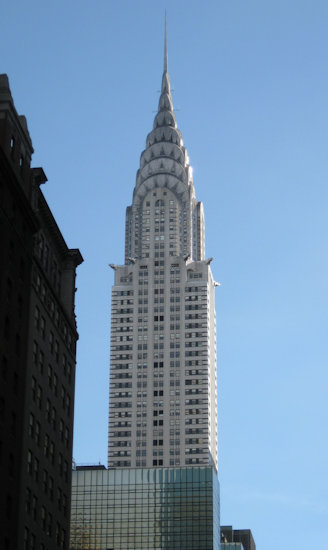 Church of the Ascension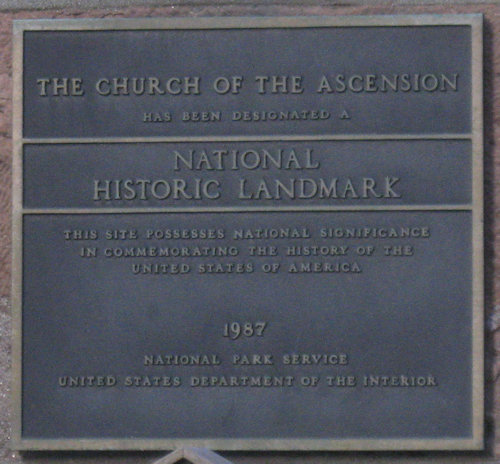 (New York) - 12/29/2011
Designed by Richard Upjohn in the Gothic Revival style and built in 1840, the church was altered to its current state in 1888 by McKim, Mead and White in a Northern Renaissance-inspired style and has become internationally known for its art, music, and liturgy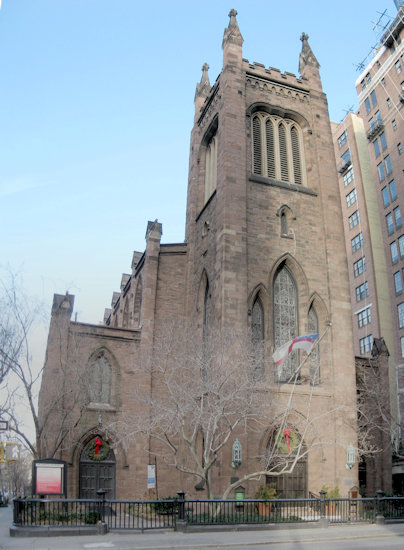 Claude McKay Residence (New York) - 2/17/2012
Also known as the Harlem YMCA, the building was built in 1932 and the African-American author lived here from 1941 through 1946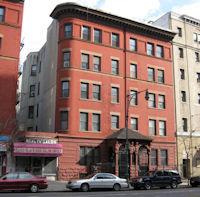 Clermont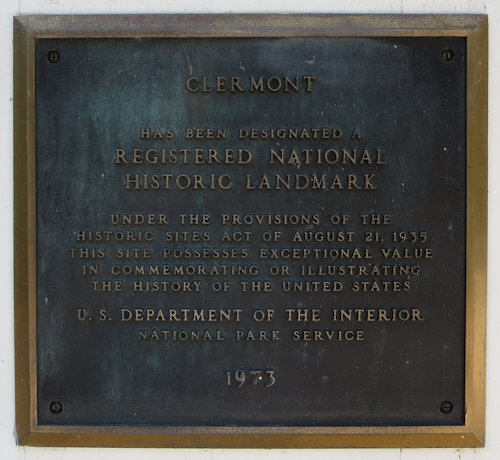 - 7/3/2016
Established by Robert Livingston in 1728, this is the former estate of the Livingston family, seven generations of whom lived on the site during more than two centuries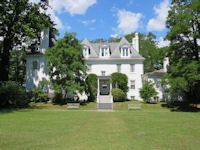 Cobblestone Historic District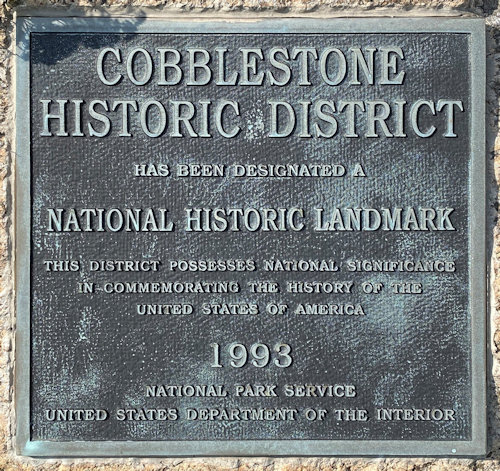 (Childs) - 7/20/2020
Comprises three buildings that exemplify the cobblestone architecture developed to a high degree in the regions of upstate New York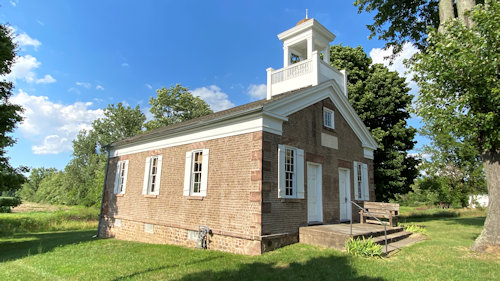 Colonial Niagara Historic District (Youngstown) - 7/1966
Comprised primarily of Old Fort Niagara, this location was strategic because it controlled fur-trade routes from the eastern Great Lakes and afforded an entry to the Northwest frontier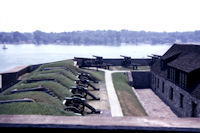 Conference House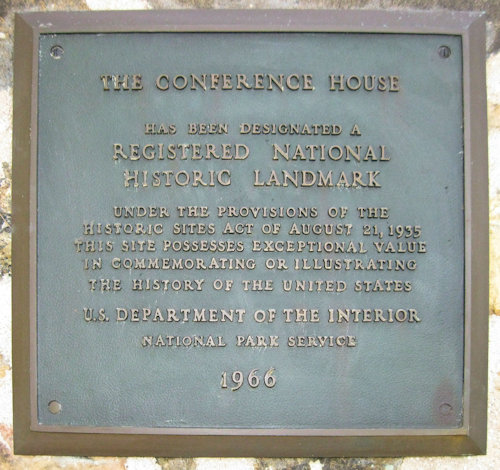 (New York) - 4/14/2012
Built before 1680 at "Billop's Point", it was used for the unsuccessful Staten Island Peace Conference of 1776 to end the Revolutionary War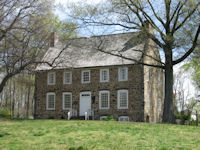 Cooper Union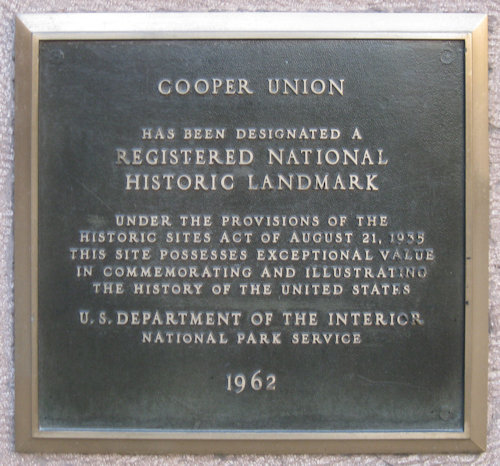 (New York) - 12/29/2011
The Cooper Union for the Advancement of Science and Art is a privately funded college founded in 1859 which has admitted students based on merit alone and provided each with a full-tuition scholarship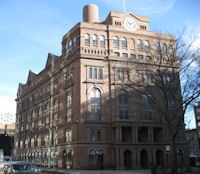 Croton Aqueduct - 12/16/2010
A water distribution system built between 1837 and 1842 that brought water 41 miles from the Croton River into reservoirs in Manhattan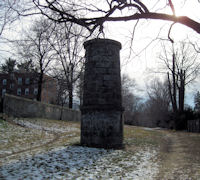 Daily News Building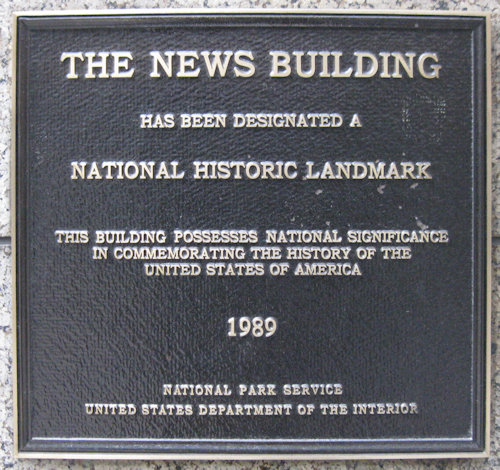 (New York) - 12/29/2011
Also known as The News Building, this 476-foot Art-Deco skyscraper, among the first to be built without an ornamental crown, was designed by Raymond Hood and built in 1929, serving as the headquarters for the New York Daily News until the mid-1990s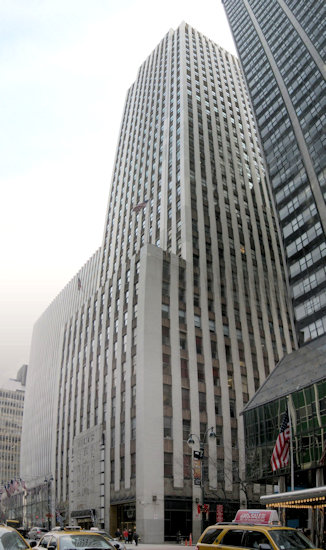 Dakota Apartments (New York) - 2/17/2012
The co-op apartments were designed in 1880 by the architectural firm of Henry Janeway Hardenbergh with North German Renaissance character and influence of French architectural trends, and are known as the location of the murder of John Lennon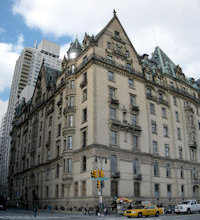 Darwin D. Martin House (Buffalo) - 7/20/2020
Designed by Frank Lloyd Wright and built between 1903 and 1905, it is considered to be one of the most important projects from Wright's Prairie School era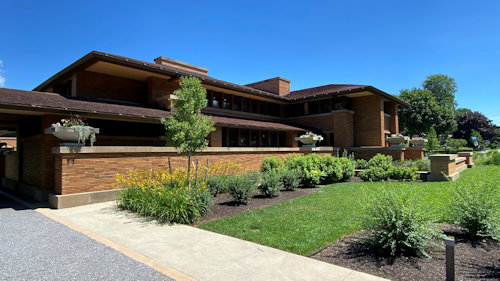 Davis-Ferris Organ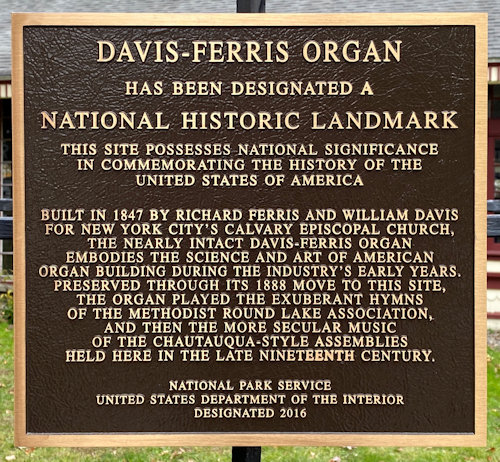 (Round Lake) - 10/17/2020
Originally located in the Calvary Church in Manhattan, this is the oldest three-manual pipe organ that has escaped significant alteration in the U.S.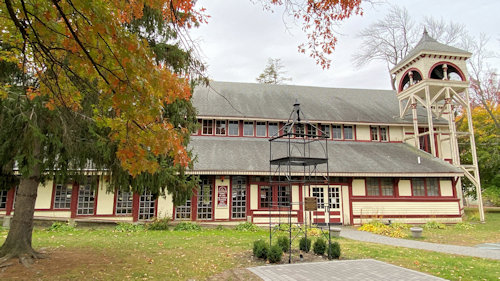 De Wint House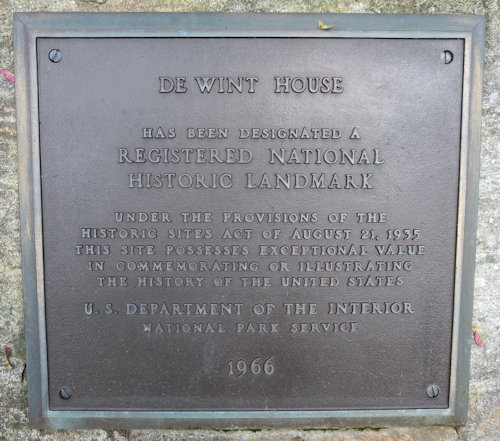 (Tappan) - 8/4/2014
Built using indigenous sandstone in 1700 by Hollander Daniel DeClark, it is one of the oldest surviving structures in Rockland County and an outstanding example of Hudson Valley Colonial Dutch architecture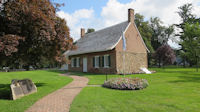 Delaware and Hudson Canal - 5/8/2008
Constructed between 1828 and 1899 to carry anthracite coal via barge from the mines of Northeastern Pennsylvania to New York City via the Hudson River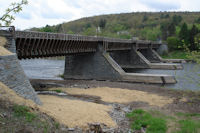 Duke Ellington House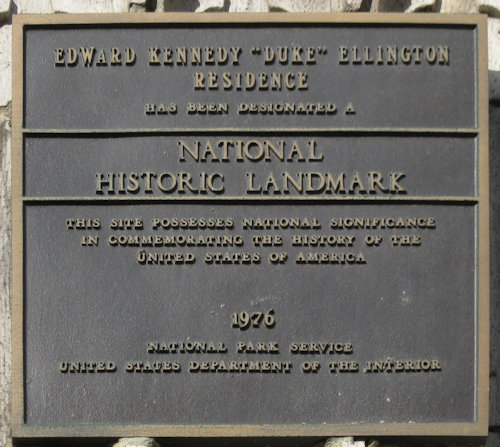 (New York) - 2/17/2012
The apartment building where composer and jazz musician Edward Kennedy "Duke" Ellington resided from 1939 through 1961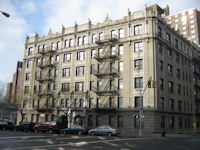 Dutch Reformed Church (Newburgh) – 8/11/2011
Designed by Alexander Jackson Davis in 1835 in the Greek Revival style, it faces down the Hudson at arriving ships, and was meant to echo the similar marine outreach of the Parthenon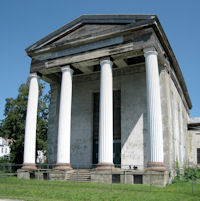 Dutch Reformed Church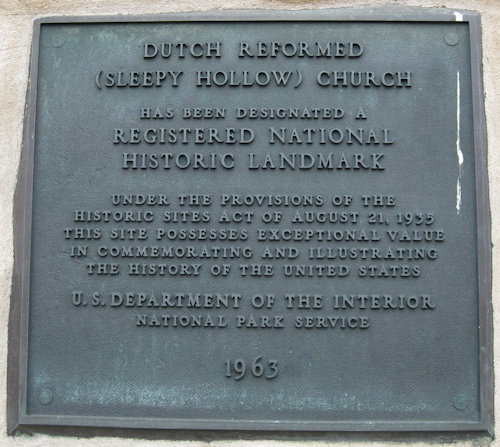 (Sleepy Hollow) - 3/31/2011
A 17th century church in Sleepy Hollow, built by Frederick Philipse I, Lord of Philipse Manor, which was famous for being featured in Washington Irving's "The Legend of Sleepy Hollow"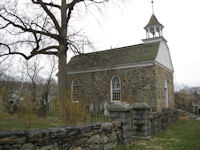 Dyckman House (New York) - 12/28/2013
Built by Dutch farmer William Dyckman around 1784, the Dutch Colonial-style house is the oldest remaining farmhouse on Manhattan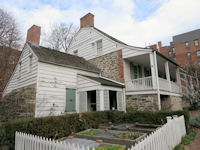 Edward M. Cotter (Fireboat)(Buffalo) - 7/20/2020
Built in 1900 and originally named William S. Grattan, she is considered to be the oldest active fireboat in the world
Elephant Hotel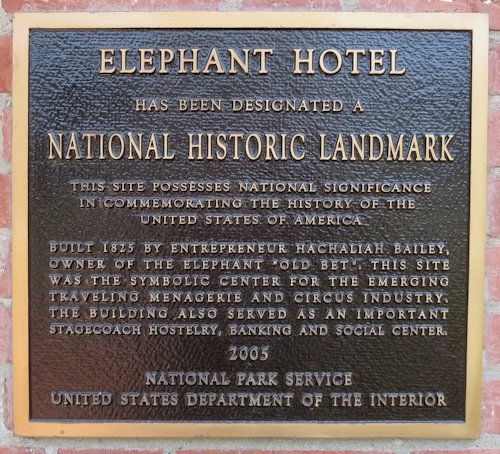 (Somers) - 7/25/2015
Established by Hachaliah Bailey in the 1820s after he bought an African Elephant, which he named "Old Bet"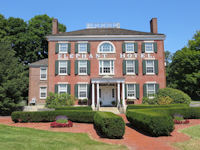 Elihu Root House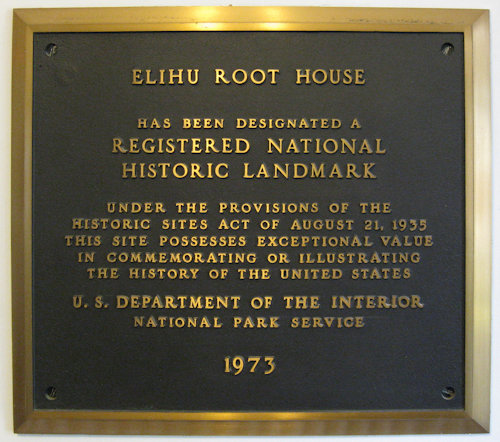 (Clinton) - 11/29/2010
The 1817 Federal-style home of the American statesman (including being U.S. Attorney, Secretary of War, Secretary of State and Nobel Peace Prize winner)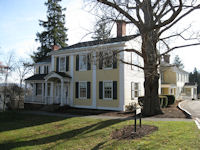 Elizabeth Cady Stanton House (Seneca Falls) - 5/14/2012
This is the 1847 to 1862 family home of the suffragette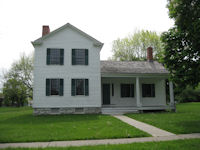 Elkanah Watson House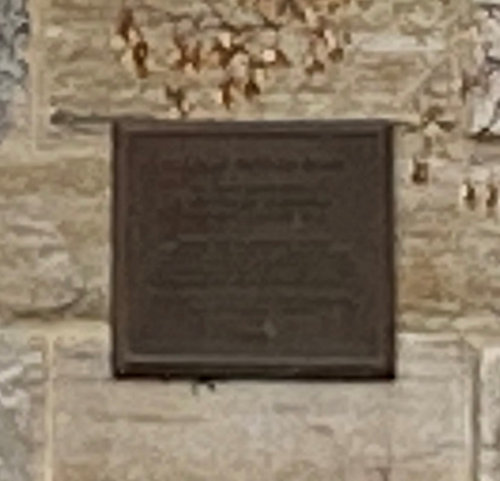 (Port Kent) - 10/17/2020
The 1828 home of the businessman and diplomat best known for founding and promoting the idea of agricultural fairs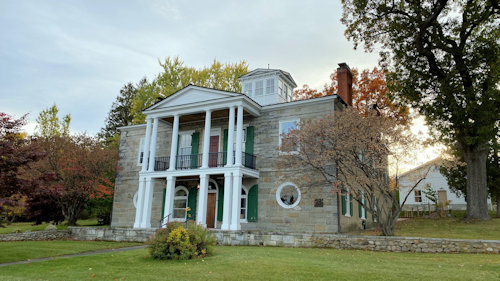 Empire State Building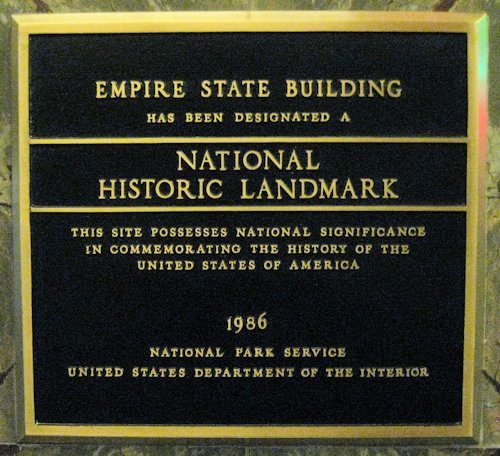 (New York) - 12/30/2010
The landmark 102-story art deco building which stood as the world's tallest building for more than 40 years from its completion in 1931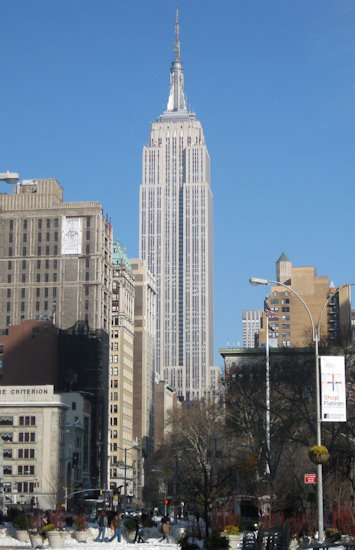 Equitable Building (New York) - 11/26/2011
The neoclassical building was designed by Ernest R. Graham and completed in 1915 with no setback from the street; the controversy surrounding its construction contributed to the adoption of the first modern building and zoning restrictions on vertical structures in Manhattan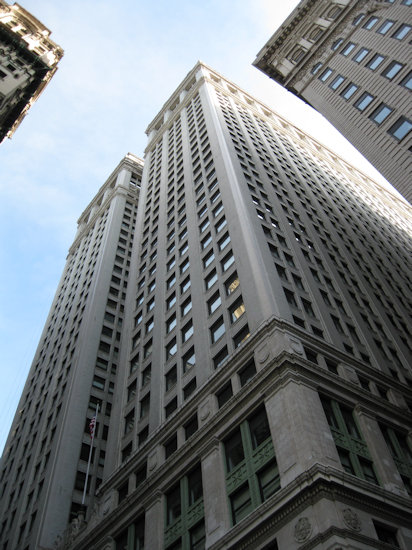 Erie Canal - 11/29/2010
An historic district that includes the ruins of the 1841 Erie Canal aqueduct over Schoharie Creek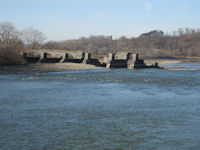 Fire Fighter (Greenport) - 4/27/2013
A fireboat serving the FDNY; the most powerful diesel-electric fireboat when built in 1938 she has fought more than 50 fires, including pumping water from the Hudson River into Ground Zero on 9/11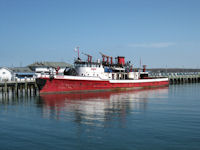 First Presbyterian Church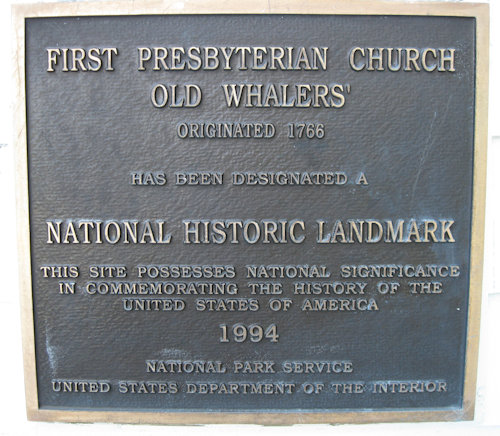 (Sag Harbor) - 8/16/2012
This is an historic and architecturally notable Presbyterian church built in 1844 in the Egyptian Revival style, although original steeple was destroyed by the Great New England Hurricane of 1938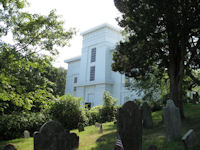 Flatiron Building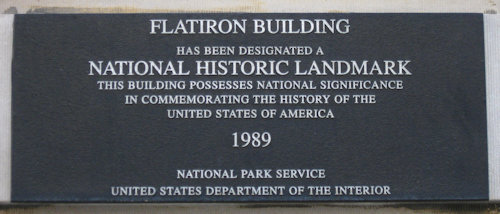 (New York) - 12/30/2010
The groundbreaking skyscraper, designed by Chicago's Daniel Burnham as a vertical Renaissance palazzo with Beaux-Arts styling and completed in 1902, sits on a triangular island block formed by Fifth Avenue, Broadway and East 22nd Street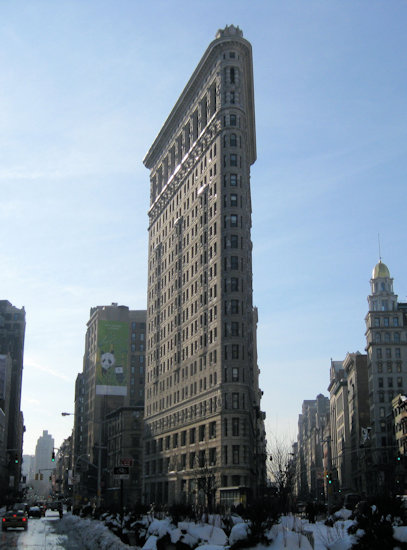 Fort Corchaug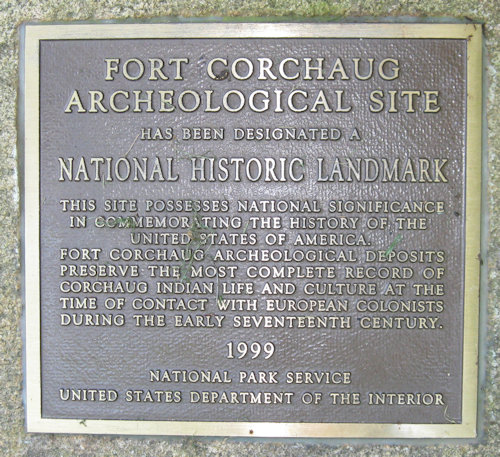 (Cutchogue) - 7/31/2013
This is an archaeological site showing evidence of 17th century contact between Native Americans and Europeans, the Fort itself being a log fort built by Native Americans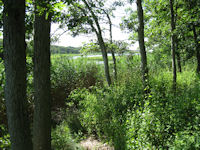 Fort Crailo (Rensselaer) - 10/25/2010
A fortified brick manor house in Rensselaer which was originally part of a large patroonship held by Kiliaen van Rensselaer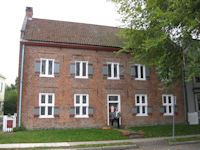 Fort Crown Point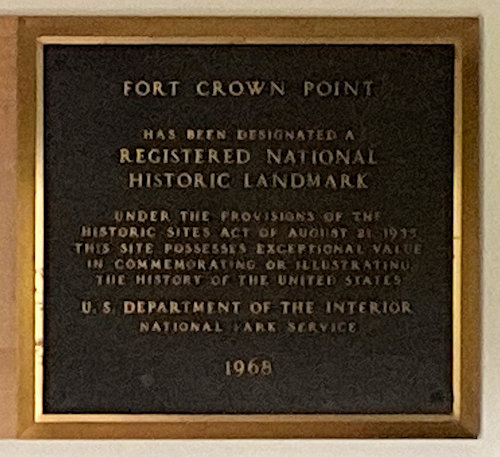 (Crown Point) - 10/17/2020
A 1759 British fort built by the combined efforts of both British and provincial troops on Lake Champlain, erected to secure the region against the French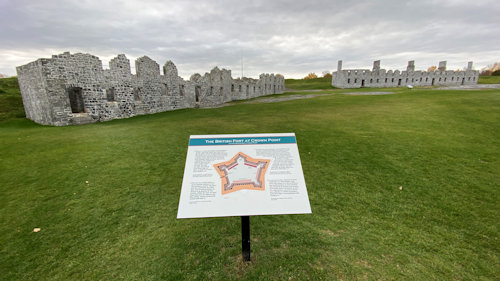 Fort Johnson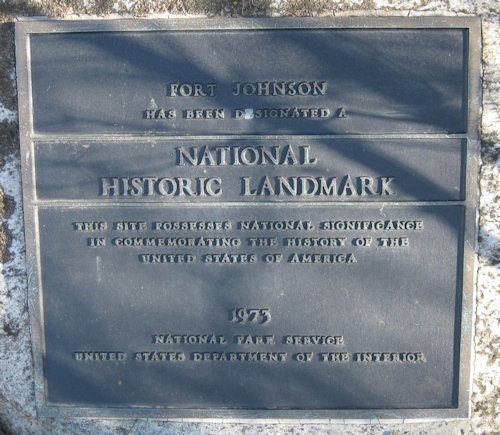 (Amsterdam) - 2/20/2012
A two-story stone house enclosed in fortifications, built by Sir William Johnson about 1749 and serving as Johnson's home, business office and trading center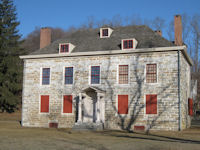 Fort Klock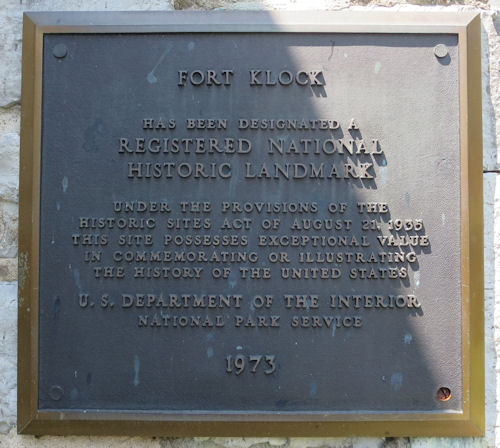 - 7/26/2019
A fortified stone homestead and trading post built around 1750 by Johannes Klock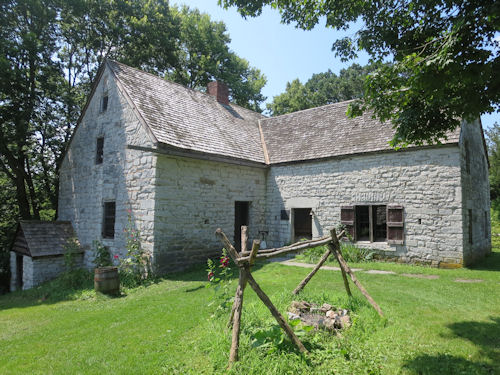 Fort Massapeag (Massapequa) - 8/2/2013
This is the location of a mid-1600s fort used during the period when the Massapeag Indians first encountered the Europeans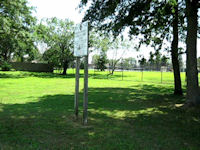 Fort Montgomery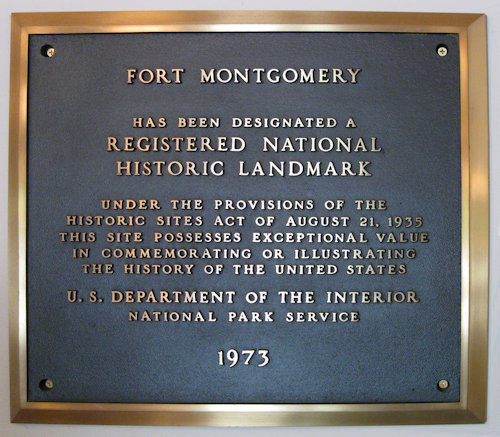 - 7/14/2011
A fortification built on the Hudson during the Revolution; in October 1777 this fort and Fort Clinton across the river were lost to the British, but the battle was key in slowing them down, leading them to the loss at Saratoga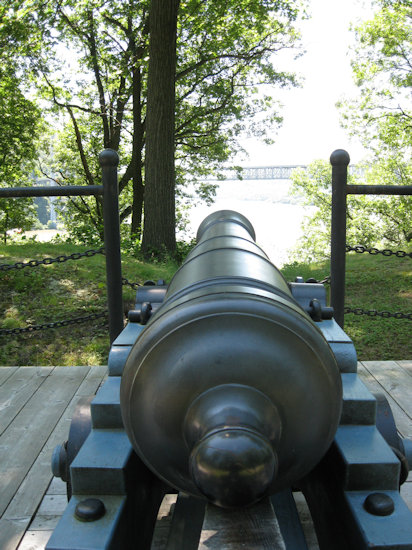 Fort Orange Archeological Site (Albany) - 10/25/2010
The site of the first permanent Dutch settlement in New Netherland at the location of the present-day city of Albany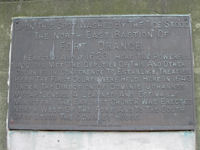 Fort Saint-Frederic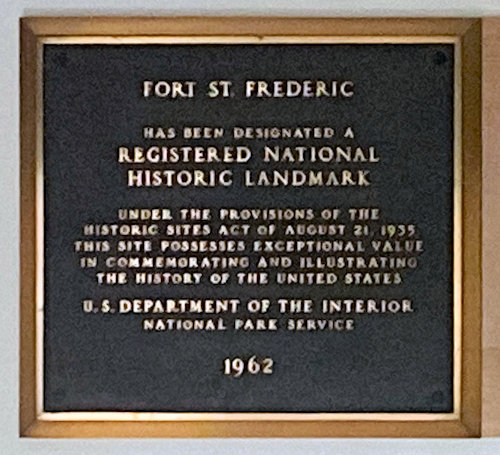 (Crown Point) - 10/17/2020
A 1734 French fort built on Lake Champlain to secure the region against British colonization and control the lake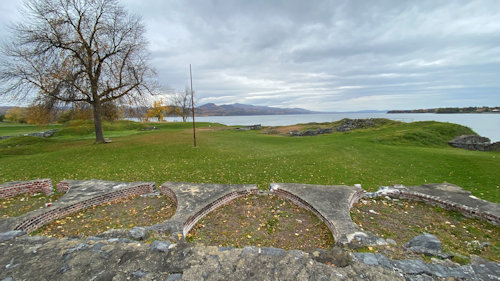 Fort Stanwix (Rome) - 8/18/2010
A 1758 colonial fort constructed by British General John Stanwix, the 1768 site of an important treaty conference between the British and the Iroquois and abandoned by the British in 1777 after the Battle of Oriskany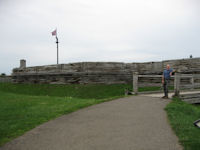 Fort Ticonderoga - 7/1967
A large 18th-century fort built by the French at a narrows near the south end of Lake Champlain, taken by the British in 1759 and finally the Americans in 1777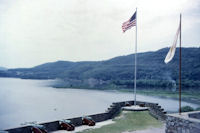 Founder's Hall (New York) - 2/17/2014
The first building built on the campus of The Rockefeller University (formerly The Rockefeller Institute for Medical Research)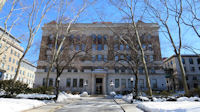 Frederick E. Church House (Hudson) - 7/2/2016
One of the few intact artists' home-, studio- and estate-complexes in the U.S., the eclectic villa was the 1860s home of one of the major figures in the Hudson River School of landscape painting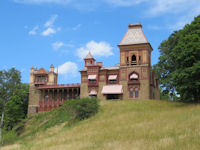 Frick Collection (New York) - 9/2/2011
Housed in the former Henry Clay Frick House, designed by Thomas Hastings and constructed in 1913, it was one of the most opulent for its time, with private gardens both on the avenue front and in an interior courtyard, and now houses one of the preeminent small art museums in the U.S.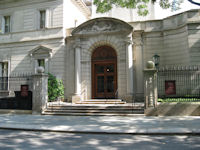 Gardner Earl Memorial Chapel and Crematorium (Troy) - 7/25/2012
Built in 1888 by a wealthy Troy couple as a memorial to their only child, it is significant as the most architecturally sophisticated of the early public crematoria in the U.S., with marble, carved stone and wood, and important works of stained glass by Tiffany.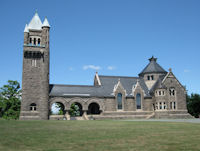 General Electric Research Laboratory (Schenectady) - 10/25/2010
The first industrial research facility in the U.S., established in 1900 and the home to the early technological breakthroughs of General Electric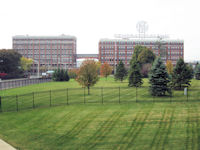 General Winfield Scott House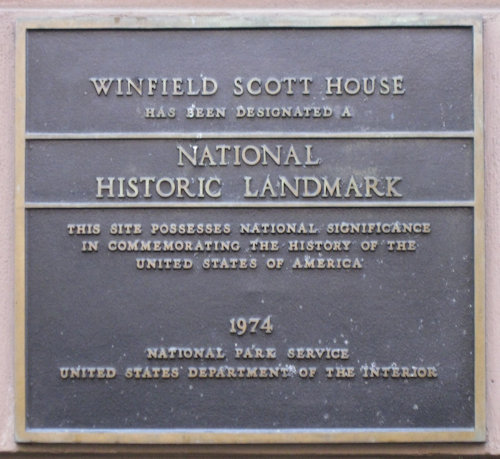 (New York) - 12/29/2011
The house is where the General and unsuccessful Whig Presidential candidate lived from 1853 to 1855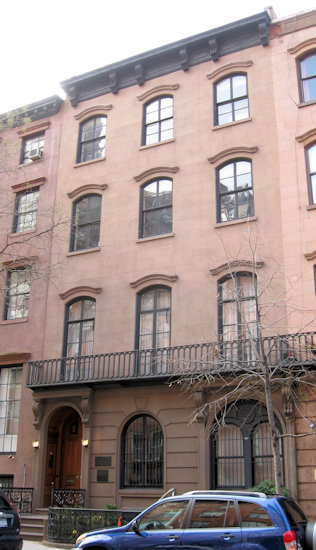 Geneseo Historic District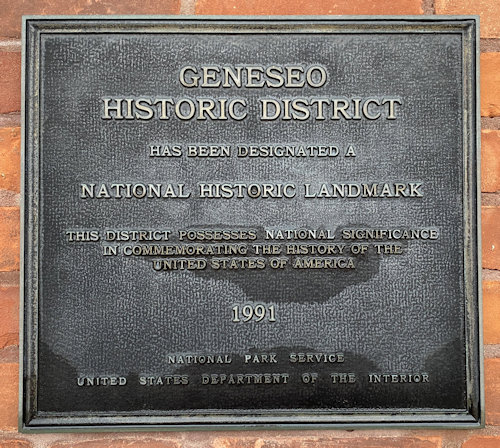 (Geneseo) - 7/19/2020
The area encompasses much of the village center of Geneseo which has a well-preserved 19th-century streetscape, with Victorian architecture embodying a picturesque style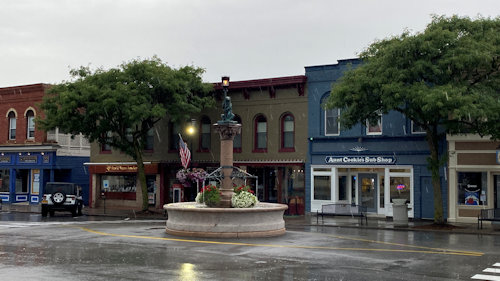 George Eastman House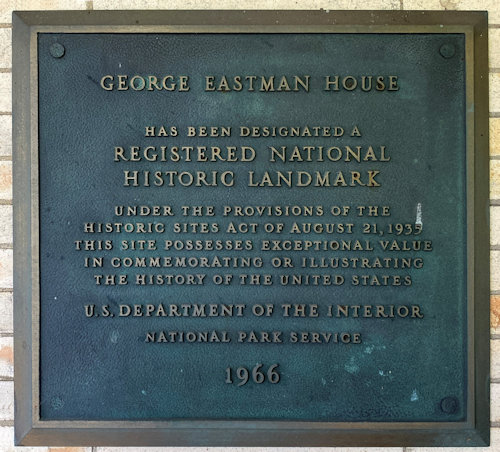 (Rochester) - 7/21/2020
The 1902 neoclassical Georgian Revival residence of Eastman on a unique urban estate, now the world's oldest museum dedicated to photography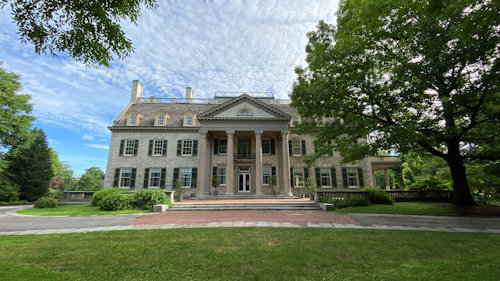 Gerrit Smith Estate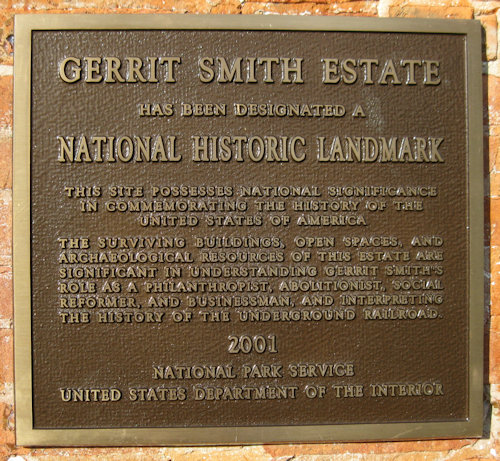 (Peterboro) - 11/29/2010
The location of the home (now gone) and associated buildings of Gerrit Smith, 19th-century social reformer, abolitionist, and presidential candidate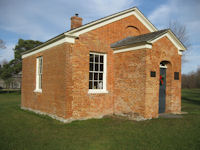 Goshen Historic Track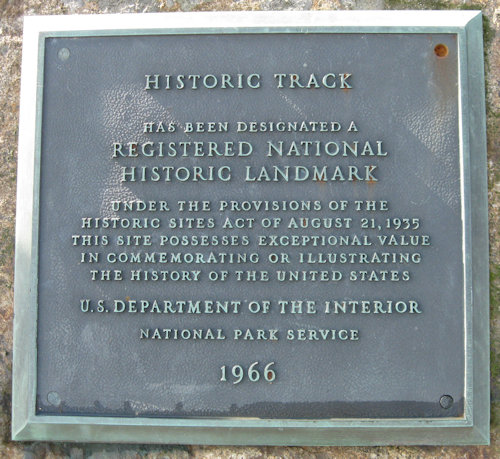 (Goshen) - 10/28/2010
Opening in 1838, the oldest continuously operated horse racing track in North America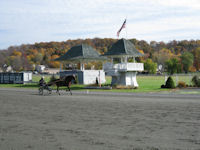 Governors Island (New York) - 8/18/2007
An island in Upper New York Bay, first named by the Dutch explorer Adriaen Block, and so-named due to the exclusive use of New York's royal governors in colonial times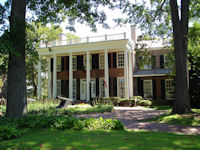 Grace Church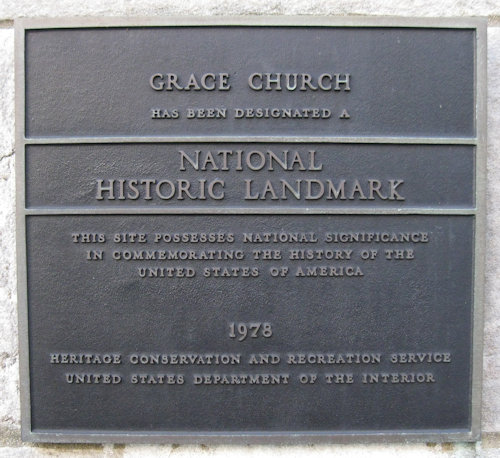 (New York) - 12/29/2011
A French Gothic Revival masterpiece designed by James Renwick, Jr. with interior plaster scored to look like stone construction as opposed to the stone construction of medieval Gothic cathedrals was built starting in 1843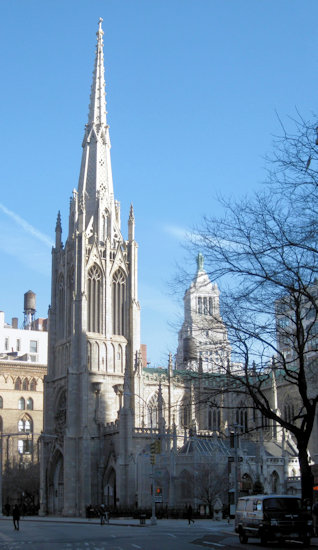 Grand Central Terminal (New York) - 9/2/2011
Built by and named for the New York Central Railroad in the heyday of American long-distance passenger trains, it is the largest train station in the world by number of platforms (44)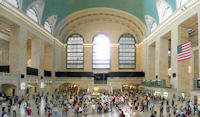 Green-Wood Cemetery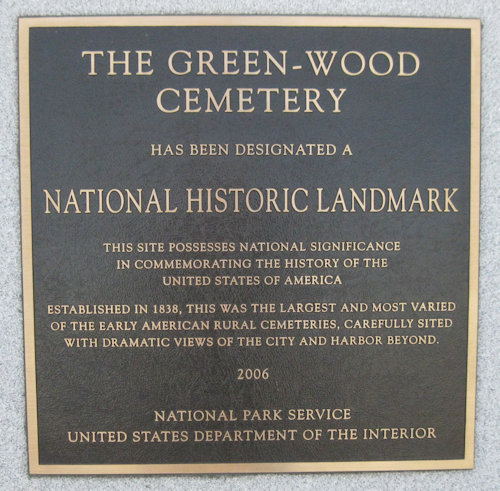 (New York) - 4/14/2012
This is a high-end cemetery in a naturalistic park-like landscape in the English manner, on the high land of Brooklyn on the glacial moraine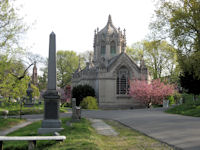 Hamilton Fish House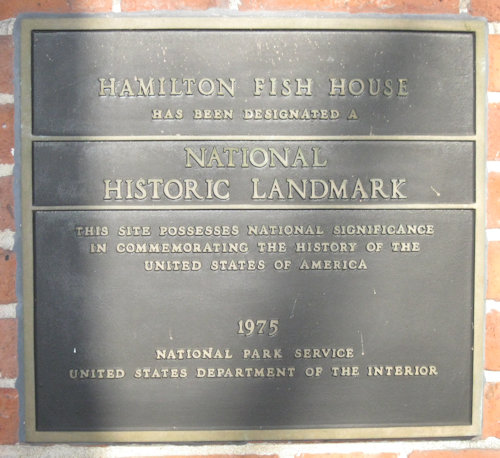 (New York) - 12/29/2011
The house where Hamilton Fish, future Governor and Senator of New York, was born and resided from 1808 to 1838, it was built by Peter Stuyvesant, the great-grandson of Petrus Stuyvesant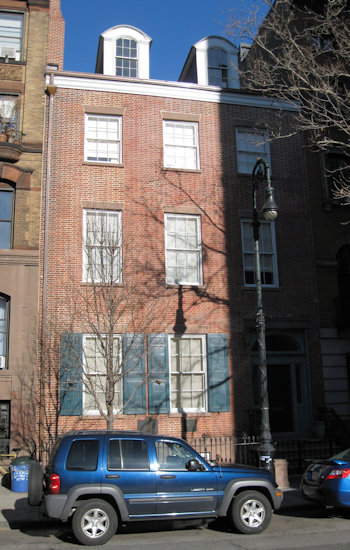 Hamilton Grange (New York) - 1/27/2017
The early 19th-century two-story frame Federal style country home of Alexander Hamilton, completed in 1802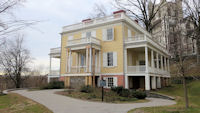 Harmony Mills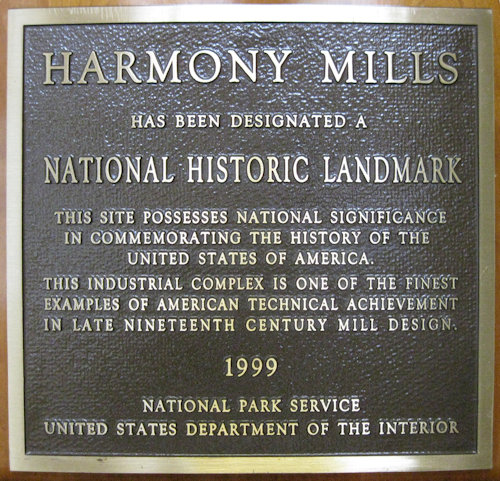 (Cohoes) - 9/27/2010
An industrial district that is bordered by the Mohawk River and the old Erie Canal, it was the largest cotton mill complex in the world when it opened in 1872, and is one of the finest examples of a large-scale textile mill complex outside of New England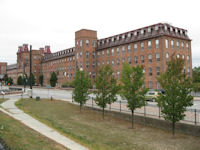 Harriet Tubman Home for the Aged et al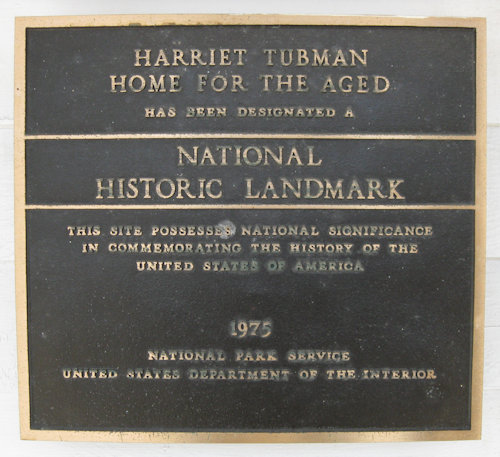 (Auburn) - 3/28/2011
Harriet Tubman Home for the Aged, Harriet Tubman Residence, and Thompson A.M.E. Zion Church are three properties associated with the life of Harriet Tubman, a major "conductor" on the Underground Railroad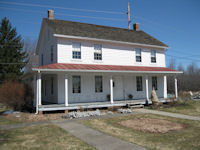 Harry F. Sinclair House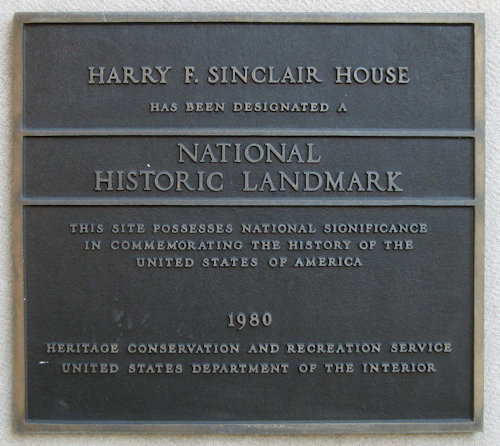 (New York) - 9/2/2011
This house was designed by Charles Pierrepont Henry Gilbert for banker Isaac D. Fletcher in 1897 and later bought in 1918 by the self-made oil millionaire Harry F. Sinclair, who lived in the house until 1930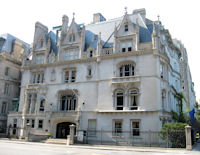 Henry Street Settlement (New York) - 12/28/2012
A not-for-profit social service agency, founded in 1893 by Progressive reformer and nurse Lillian Wald, that provides social services, arts programs and health care services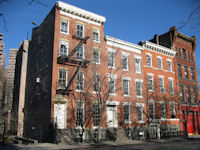 Hispanic Society Of America Complex (New York) - 12/28/2013
Founded in 1904 by Archer M. Huntington as a museum and research library to provide Americans with resources and knowledge regarding their heritage from Spain, Portugal, and Central and South America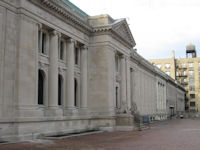 Holland Land Office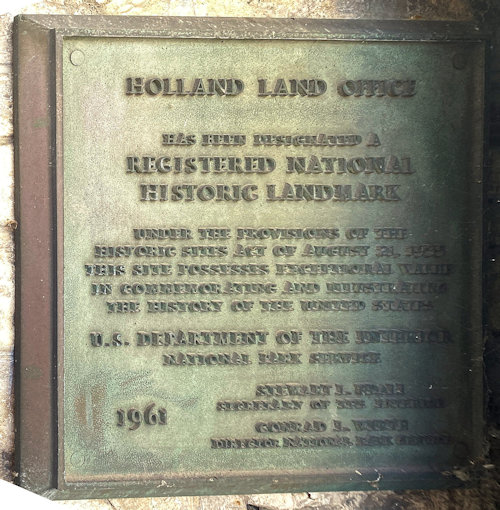 (Batavia) - 7/20/2020
The third and last office of the Holland Land Company, which owned almost all of what is today Western New York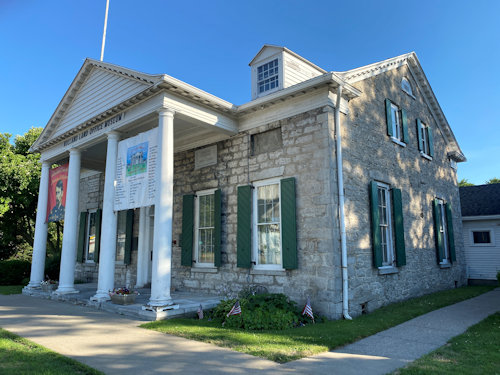 Holland Tunnel (New York) - 10/5/2008
A highway tunnel under the Hudson River named for its first chief engineer, Clifford Holland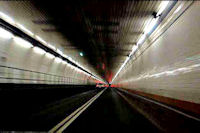 Hudson River Historic District - 7/3/2016
The largest such district on the mainland of the U.S. extending inland roughly a mile from the east bank of the Hudson River between Staatsburg and Germantown. (Wilderstein shown)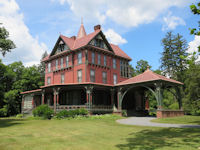 Hudson River State Hospital, Main Building (Poughkeepsie) - 12/13/2010
A former New York state psychiatric hospital designed by Frederick Clarke Withers in High Victorian Gothic style, the first use of that style for an American institutional building (Calvert Vaux and Frederick Law Olmsted designed the grounds)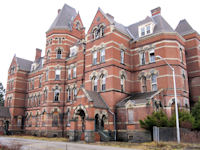 Huguenot Street Historic District (New Paltz) - 2/23/2012
The seven stone houses and several accompanying structures in the district were built in the early 18th century by Huguenot settlers fleeing discrimination and religious persecution in France and Belgium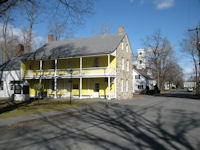 Hurley Historic District (Hurley) - 12/2/2010
Includes 10 stone houses of early 18th century Dutch Colonial architecture historically important both for the houses and its role in the Revolution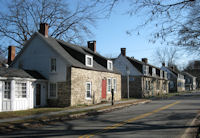 Hyde Hall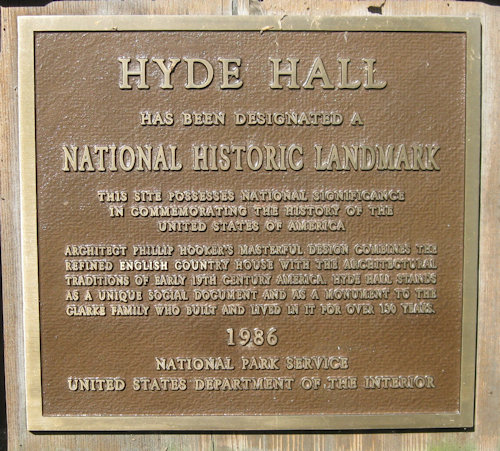 - 9/30/2013
The large neoclassical country mansion of George Clarke, 1768–1835, heir of Governor George Clarke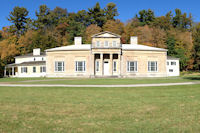 Irving Langmuir House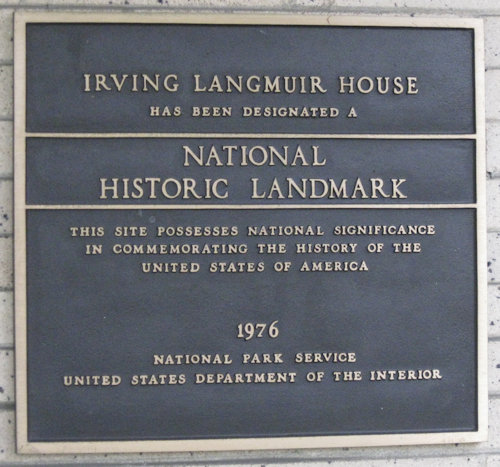 (Schenectady) - 10/25/2010
The home of physicist-chemist Irving Langmuir, winner of the 1932 Nobel Prize during his research career with General Electric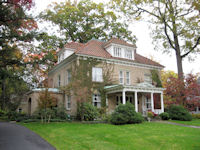 J. Pierpont Morgan Library (New York) - 12/29/2011
A museum and research library founded to house the private library of J. P. Morgan in 1906, designed by Charles McKim from the firm of McKim, Mead and White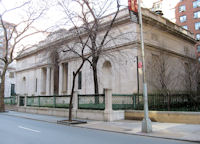 Jackie Robinson House (New York) - 4/14/2012
The home of the baseball great from 1947 when he earned Rookie of the Year with the Brooklyn Dodgers through 1949 when he was voted Most Valuable Player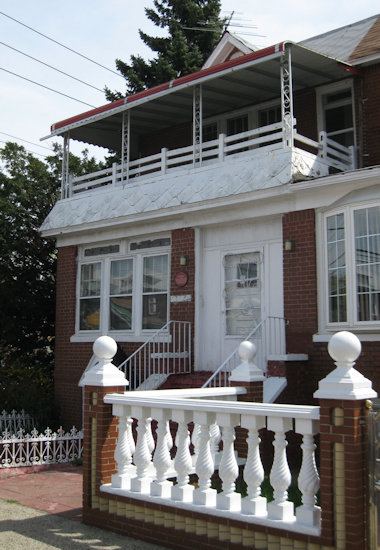 Jackson Pollock House (East Hampton) - 8/16/2012
The artist and his wife Lee Krasner moved to the wood-frame house in 1945, and he started using the nearby barn as his studio in 1946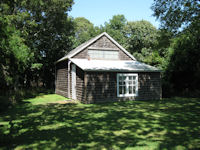 James Hall Office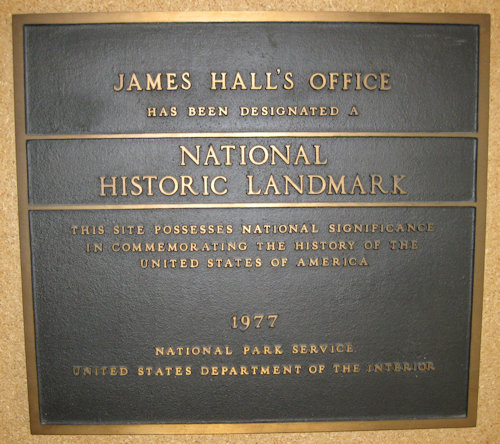 (Albany) - 10/25/2010
The office of paleontologist James Hall, a leader in research on the geology of North America during the 19th century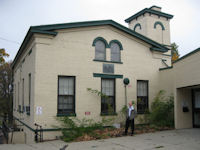 James Weldon Johnson Residence (New York) - 2/17/2012
The building where the composer, song writer, and author and outspoken civil rights advocate lived from 1925 until 1938.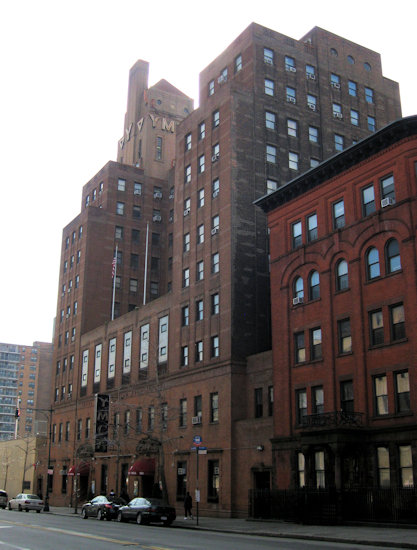 Jay Gould Estate (Lyndhurst) (Tarrytown) - 7/3/1998
A Gothic Revival country house designed in 1838 by Alexander Jackson Davis, once the home of railroad tycoon Jay Gould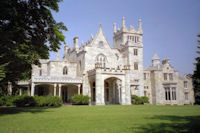 Jean Hasbrouck House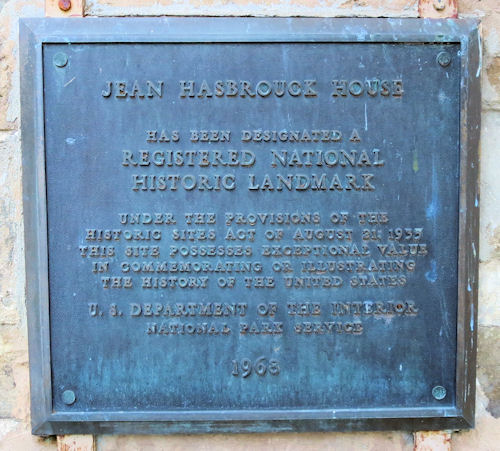 (New Paltz) - 2/23/2012
The Hudson Valley Dutch architecture house was built in 1721 by Huguenot Jean Hasbrouck's son Jacob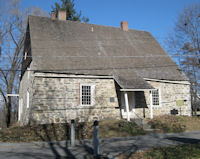 Jethro Wood House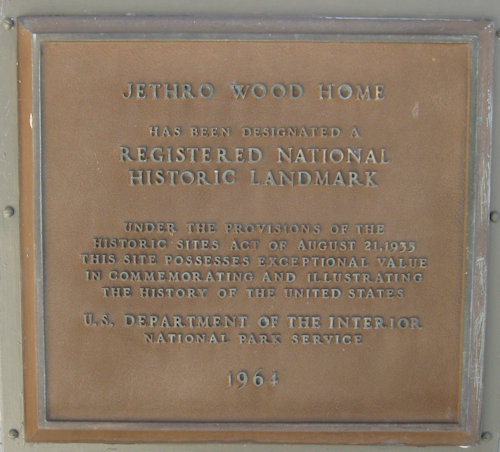 (Poplar Ridge) - 3/28/2011
The home of Jethro Wood, inventor of the first commercially successful cast-iron plow with replaceable parts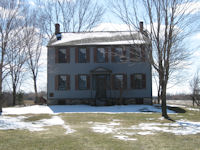 John A. Hartford House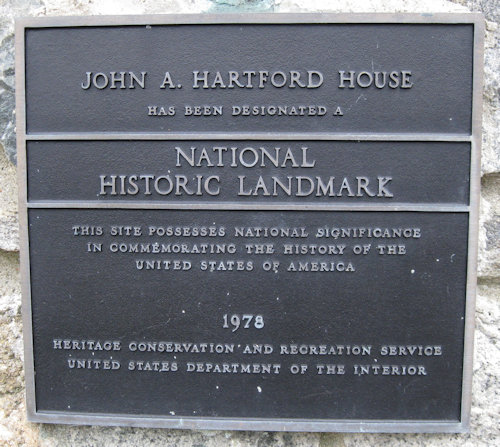 (Valhalla) - 3/31/2011
A house built by John A. Hartford, part of the Hartford family which built up A&P into a national chain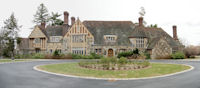 John D. Rockefeller Estate (Kykuit) (Pocantico Hills) - 8/21/2006
A 40-room stone mansion built by the oil businessman and philanthropist John D. Rockefeller, and his son, John D. Rockefeller, Jr.
John Jay Homestead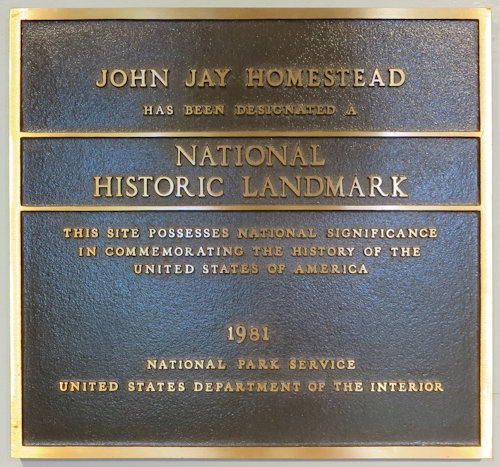 (Katonah) - 7/25/2015
Also known as Bedford House, it was the home of the statesman and first Chief Justice of the U.S.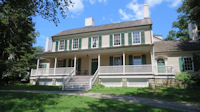 John Philip Sousa House (Sands Point) - 8/7/2012
This was the home of the bandleader and composer from 1915 to 1932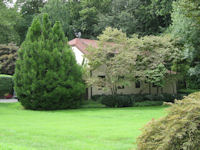 John William Draper House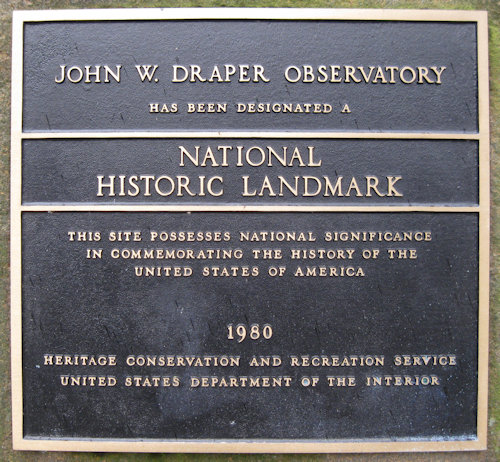 (Hastings-On-Hudson) - 3/31/2011
The home and observatory of John William Draper and his son Henry, where the first recognizable photographs of the Moon through a telescope were taken in 1840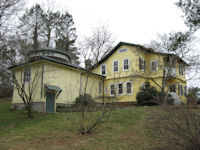 Johnson Hall (Johnstown) - 3/19/2012
The ca. 1763 Georgian-style home (with defensive block houses) of Irish pioneer Sir William Johnson who moved from Fort Johnson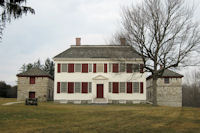 Kate Mullany House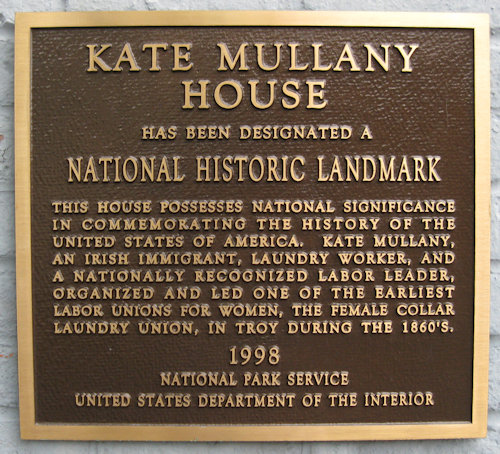 (Troy) - 9/27/2010
The home of the early female labor leader who started the all-women Collar Laundry Union in 1864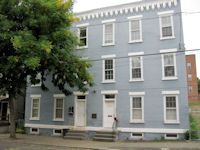 King Manor (New York) - 4/14/2012
This was the home of Rufus King, a signer of the United States Constitution, a Senator from New York, and Ambassador to Great Britain following the American Revolution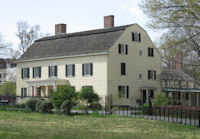 Kleinhans Music Hall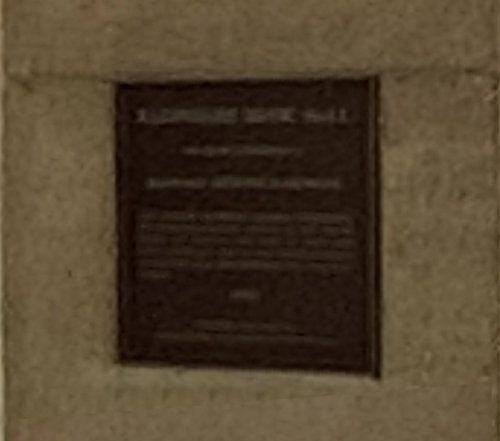 (Buffalo) - 7/20/2020
Renowned for its acoustical excellence and graceful architecture, the building was designed by father-and-son team Eliel and Eero Saarinen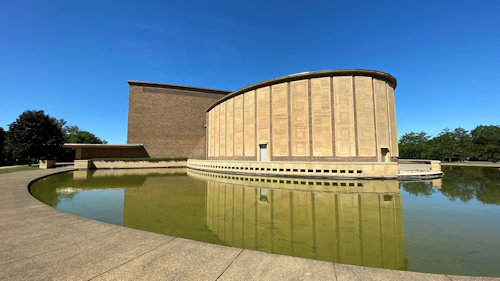 Knox's Headquarters (New Windsor) – 8/11/2011
The Georgian house of the Ellison family, built in 1754, used as a general's headquarters throughout most of the Revolutionary War by Henry Knox, Nathanael Greene and Horatio Gates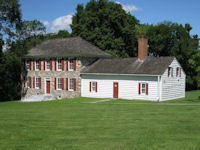 Lamoka - 7/19/2020
This circa 3500 BC site provided the first clear evidence of an archaic hunting and gathering culture in the Northeastern U.S.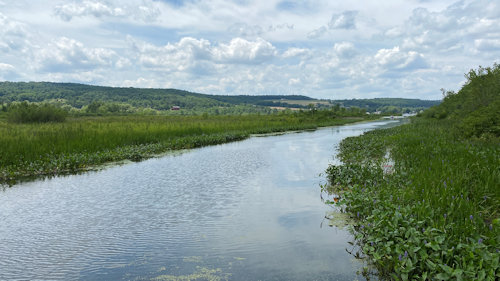 Land Tortoise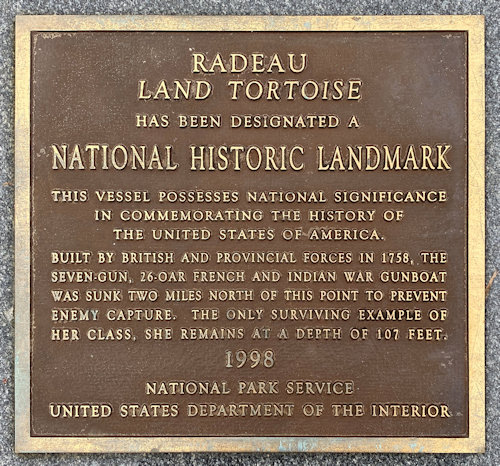 (Lake George) - 10/17/2020
This was a military transport ship (radeeau) built in 1758; intentionally sunk that year with the intention of raising her for use in 1759, it remains submerged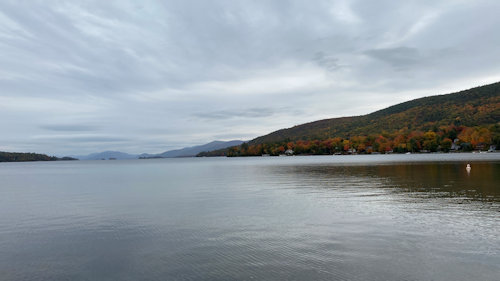 Lemuel Haynes House (Granville) - 10/17/2020
The home of the first African-American clergyman ordained in North America, from 1822 to 1833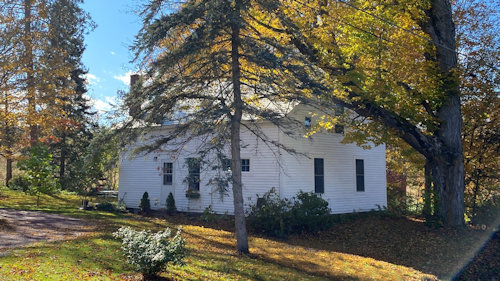 Lightship Ambrose (LV87) (New York) - 6/27/2012
She was in built 1908 and was the first lightship to serve near the center of the main New York Harbor channel, and the last steam-powered vessel to hold this post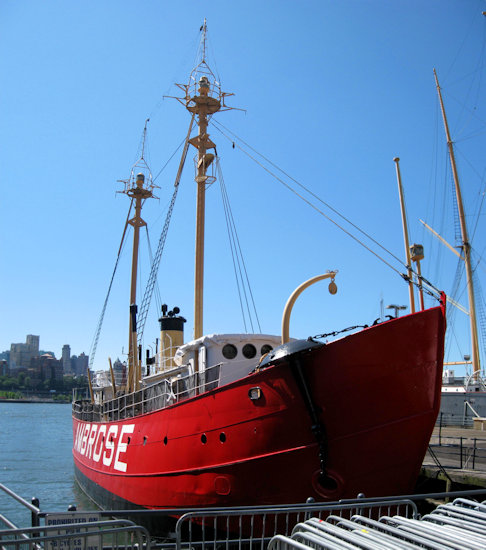 Lindenwald (Kinderhook) - 5/10/1997
The estate and thirty-six room mansion of President Martin Van Buren
Lorillard Snuff Mill (New York) - 8/7/2012
This mill was built from locally-quarried schist around 1840 next to the Bronx River, and is the oldest existing tobacco manufacturing building in the U.S.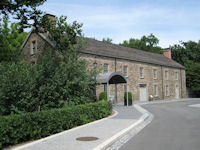 Louis Armstrong House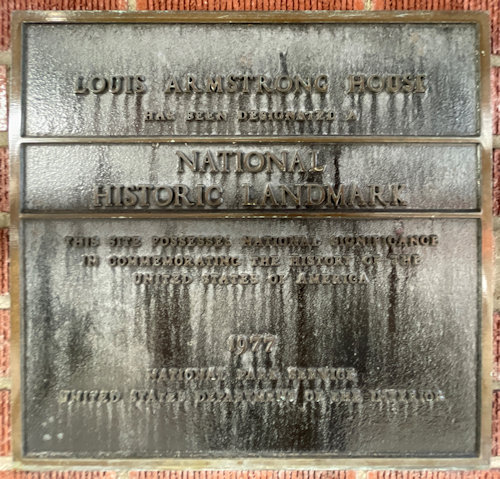 (New York) - 3/12/2021
This was the home of "Satchmo" - trumpeter, composer, vocalist, and actor - and his wife Lucille Wilson from 1943 until his death in 1971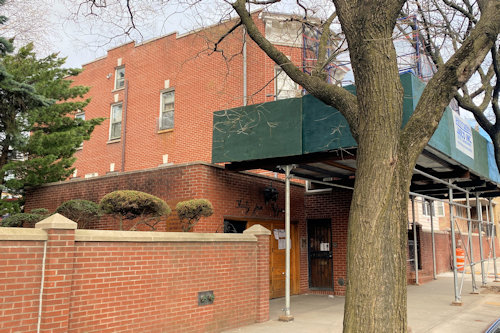 Low Memorial Library (New York) - 10/19/2008
The administrative center of Columbia University built in 1895 by University President Seth Low and home to the Alma Mater sculpture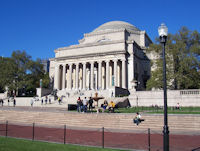 Margaret Sanger Clinic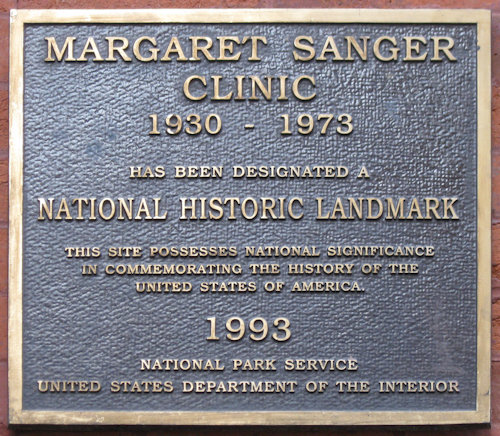 (New York) - 12/30/2010
A brick townhouse which housed a clinic started by Margaret Sanger, promoting safe, harmless contraception from 1930 to 1973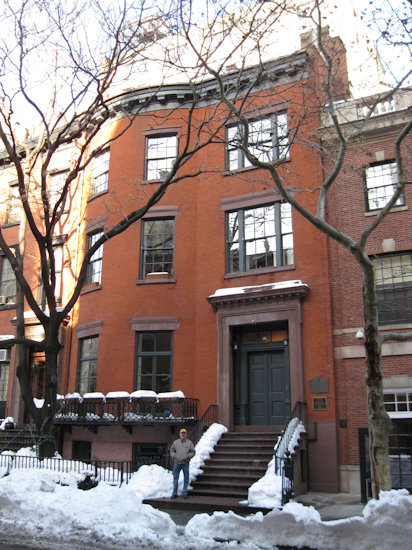 Matthew Henson Residence (New York) - 2/17/2012
The apartment where the African American polar explorer (the trail breaker in Robert Peary's 1909 expedition), lived from 1929 to 1955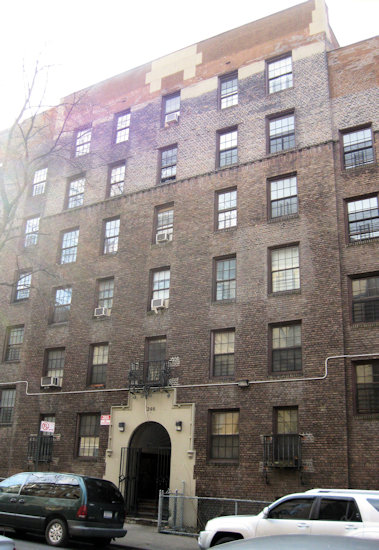 McGraw-Hill Building (New York) - 12/29/2011
This second McGraw-Hill building, designed by Raymond Hood in Art Deco style, features exterior walls with panels of blue-green terra-cotta ceramic tiles, alternating with green-metal-framed windows, with a strongly horizontal orientation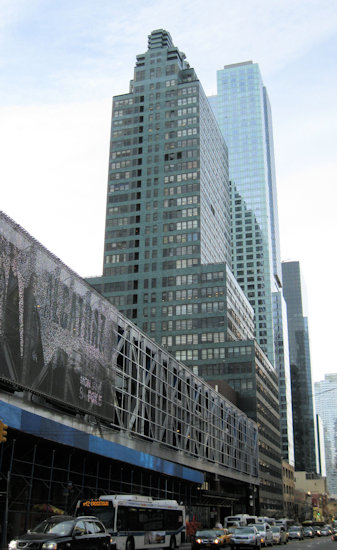 Metropolitan Life Insurance Company Building (New York) - 12/30/2010
A landmark designed by Napoleon LeBrun & Sons modeled after the Campanile in Venice, constructed in 1909 and the world headquarters of the company until 2005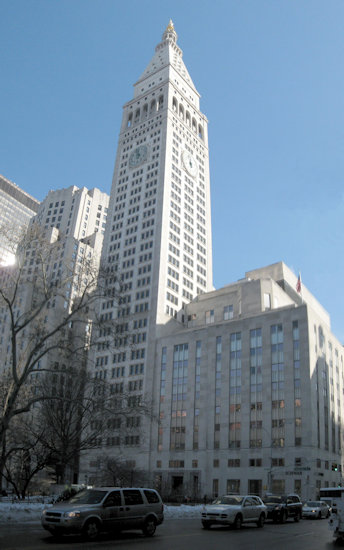 Metropolitan Museum Of Art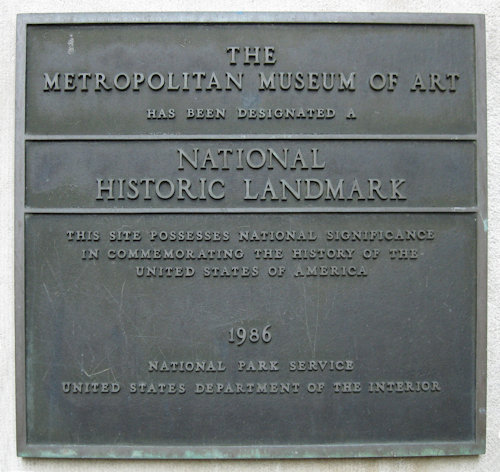 (New York) - 3/4/1989 (photo 9/2/2011)
The Met's permanent collection contains more than two million works of art and is one of the world's largest art galleries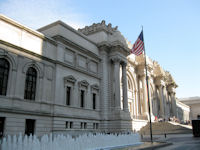 Millard Fillmore House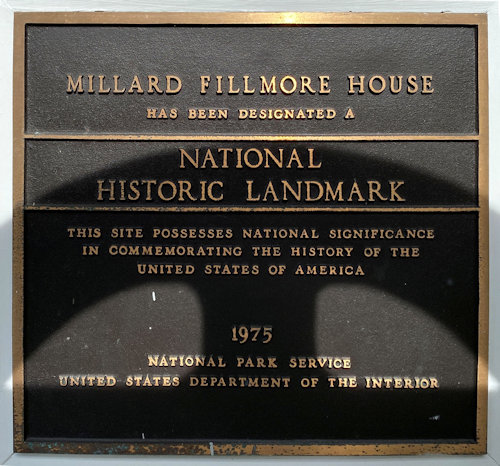 (East Aurora) - 7/19/2020
Built in 1826, it was until 1830 the residence of the 13th President, subsequently moved twice and significantly altered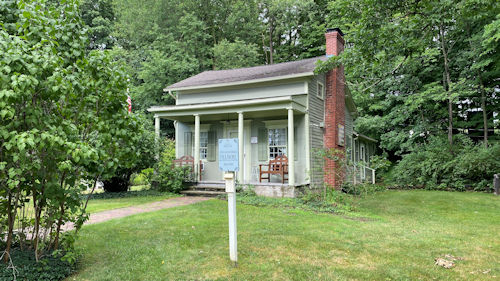 Modesty (West Sayville) - 4/29/2012
Modesty is a gaff-rigged oyster sloop built in 1923, modeled after a catboat believed to be the last sailing scallop dredger built on Long Island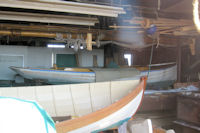 Mohawk Upper Castle Archeological District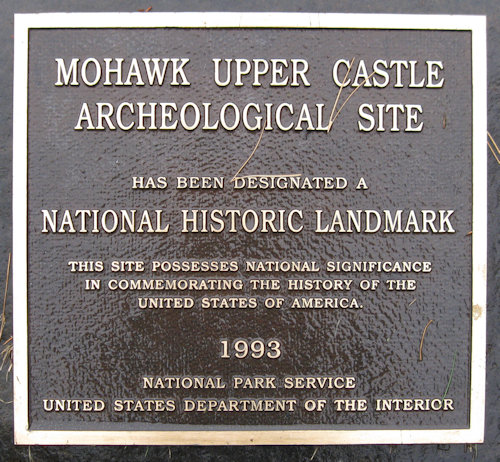 - 9/30/2010
Upper Castle was a fortified village known as Canajoharie; the historic district includes the Indian Castle Church, built in 1769, as well as archaeological site areas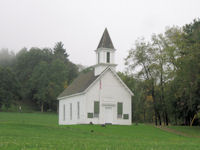 Mohonk Mountain House (New Paltz) - 10/21/2018
Begun in the 1870s as a small resort for family and friends by the Quaker twin Smiley brothers on the shore of Lake Mohonk, it evolved into a major resort complex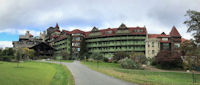 Montauk Lighthouse - 8/16/2012
The lighthouse was the first to be built in New York, and is currently the fourth oldest active lighthouse in the U.S., authorized under President Washington in 1792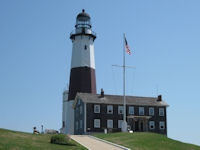 Montgomery Place - 7/3/2016
An early 19th-century estate with a Federal-style house, and the only Hudson Valley house from this era that survives intact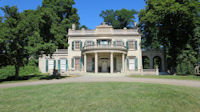 Morrill Hall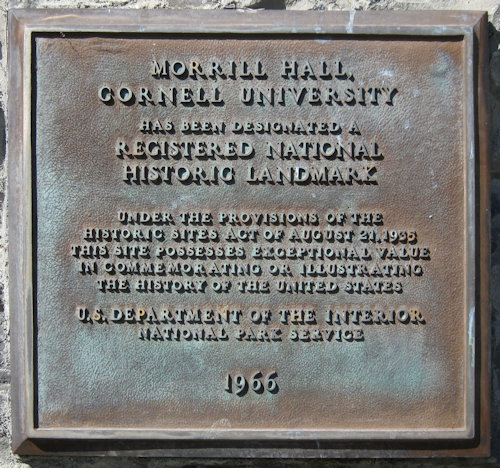 (Ithaca) -
An academic building of Cornell University named in honor of Justin Smith Morrill, who as Senator from Vermont was the primary proponent of the Morrill Land-Grant Colleges Act of 1862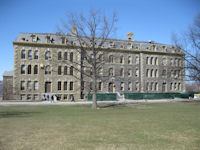 Morris-Jumel Mansion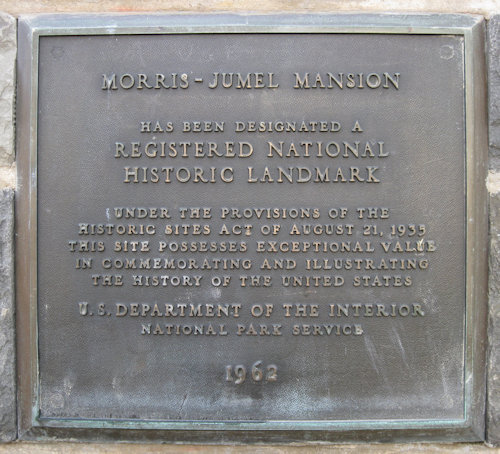 (New York) - 2/17/2012
This is the oldest house in Manhattan, built by Roger Morris in 1765 in the Palladian style (with a monumental portico and pediment, supported by grand Tuscan columns) and serving as a headquarters for both sides in the Revolution.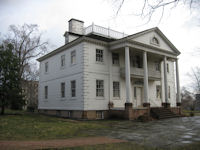 Nash (Harbor Tug)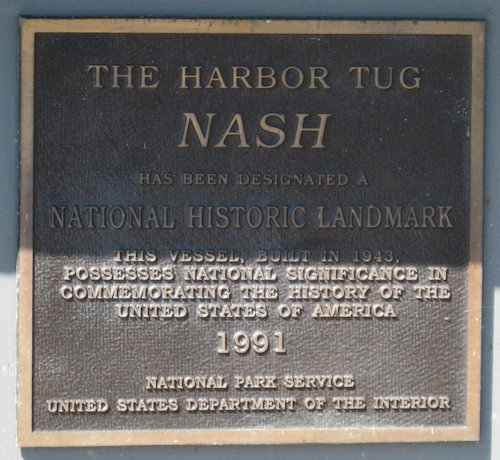 (Oswego) - 7/9/2012
A World War II Army Large Tug-class seagoing tugboat, the last functional Army vessel that participated in Normandy landings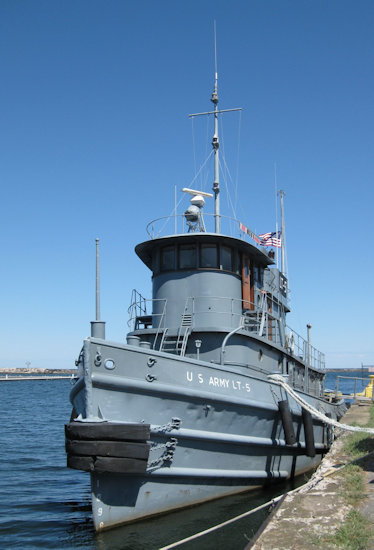 National City Bank (New York) - 11/26/2011
The Greek Revival building was originally the Merchants Exchange built in 1836; in 1899, National City Bank, which subsequently became Citibank, commissioned architects McKim, Mead & White to remodel the building for use as their headquarters, adding four stories to the building and superimposing a second colonnade of Corinthian columns above the original facade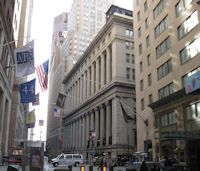 New York Amsterdam News (New York) - 2/17/2012
This midblock row house is where The New York Amsterdam News, a newspaper which grew to national influence covering African-American issues, was published between 1916 and 1938.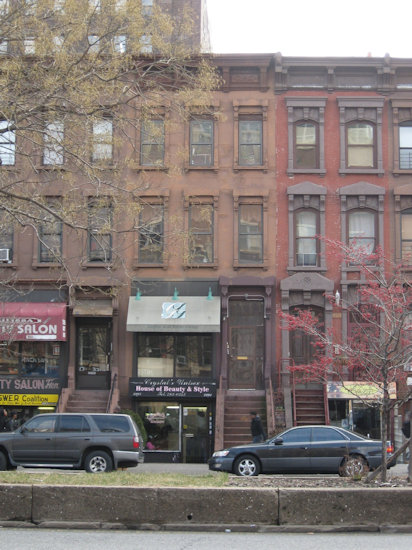 New York Botanical Garden (New York) - 8/7/2012
The facility covers around 250 acres and is one of the premier botanical gardens in the U.S.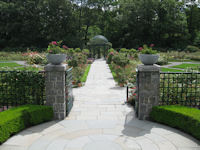 New York City Hall (New York) - 11/26/2011
The French Renaissance building is the oldest City Hall in the U.S. that still houses its original governmental functions, such as the office of the Mayor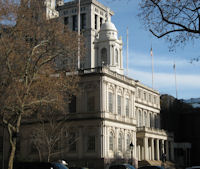 New York Cotton Exchange (New York) - 11/26/2011
The structure was constructed as a commercial investment by the builder, developer and merchant Richard F. Carman in 1851-53; it was first the headquarters of the Hanover Bank and in 1870, the New York Cotton Exchange was founded here, the second such exchange in the world and the first commodity market in the U.S.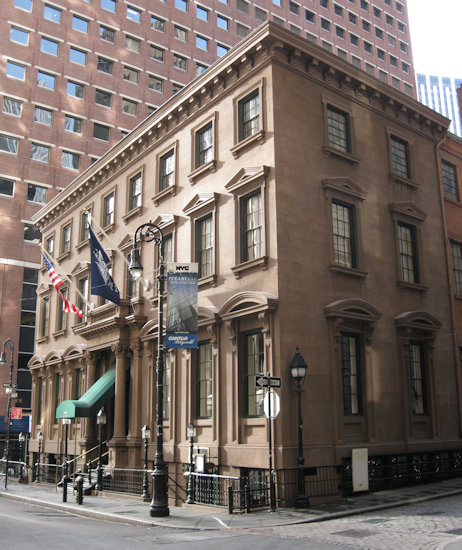 New York Life Building (New York) - 12/30/2010
The headquarters of the New York Life Insurance Company, designed in 1926 by Cass Gilbert inspired by Salisbury Cathedral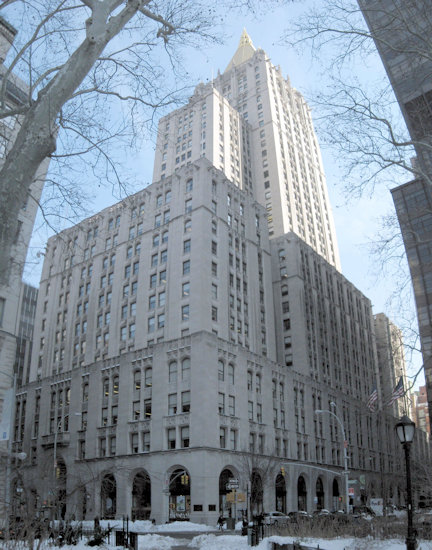 New York Public Library (New York) - 1/2/1998 (photo 9/2/2011)
The third largest public library in North America and is one of the country's most significant research libraries
New York State Barge Canal - 7/26/2019
Includes the 1905-1918 Erie, Champlain, Oswego, and Cayuga-Seneca canals, direct successors of canals built during the 1820s

New York State Capitol (Albany) - 4/7/2008
The building, completed during 1899, houses the New York State Legislature, includes, on different floors, Classical/Romanesque style, Renaissance Classical style and Victorian-modified Romanesque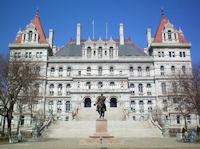 New York State Inebriate Asylum (Binghamton) - 10/28/2010
The Gothic Revival exterior was designed by New York architect Isaac G. Perry, completed in 1864 and was the first institution designed and constructed to treat alcoholism as a mental disorder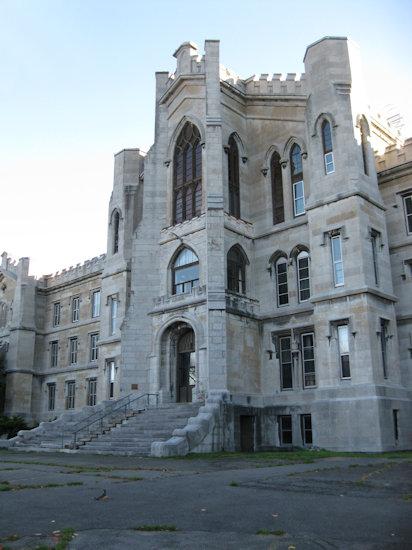 New York Stock Exchange (New York) - 3/29/1996
A stock exchange located on Wall Street and, in 2010, the world's largest stock exchange by market capitalization of its listed companies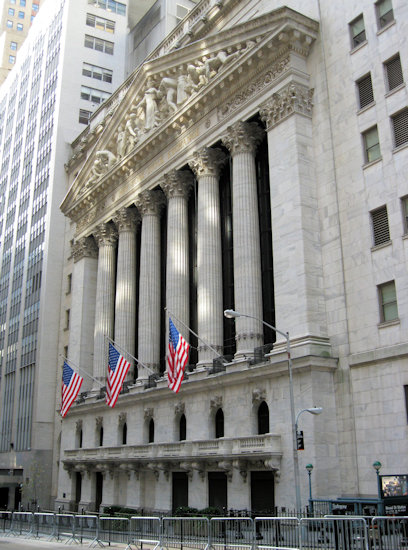 New York Studio School (New York) - 12/29/2011
The New York Studio School of Drawing, Painting and Sculpture is a collection of homes built around 1838, purchased by Gertrude Vanderbilt Whitney and converted into the first building for the Whitney Museum of Art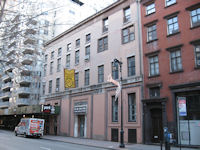 New York Yacht Club (New York) - 12/29/2011
A private social club and yacht club founded in 1844 by nine prominent sportsmen with its primary clubhouse being a six-storied Beaux-Arts landmark with a nautical-themed limestone façade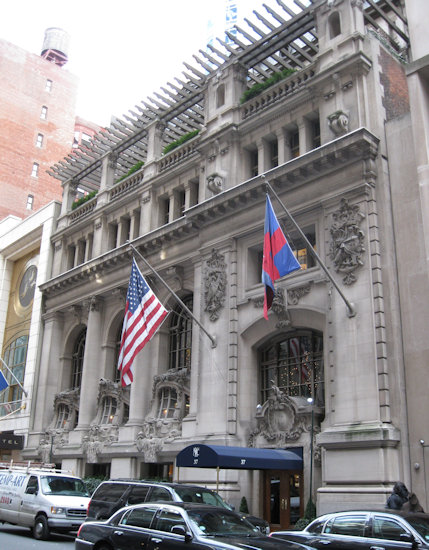 Newtown Battlefield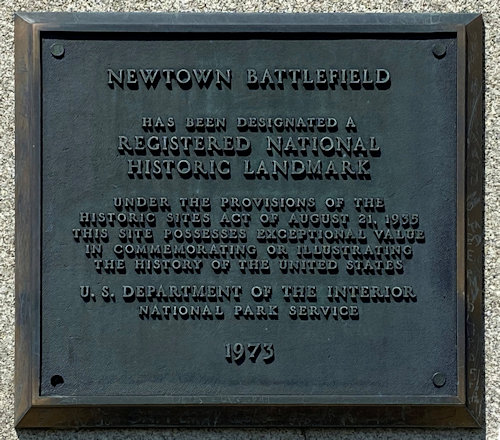 - 7/19/2020
The site of the August 1779 Revolutionary War Battle of Newtown, led by General John Sullivan to end the threat of the Iroquois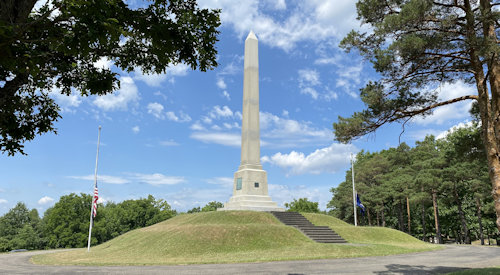 Niagara Reservation - 9/11/1993
The Niagara Reservation includes Niagara Falls State Park, the oldest state park in the U.S.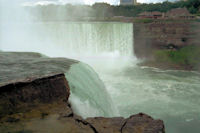 Nott Memorial Hall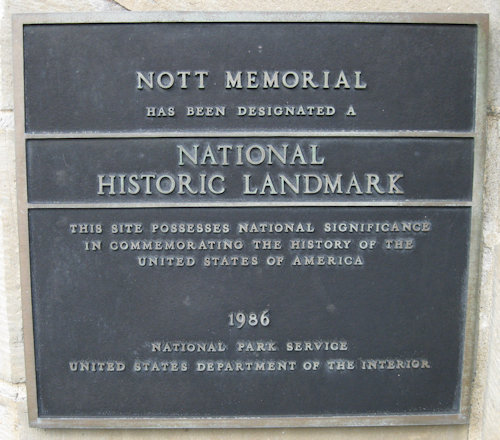 (Schenectady) - 10/25/2010
An elaborate 16-sided stone-masonry building on the campus of Union dedicated to past Union president Eliphalet Nott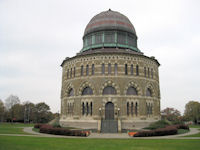 Old Blenheim Bridge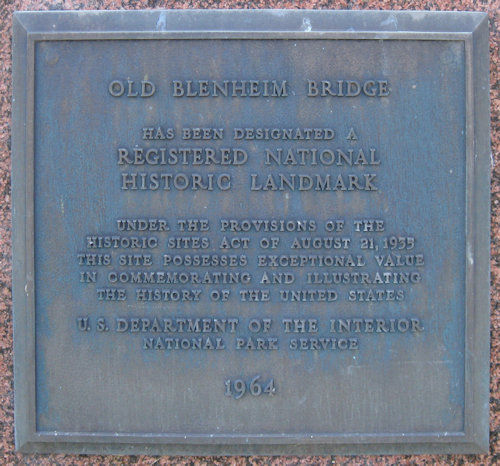 (North Blenheim) - 12/2/2010
[De-designated] A wooden covered bridge spanning Schoharie and the second-longest single span covered bridge in the world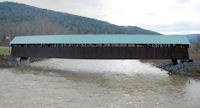 Old House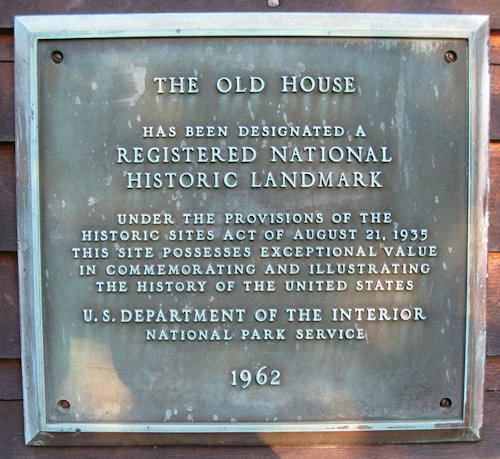 (Cutchogue) - 10/23/2010
An historic home in Cutchogue and one of the most distinguished surviving examples of English domestic architecture in America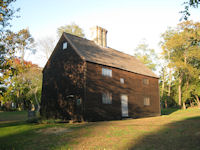 Old Merchant's House (New York) - 11/20/2010
A Federal-style red-brick row house built in 1832 by Joseph Brewster, designed by Minard Lafever and the only nineteenth century family home in New York City preserved intact inside and out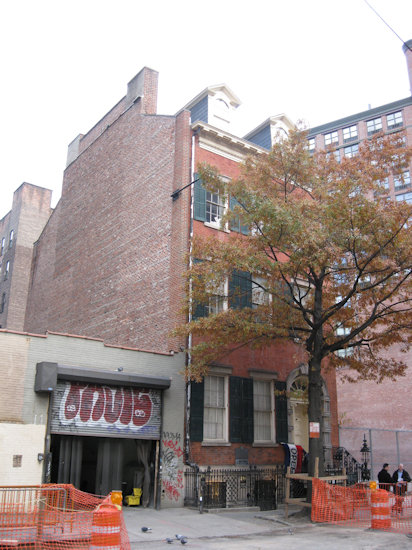 Old New York County Courthouse (New York) - 11/26/2011
Also known as the Tweed Courthouse, it was built in 1861 in Italianate style with Romanesque Revival interiors, using funds provided by the corrupt William M. "Boss" Tweed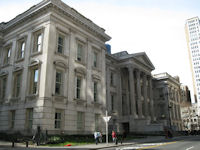 Old Quaker Meetinghouse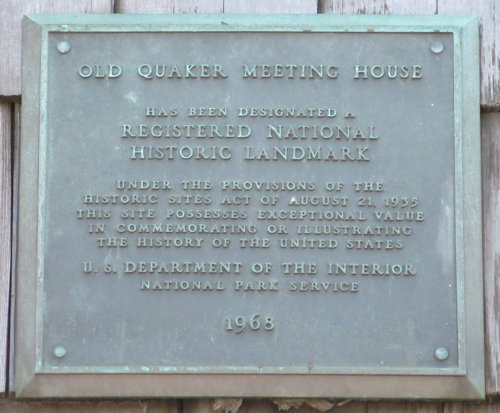 (New York) - 2/17/2014
The site, built in 1694, is the oldest house of worship in New York City and the second oldest Quaker meeting house in the nation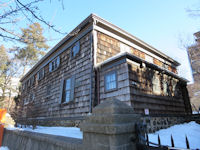 Oneida Community Mansion House (Oneida) - 11/29/2010
A surviving building from the historic Oneida Community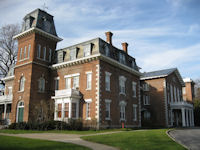 Oriskany Battlefield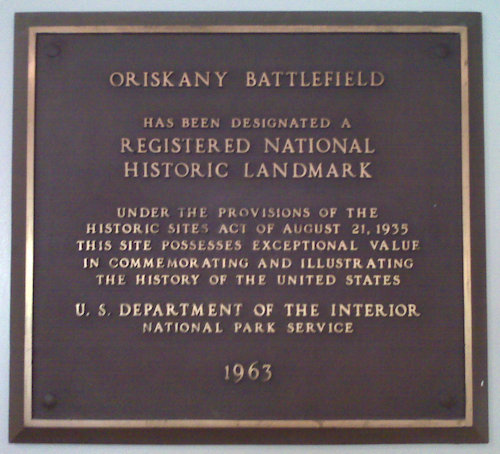 - 7/26/2011
This site marks the 1777 Battle of Oriskany, where Militia General Herkimer, leading a relief column to the besieged Fort Stanwix, was ambushed in a ravine by a mixed group of Iroquois and Tories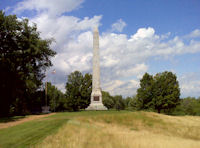 Owl's Nest (Queensbury) - 10/17/2020
Developed in the 1870s and 1880s, it was the home of one of America's first realist writers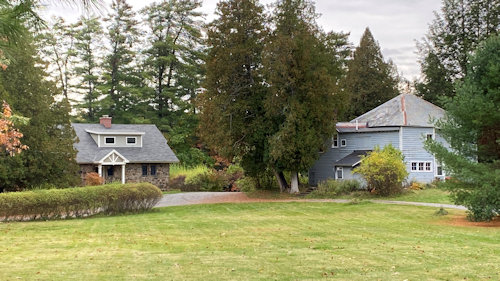 Palisades Interstate Park - 8/4/2014
The cliffs on the west bank of the Hudson River were originally protected by the Palisades Interstate Park Commission formed in 1900 in response to the destruction of the Palisades by quarry operators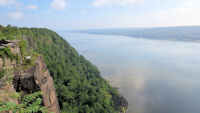 Paul Robeson Residence (New York) - 2/17/2012
This apartment house, originally for whites only but then open to African-Americans, was the 1939-1941 home of the actor and civil rights advocate, along with other notables such as musician Count Basie and boxer Joe Louis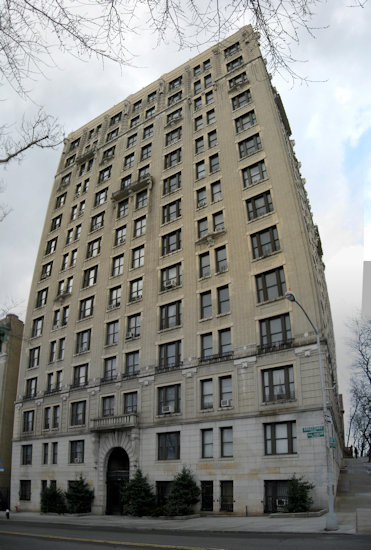 Petrified Sea Gardens (Greenfield Center) - 7/24/2019
The site preserves an area of ancient stromatolites (marine algae growths) in a Cambrian rock layer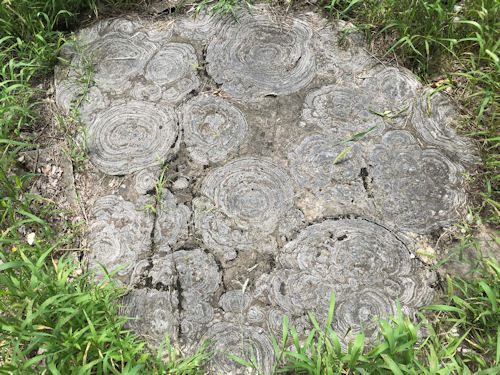 Philip Schuyler Mansion (Albany) - 7/25/2012
The house was constructed in 1761 for the general in the Continental Army and early U.S. Senator, who resided there from 1763 until his death in 1804.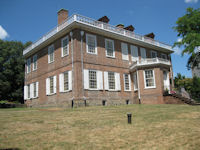 Philipsburg Manor (Sleepy Hollow) - 8/21/2006
An English Manor in the Province of New York that lasted from 1693 until 1779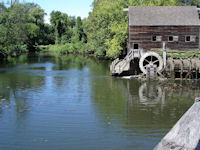 Philipse Manor Hall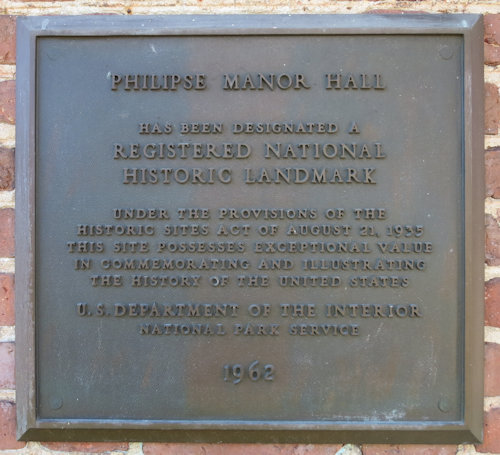 (Yonkers) - 12/28/2013
Built around 1682 by trader Frederick Philipse, the building was used primarily as a stopover point on the long journey up and down the river between his home in New Amsterdam and the northern parts of his estate and eventually abandoned by Loyalist Frederick Philipse III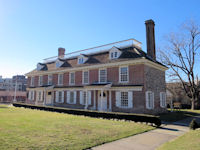 Philosophy Hall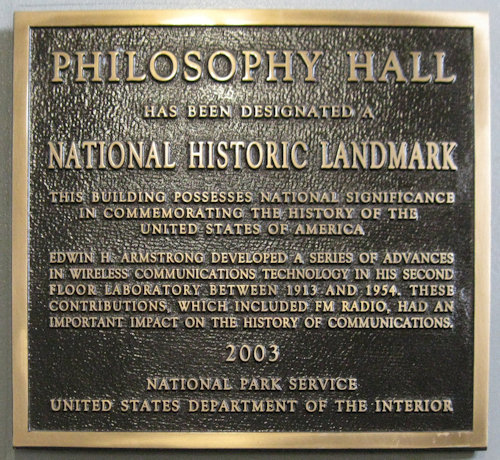 (New York) - 2/17/2012
This building was one of the original buildings designed for the Morningside Heights campus by McKim, Mead, and White, built in the Italian Renaissance Revival style and completed in 1910, with an original cast of Rodin's The Thinker on the lawn out front.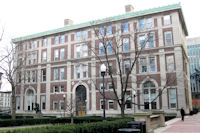 Plattsburgh Bay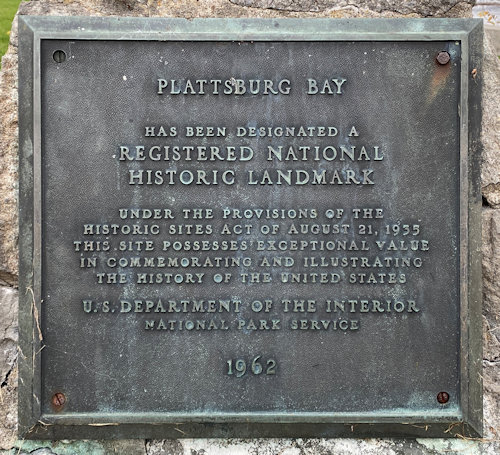 (Plattsburgh) - 10/17/2020
The site of the Battle of Plattsburgh, a naval and land engagement fought in September 1814 late in the War of 1812 where British forces were repulsed by Americans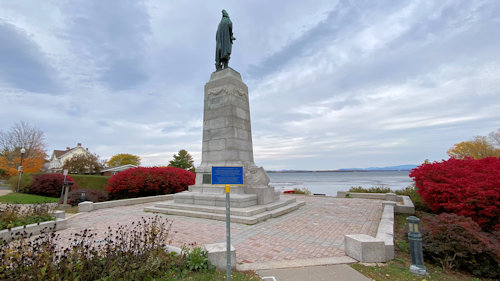 Players Club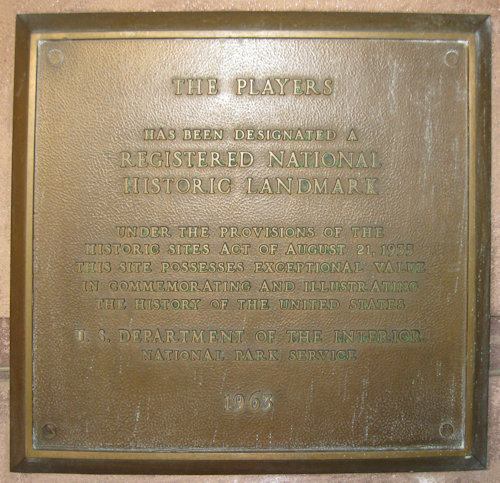 (New York) - 12/30/2010
A social club founded in New York City by 19th-century Shakespearean actor Edwin Booth, who purchased an 1847 mansion located in Gramercy Park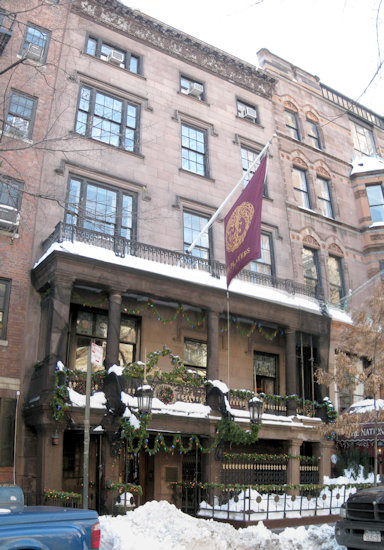 Playland Park (Rye) - 12/28/2013
Based on existing amusement areas and opening in 1928, it is one of the only government owned-and-operated amusement parks in the U.S.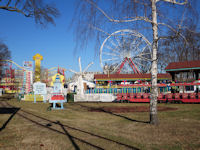 Plaza Hotel (New York) - 6/24/2011
A landmark 20-story luxury hotel, built in 1907 in French Renaissance château-style style on the west side of Grand Army Plaza, from which it derives its name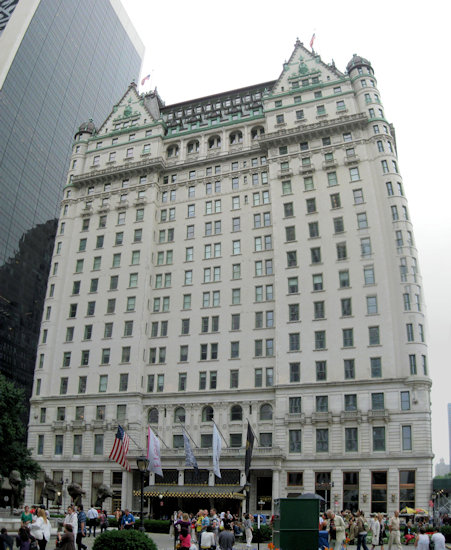 Plymouth Church Of The Pilgrims (New York) - 12/28/2012
Built in 1850 and designed by Joseph C. Wells, the church was the third Congregationalist church to be organized in Brooklyn with Henry Ward Beecher its first pastor, who became a leading figure in the Abolitionist movement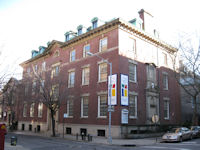 Priscilla (West Sayville) - 4/29/2012
From 1888 to 1963, the classic oyster dredging sloop Priscilla was owned and operated by several oystermen from Connecticut and New York, successful because she could dredge well in both light and heavy winds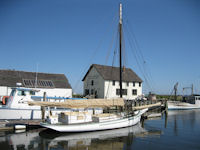 Prudential (Guaranty) Building (Buffalo) - 7/20/2020
An early (1896) skyscraper in Buffalo, designed by Louis Sullivan and Dankmar Adler with terra cotta embellishments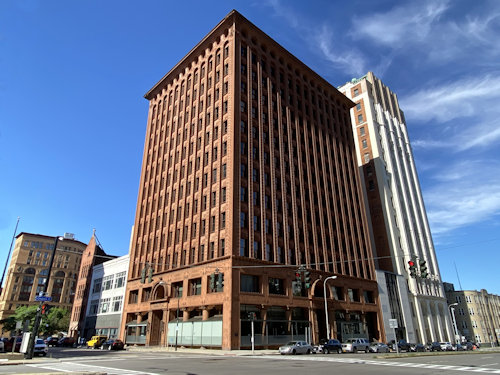 Pupin Physics Laboratory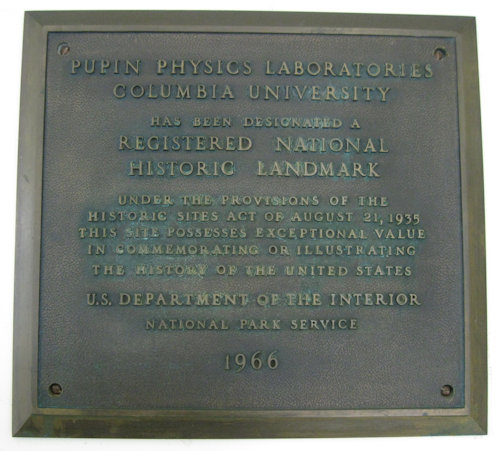 (New York) - 2/17/2012
Built in 1925-1927, this is the home to the University physics and astronomy departments and is associated with experiments relating to the splitting of the atom, including Enrico Fermi's work on nuclear fission, and was home to one of the country's first cyclotrons.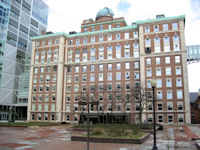 Quarters A, Brooklyn Navy Yard (New York) - 12/28/2012
The residence of the commander of the Brooklyn Navy Yard and home to Commodore Matthew C. Perry at the time of his opening of Japan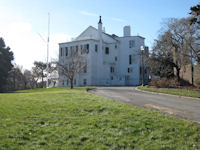 R. H. Macy And Company Store (New York) - 12/30/2010
The flagship of Macy's department stores, in Herald Square, and the world's largest department store since 1924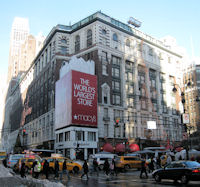 Ralph Johnson Bunche House (New York) - 4/14/2012
The neo-Tudor house was the home of American diplomat Ralph Bunche who helped found the United Nations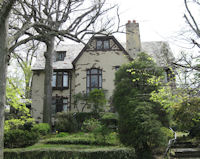 Rockefeller Center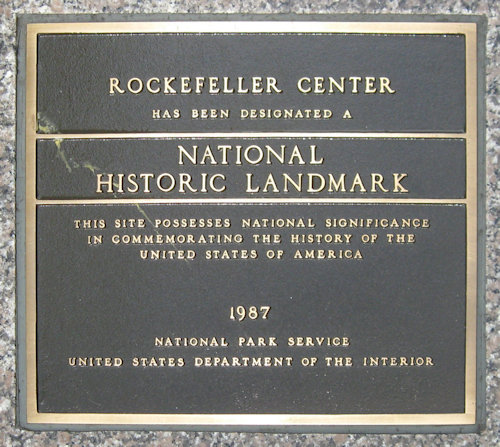 (New York) - Multiple (6/24/2011 shown)
A complex of 19 commercial buildings covering 22 acres, built by the Rockefeller family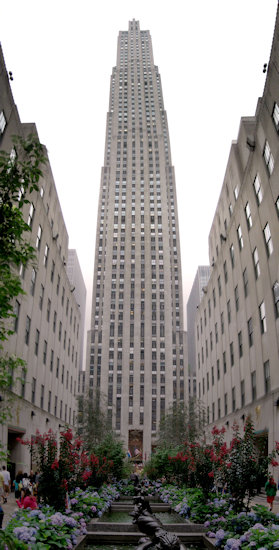 Roscoe Conkling House (Utica) - 11/29/2010
The home of Roscoe Conkling a powerful and controversial politician and considered partially responsible political atmosphere that led to the assassination of U.S. President James Garfield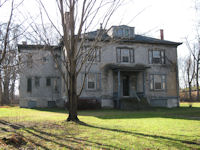 Rose Hill Mansion (Fayette) - 7/18/1997
A mansion, built in 1837 in the form of a 2 story Greek temple with six Ionic columns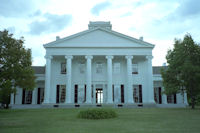 Roycroft Campus (East Aurora) - 7/19/2020
This was an 1890s reformist community of craft workers and artists which formed part of the Arts and Crafts movement in the U.S.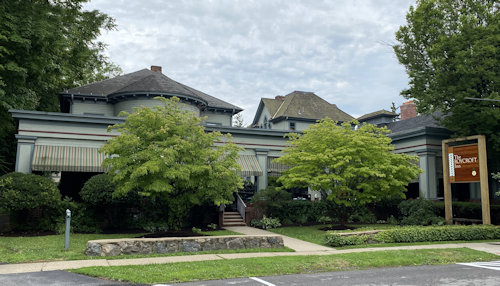 Rudolph Oyster House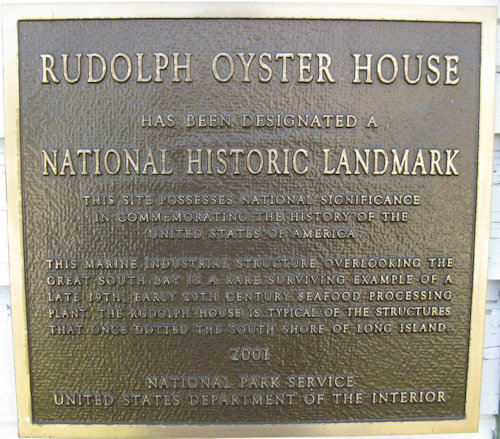 (West Sayville) - 4/29/2012
This small, simple building is typical of the many oyster culling houses which once lined the Great South Bay waterfront, providing work for hundreds of predominantly Dutch immigrant local residents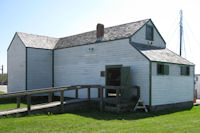 Russel Wright House and Studio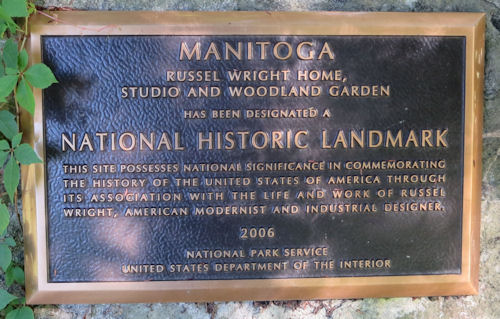 (Philipstown) - 9/9/2017
This synthesis of architecture and nature was the estate and modernist home of the industrial designer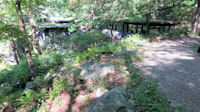 Sailors' Snug Harbor (New York) - 4/14/2012
This was once a home for aged sailors and is now an 83-acre city park with a collection of architecturally significant 19th century Greek Revival, Beaux Arts, Italianate and Victorian style buildings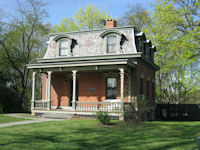 Samuel F. B. Morse House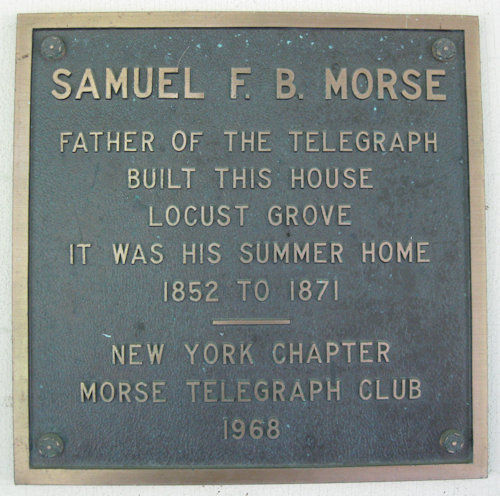 (Poughkeepsie) - 7/11/2011
The house was designed for Morse by Alexander Jackson Davis in an Italianate style and completed in 1851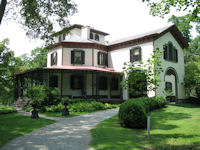 Samuel J. Tilden House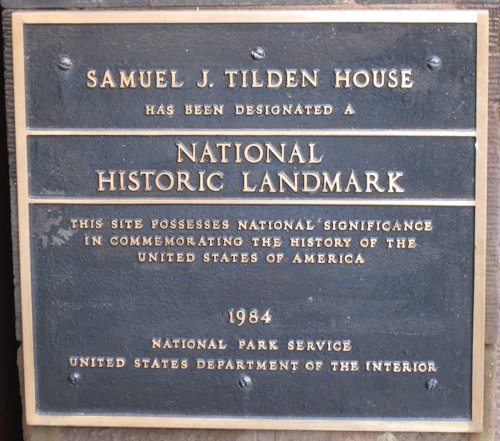 (New York) - 12/30/2010
The home, built in 1845, of Samuel J. Tilden, former governor of the U.S. state of New York and fierce opponent of the Tweed Ring and Tammany Hall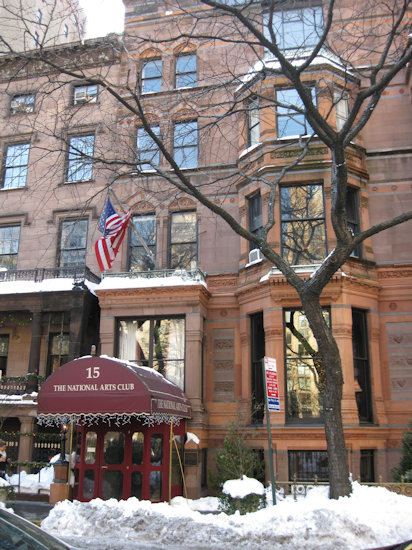 Saratoga Spa State Park (Saratoga Springs) - 7/25/2012
The carbonated water which vents in springs and geysers in this area is rich in minerals and salts, leading to the development of bath houses, research facilities and a drink hall, as well as performing arts facilities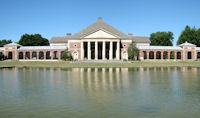 Schomburg Center for Research in Black Culture (New York) - 1/27/2017
A research library of the New York Public Library and an archive repository for information on people of African descent worldwide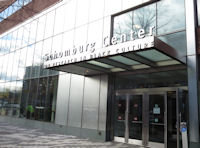 Schuyler Flatts Archeological District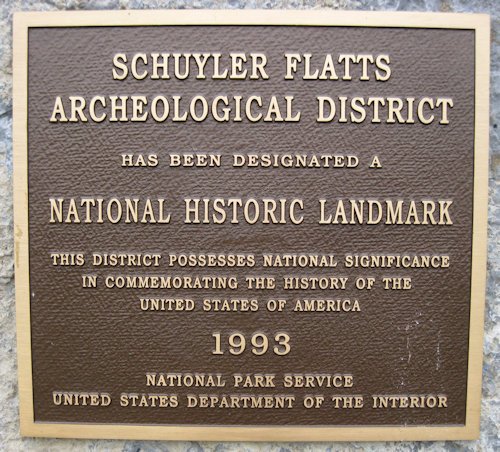 (Colonie) - 9/27/2010
An archeological district on the floodplain of the Hudson River just north of Albany, showing remains of 6,000 years of human history in the area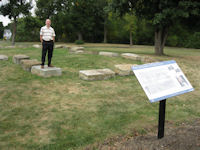 Slabsides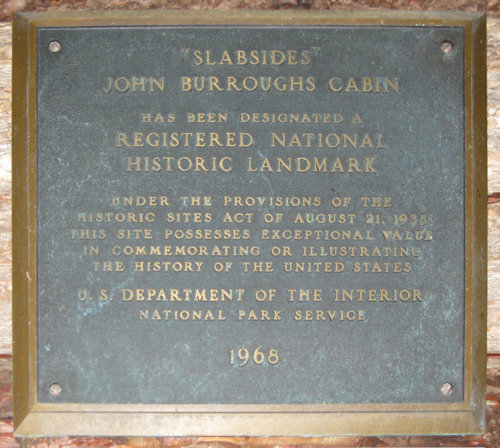 – 8/8/2011
The simple one-story log cabin built by naturalist John Burroughs and his son, named for the rough bark-covered lumber strips covering its outer walls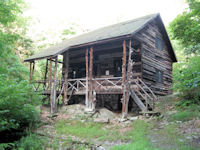 Soho Cast-Iron Historic District (New York) - 11/20/2010
The district consists of 26 blocks and approximately 500 buildings and features the world's largest collection of iron-clad building facades.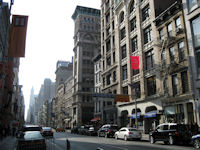 Solomon R. Guggenheim Museum (New York) - 9/13/2013
Designed by Frank Lloyd Wright, the cylindrical museum building, wider at the top than the bottom, is the permanent home of a collection of Impressionist, Post-Impressionist, early Modern and contemporary art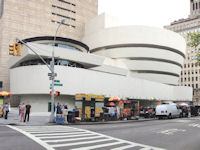 Springside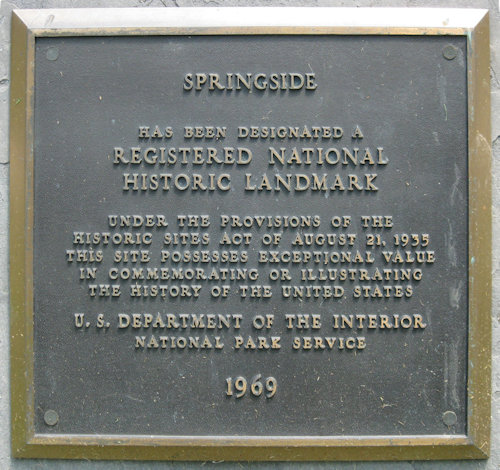 (Poughkeepsie) - 7/11/2011
The estate of Matthew Vassar; detailed plans for a landscape and complex of buildings were drawn up by designer Andrew Jackson Downing prior to his death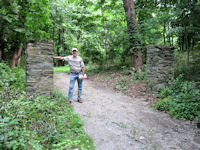 St. Ann-Holy Trinity Church (New York) - 12/28/2012
Built as Church of the Holy Trinity in 1847, the Episcopal parish was closed in 1957, and St. Ann's moved into the building in 1969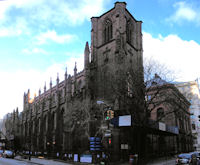 St. Bartholomew's Church and Community House (New York) - 3/6/2017
This third edifice for the church, built in 1916, is a simplified Byzantine Revival design with magnificent bronze doors moved from the second church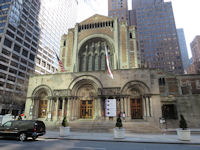 St. George's Episcopal Church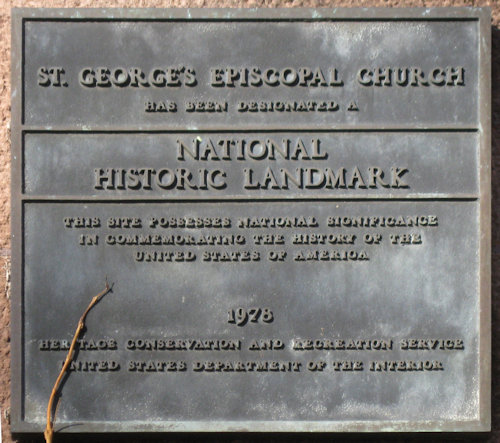 (New York) - 12/29/2011
Built in 1846, it was designed by architects Leopold Eidlitz and Charles Otto Blesch influenced by the plain hall churches of Germany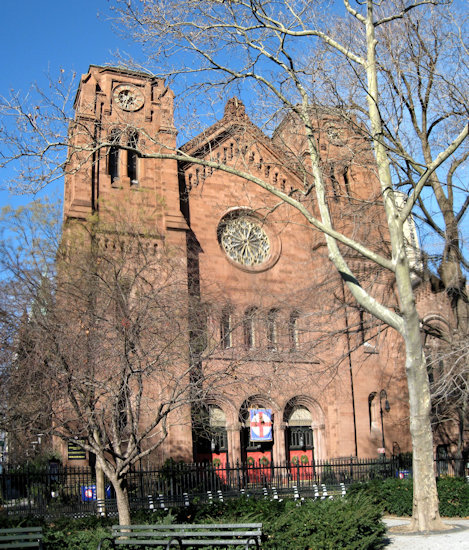 St. Patrick's Cathedral (New York) - Multiple (6/24/2011 shown)
A decorated Neo-Gothic-style Roman Catholic cathedral and the seat of the archbishop of the Roman Catholic Archdiocese of New York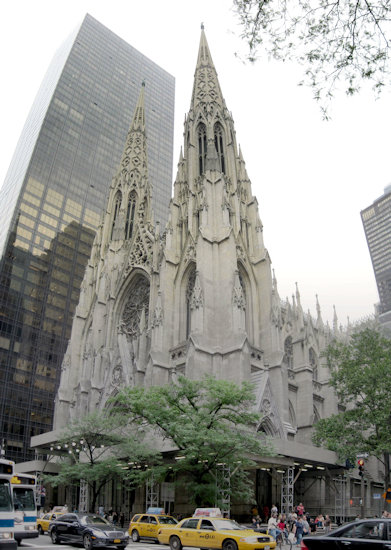 St. Paul's Cathedral (Buffalo) - 7/20/2020
Built in 1849-51 to a design by Richard Upjohn , and believed by him to be his finest work, it is the cathedral of the Episcopal Diocese of Western New York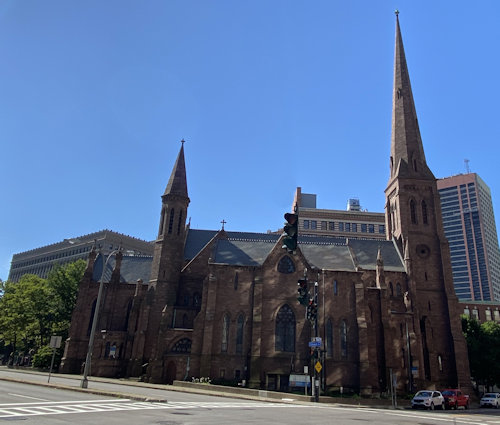 St. Paul's Chapel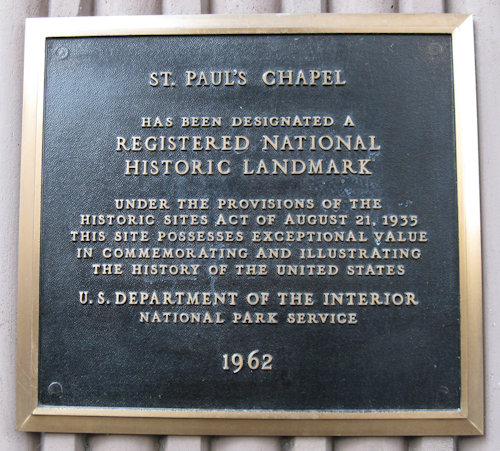 (New York) - 11/26/2011
Built in 1766 as a "chapel-of-ease" for Trinity Church parishioners, the Georgian-style Episcopal chapel is the oldest surviving church building in Manhattan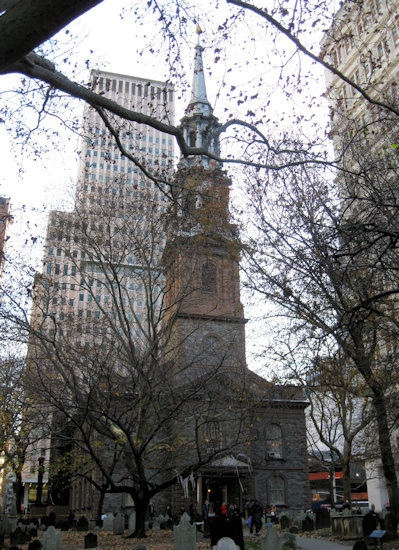 Stepping Stones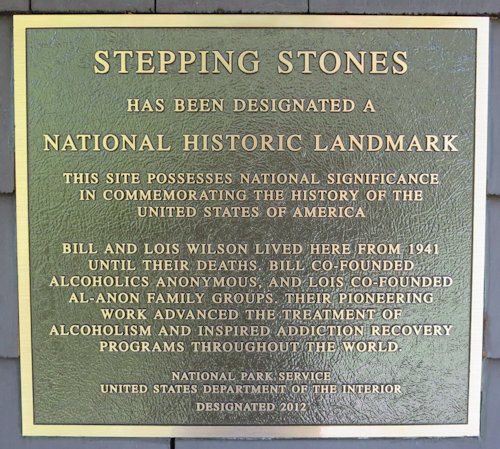 (Katonah) - 7/25/2015
This was the home of Alcoholics Anonymous co-founder Bill Wilson (Bill W.) and his wife Lois Wilson (Lois W.), co-founder of Al-Anon/Alateen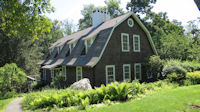 Stonewall (New York) - 12/29/2011
This bar is the site of the Stonewall riots of 1969, which are widely considered to be the single most important event leading to the gay liberation movement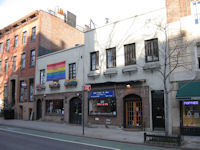 Stony Point Battlefield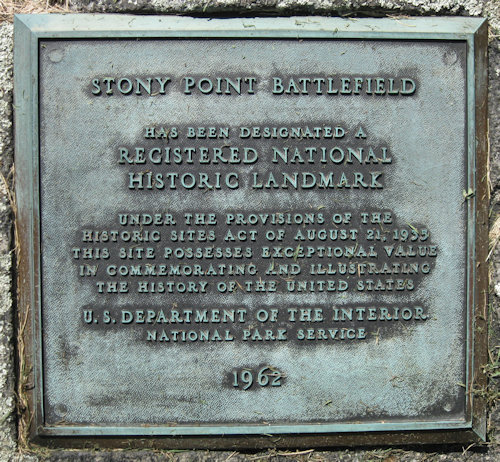 - 7/14/2011
The site of one of the last battles in the northeastern colonies, where General Anthony Wayne led the infantry in a July 1779 midnight attack on the British, seizing the site's fortifications and taking the soldiers prisoner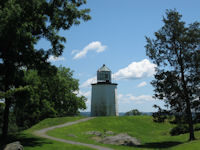 Sunnyside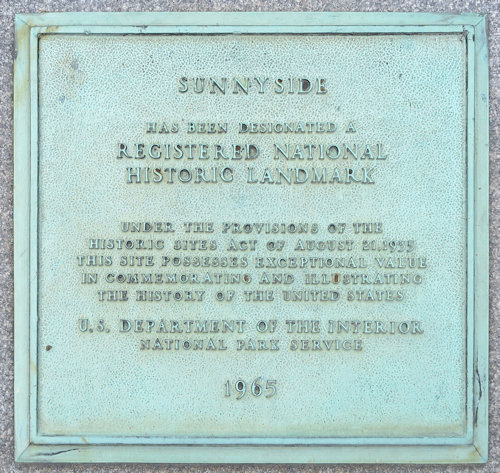 (Tarrytown) - 5/28/2017
This cottage-like estate was home of author Washington Irving and shows Dutch Colonial Revival, Scottish Gothic and Tudor Revival influences
Surrogate's Courthouse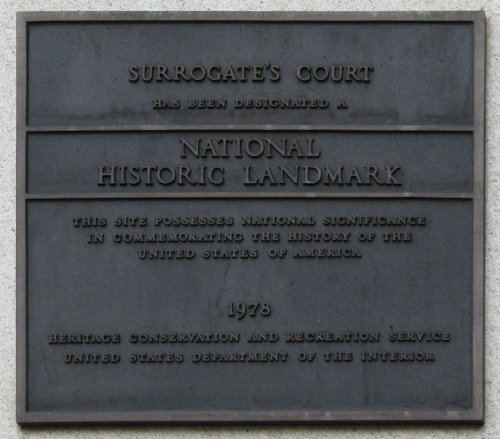 (New York) - 11/26/2011
The Beaux Arts municipal building opened in 1907 and is also known as the Hall of Records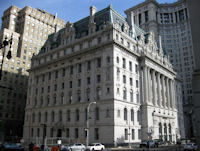 Susan B. Anthony House (Rochester) - 7/21/2020
The home of the suffragette for forty years, while she was a national figure in the women's rights movement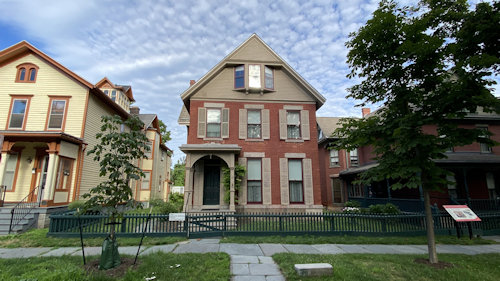 Third Judicial District Courthouse (New York) - 12/29/2011
The building was originally built between the years 1874-1877 from a design by architects Frederick Clarke Withers and Calvert Vaux and its polychrome materials of red brick, black stone, white granite, variegated roof slates are typical of Vaux's "Ruskinian gothic" aesthetic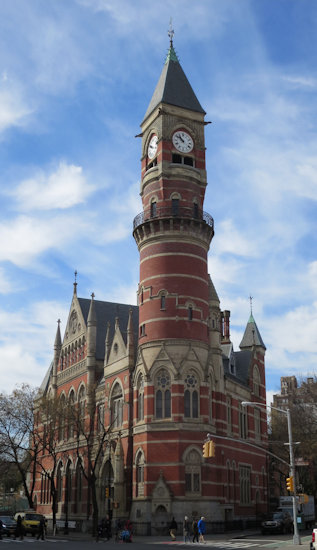 Thomas Cole House (Catskill) - 9/10/2004
The home of the founder of the Hudson River School of American painting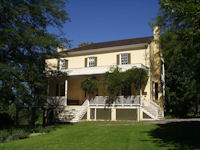 Thomas Moran House (East Hampton) - 8/16/2012
This is the 1837–1926 home of the painter of the Hudson River School, known for his landscape paintings in the American West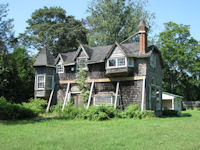 Thomas Paine Cottage (New Rochelle) - 12/28/2013
The wood-frame saltbox home from 1802 to 1806 of the Revolutionary War hero and author of Common Sense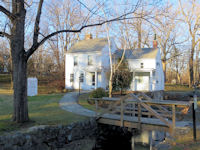 Tiffany Building (New York) - 12/29/2011
The landmark former home of the Tiffany and Company store, completed in 1905 and serving as the home of Tiffany until 1940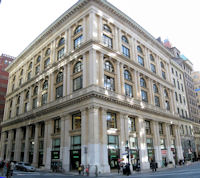 Top Cottage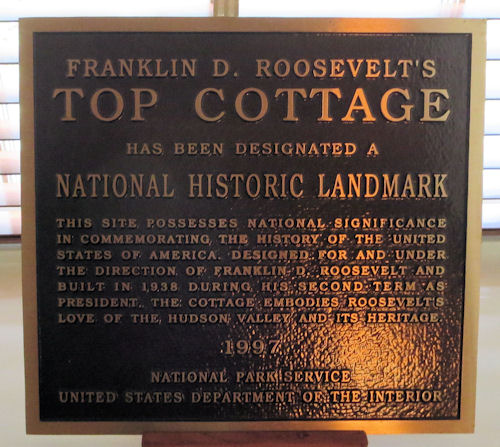 (Hyde Park) - 10/20/2018
The stone structure is a 1938 private retreat designed by and for Franklin D. Roosevelt, in particular to accommodate his need for wheelchair accessibility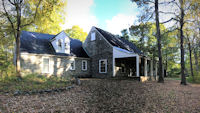 Town Hall (New York) - 6/27/2012
Designed by the architectural firm of McKim, Mead & White and built by The League for Political Education as a meeting space where people of every rank and station could be educated on the important issues of the day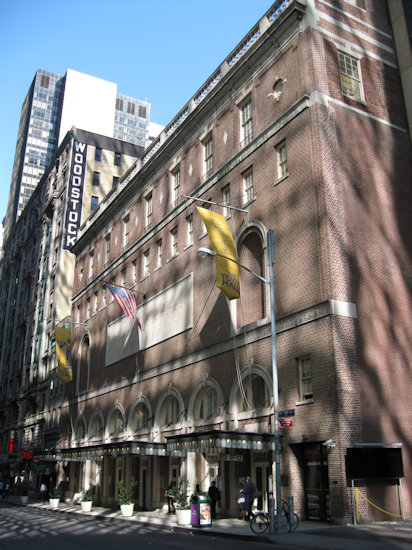 Triangle Shirtwaist Factory Building (Brown Building)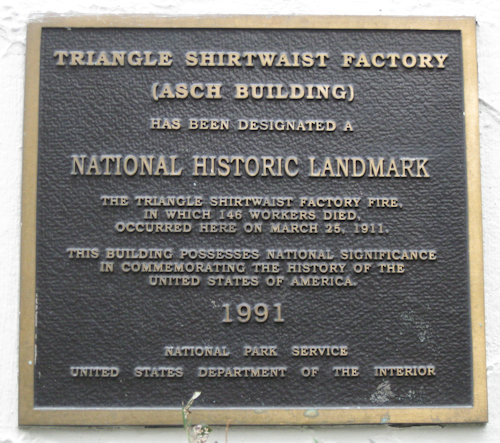 (New York) - 11/20/2010
Built in 1900 in the neo-Renaissance style, the top three floors of the building were at one time occupied by the Triangle Shirtwaist Factory, which was the site of the 1911 fire that killed 146 garment workers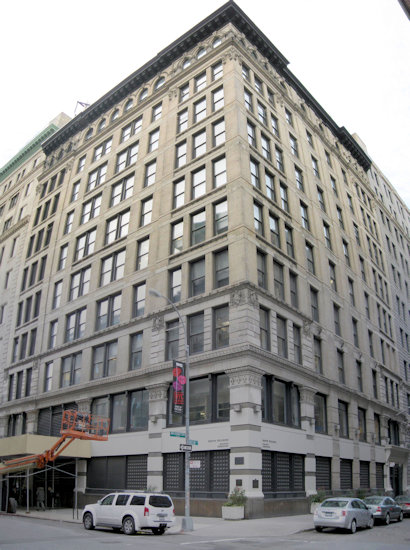 Trinity Church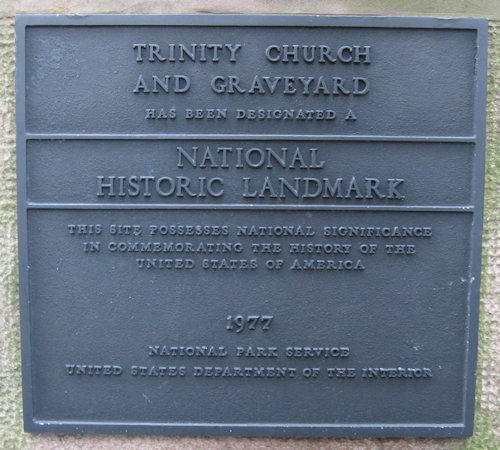 (New York) - 11/26/2011
The third and current Trinity Church is a classic example of Gothic Revival architecture; it was finished in 1846 and at the time of its completion was the highest point in New York, serving as a welcoming beacon for ships sailing into New York Harbor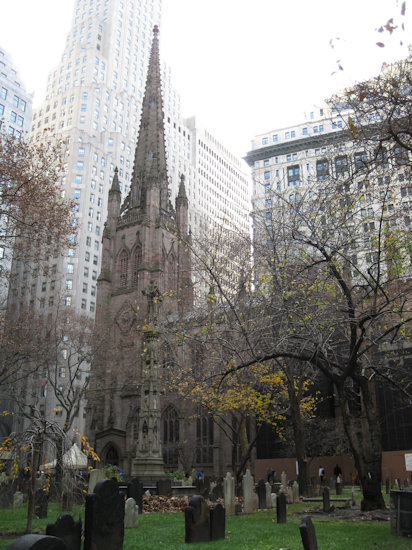 Troy Savings Bank (Troy) - 9/27/2010
The Troy Savings Bank was founded in 1823, moved to its current location in 1870 and is notable for having a music hall constructed on the second floor above the bank itself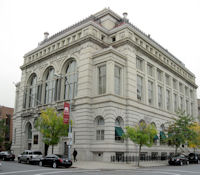 Union Square (New York) - 12/30/2010
An important and historic intersection in New York City, the "union" of Broadway and the former Bowery Road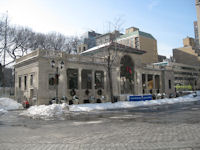 United Charities Building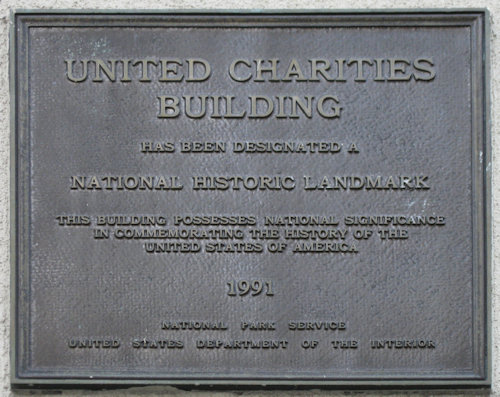 (New York) - 12/30/2010
Built in 1893 by John S. Kennedy, a wealthy banker, for the Charity Organization Society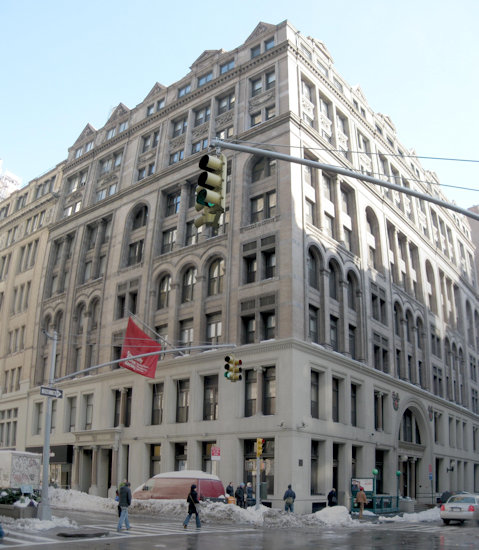 United States Custom House (New York) - 11/26/2011
The Alexander Hamilton U.S. Custom House was designed by Minnesotan Cass Gilbert, who later designed the Woolworth Building; it is a masterpiece of the Beaux-Arts style built 1902–1907 by the federal government to house the duty collection operations for the port of New York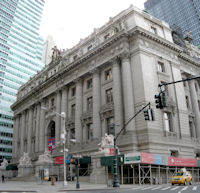 United States Military Academy (West Point) - 9/1965
"West Point" is a four-year coeducational federal service academy where students are officers-in-training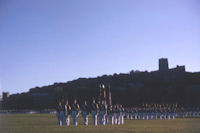 USS Intrepid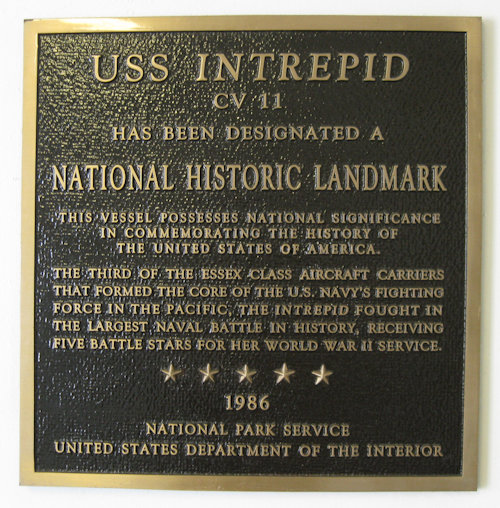 (New York) - 9/6/2013
One of 24 Essex-class aircraft carriers built during World War II for the U.S. Navy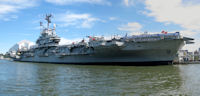 USS Slater (DE-766) (Albany) - 7/25/2012
This is a Cannon-class destroyer escort, launched in February 1944, that served in the U.S. Navy in WWII and later in the Greek Navy, and was named for Frank O. Slater, a sailor killed during the Battle of Guadalcanal.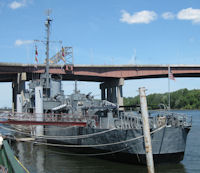 USS The Sullivans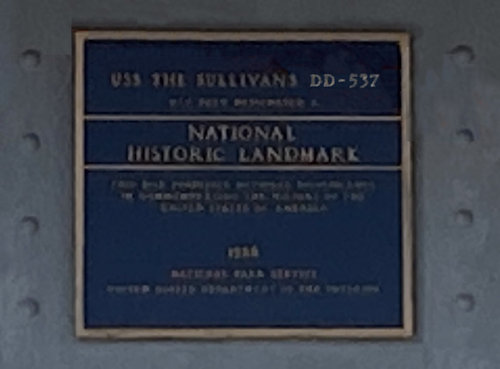 (Buffalo) - 7/20/2020
Launched in 1943, she is a Fletcher-class destroyer, named in honor of the five Sullivan brothers who lost their lives on the Juneau in 1942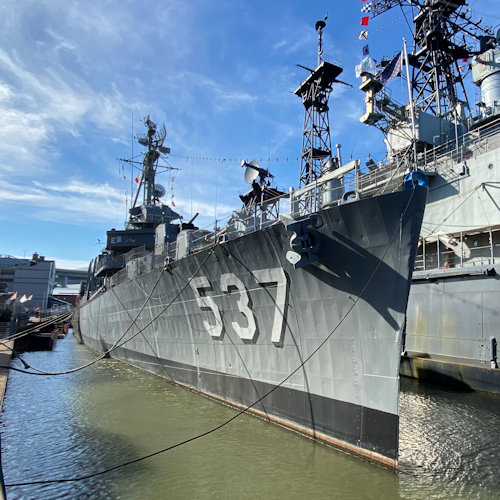 Utica State Hospital (Utica) - 11/29/2010
The Greek Revival structure was New York's first state-run facility designed to care for the mentally ill and was one of the first such institutions in the U.S.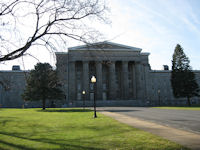 Valcour Bay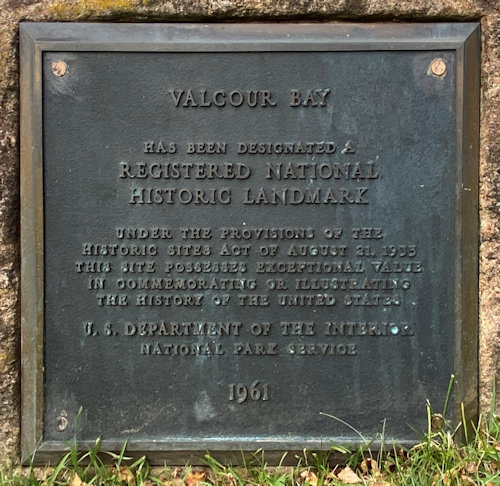 (Valcour) - 10/17/2020
The site of the 1776 Battle of Valcour Island during the Revolutionary War, where the Continental Navy was defeated by the British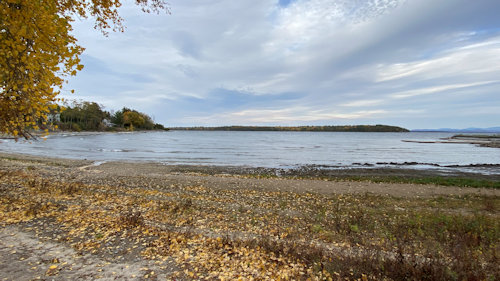 Van Alen House (Kinderhook) - 7/2/2016
An historic Dutch brick farmhouse built in about 1737and believed to have served as the inspiration for the Van Tassel homestead in The Legend of Sleepy Hollow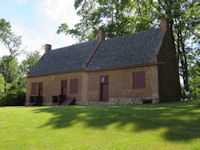 Van Cortlandt House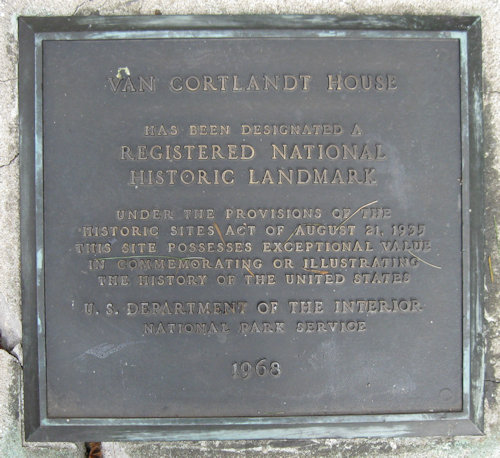 (New York) - 12/28/2013
The 1748 Georgian-style home of Frederick Van Cortlandt, used during the Revolutionary War by Rochambeau, Lafayette, and Washington and the oldest building in The Bronx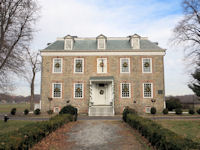 Van Cortlandt Manor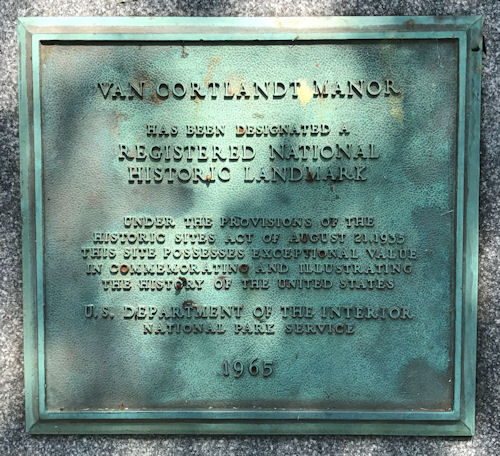 (Croton-On-Hudson) - 8/26/2017
The stone and brick Manor house was built before 1732 on a 1000 acre tract of the original 86,000 acre Van Cortlandt holding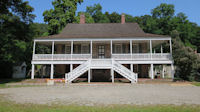 Vassar College Observatory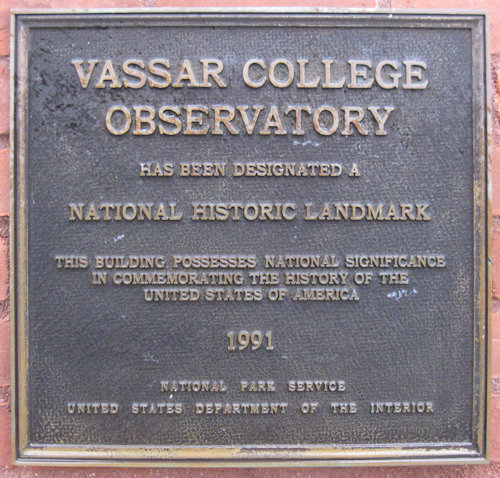 (Poughkeepsie) - 12/13/2010
The first building on the college's campus, known for its association with Maria Mitchell, the first widely known woman astronomer in the U.S.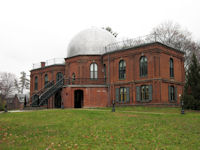 Vassar College Old Main Building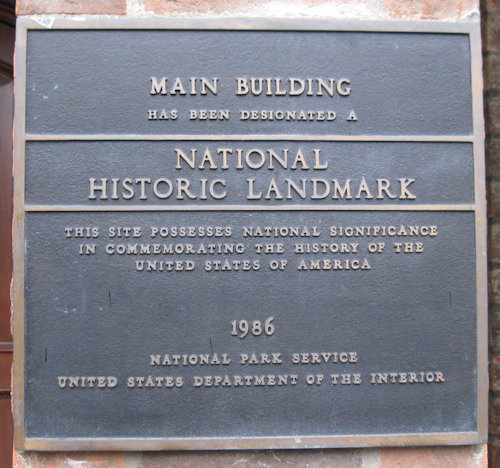 (Poughkeepsie) - 12/13/2010
Built by James Renwick Jr. in the Second Empire style in 1861, it is the second building in the history of what was one of America's first women's colleges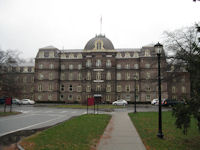 Villa Lewaro (Greenburgh) - 12/16/2010
The Italianate villa was the 1918 to 1919 home of Madam C. J. Walker, believed to be the first American female and first African-American female, self-made millionaire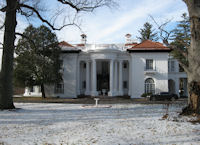 Voorlezer's House (New York) - 4/14/2012
The oldest known schoolhouse in America, used by a voorlezer, or an assistant to a pastor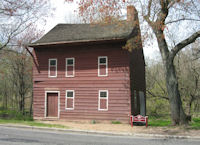 W. & L.E. Gurley Building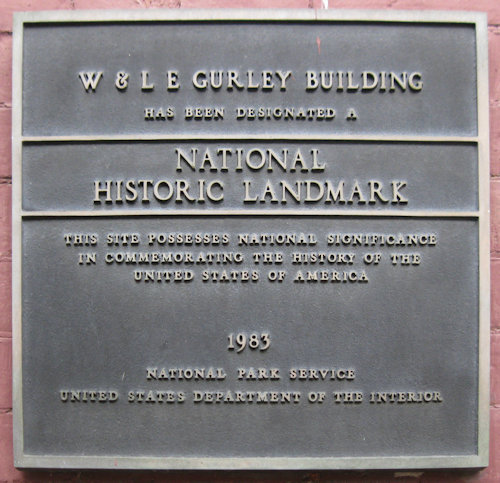 (Troy) - 9/27/2010
A classical revival building that housed the W. & L. E. Gurley Company, a maker of precision measuring instruments, from its construction in 1862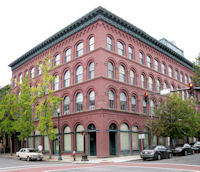 Wards Point Archeological Site (New York) - 4/14/2012
One of the largest and best preserved sites for studying American Indian people in the New York area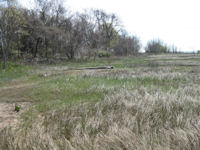 Washington's Headquarters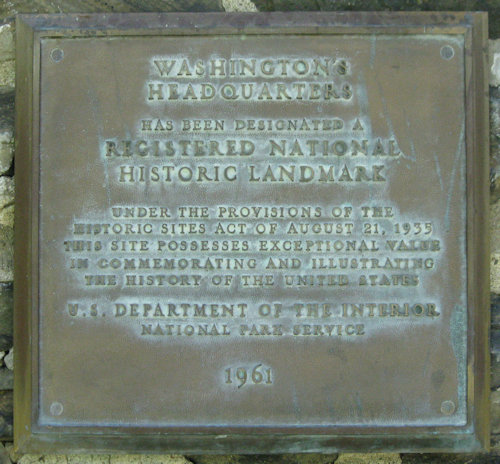 (Newburgh) – 8/11/2011
A site overlooking the Hudson, consisting of the Hasbrouck House, the longest-serving headquarters of George Washington during the Revolutionary War, and three other structures, including a monument named the "Tower of Victory"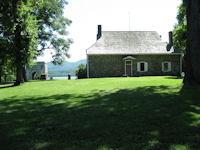 Watervliet Arsenal (Watervliet) - 9/27/2010
Founded in 1813 to support the War of 1812, this is the oldest continuously active arsenal in the U.S., and today produces much of the artillery for the army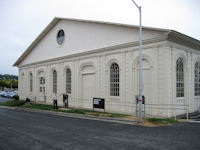 Will Marion Cook House (New York) - 2/17/2012
The apartment house where the leading black composer and musician, called the "master of all masters of our people" by Duke Ellington, lived from 1918 to 1944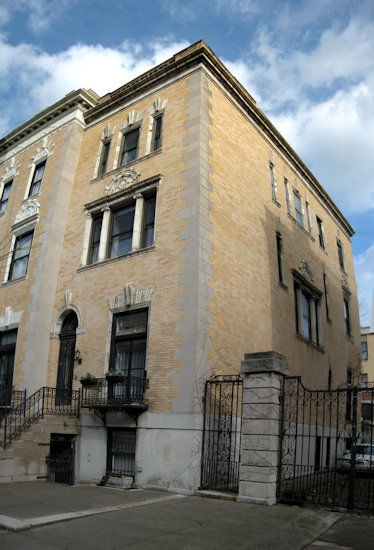 Willard Memorial Chapel (Auburn) - 3/28/2011
The chapel was designed by Andrew Jackson Warner and features the stained-glass windows and interior decoration of Louis Comfort Tiffany the last surviving complete installation by Tiffany in its original location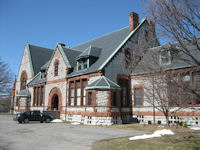 William Floyd House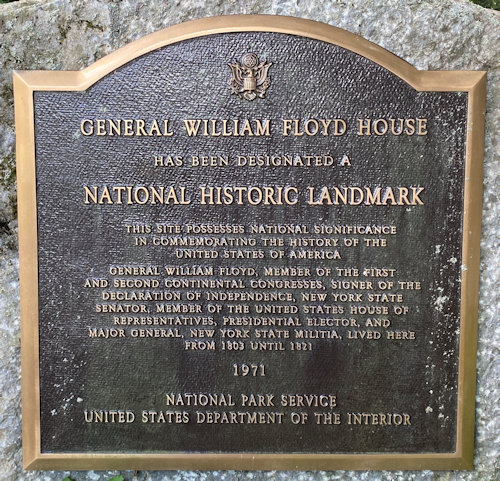 (Westernville) - 7/26/2011
The home of the signer of the Declaration of Independence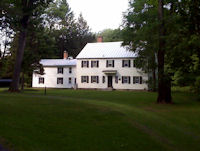 William Seward House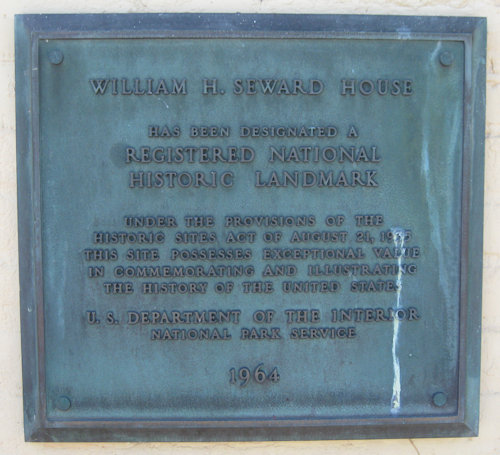 (Auburn) - 3/28/2011
The home of the state senator, governor of New York state, U.S. senator, presidential candidate, and Secretary of State, also known for the 1867 purchase of Alaska, later called "Seward's Folly"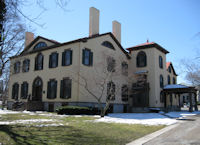 Woodchuck Lodge - 12/2/2010
The summertime home of naturalist John Burroughs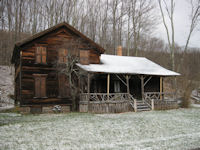 Woodlawn Cemetery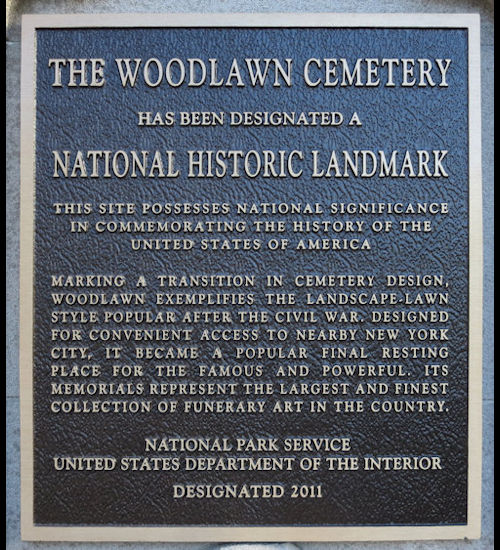 (New York) - 12/28/2013
A rural cemetery opening in 1863, it shows the transition from the rural cemetery popular at the time of its establishment to the more orderly 20th-century cemetery style and is today one of the largest cemeteries in New York City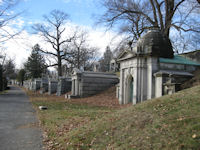 Woolworth Building (New York) - 11/26/2011
One of the oldest skyscrapers in New York, it was constructed in neo-Gothic style by architect Cass Gilbert, who was commissioned by Frank Woolworth in 1910 to design the tallest building in the world as the Woolworth Company's new corporate headquarters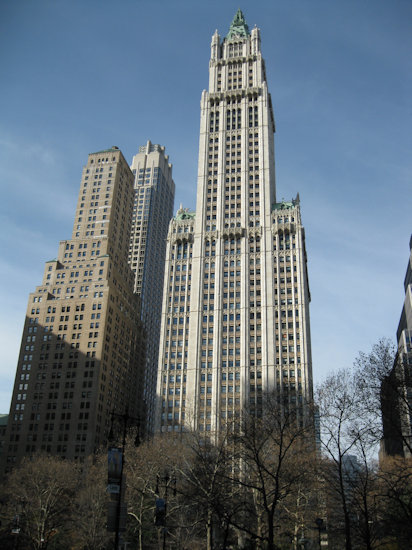 Wyckoff House (New York) - 4/14/2012
Estimated to have been built in 1652, it is the oldest surviving example of a Dutch saltbox frame house in America, and was one of the first structures built by Europeans on Long Island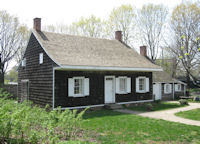 Wyckoff-Bennett Homestead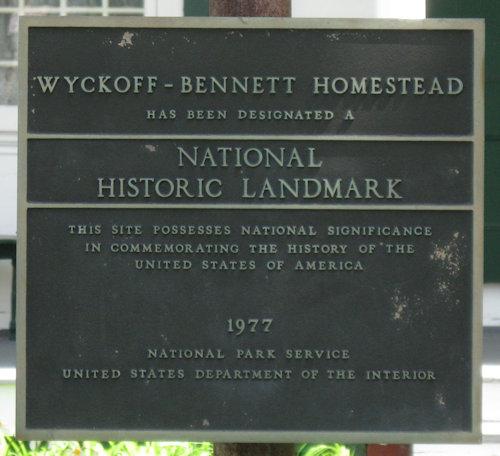 (New York) - 4/14/2012
One of the last privately owned Dutch Colonial houses in New York City it is believed to have been built before 1766 and housed Hessian soldiers during the Revolution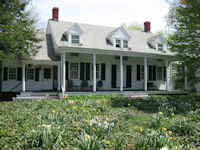 Yaddo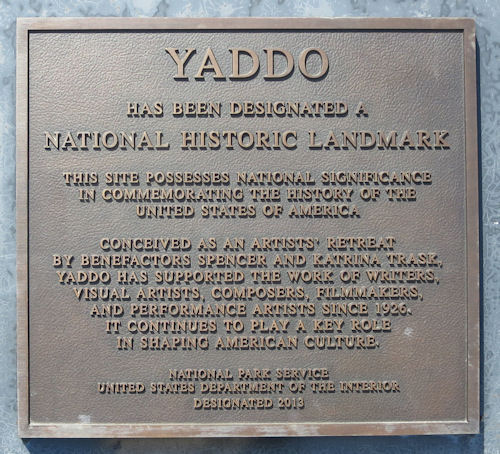 (Saratoga Springs) - 7/24/2019
An artists' community with a mission to nurture the creative process by providing an opportunity for artists to work without interruption in a supportive environment