---
National Historic Landmarks
---
---
45 Rhode Island National Historic Landmarks
---
The Arcade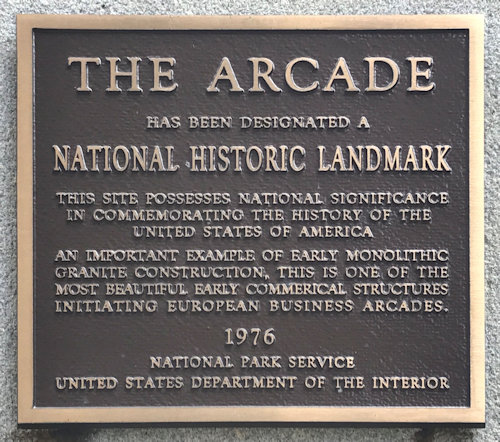 (Providence) - 5/26/2019
A historic shopping center built in 1828, notable as the first enclosed shopping mall in the U.S.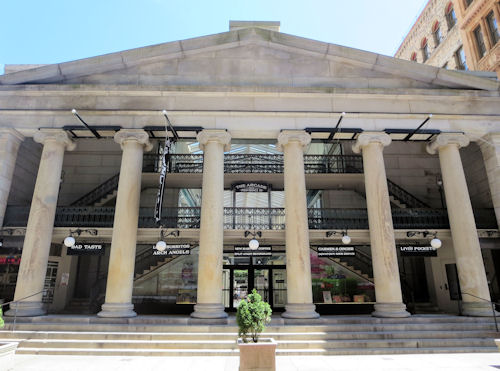 Battle of Rhode Island Site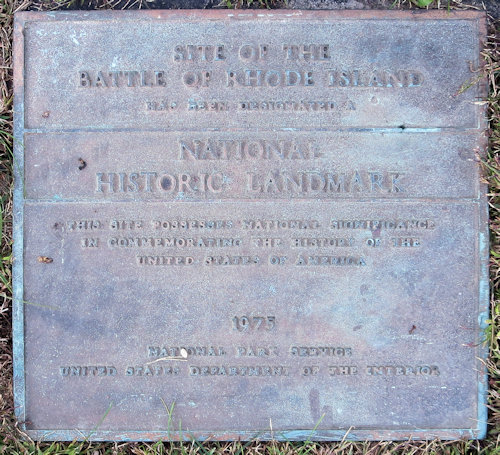 (Portsmouth) - 10/12/2014
This is roughly the location where American troops sought to recapture the island of Rhode Island, and was the first joint land and sea operation of American and French forces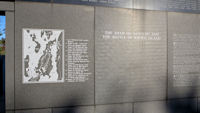 Bellevue Avenue Historic District (Newport) - 8/24/1996
Includes mansions built by affluent summer vacationers around the turn of the 20th century, such as the Vanderbilt and Astor families, many of the homes representing pioneering work by major architects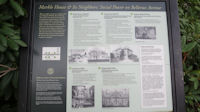 Breakers, The (Newport) - 8/24/1996
The Newport summer home of Cornelius Vanderbilt II, designed by architect Richard Morris Hunt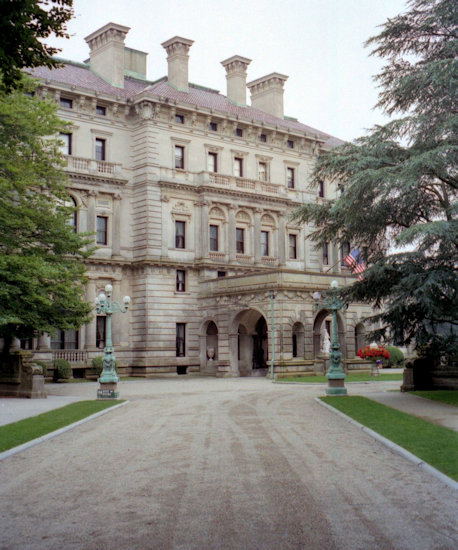 Brick Market (Newport) - 10/2/2017
Built in 1762 in the colonial Georgian style, as a traditional British style market house, the building's first level was an open-air arcade that served as a marketplace for various goods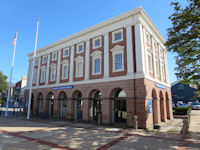 Chateau-sur-Mer (Newport) - 7/3/1999
A landmark of Victorian architecture completed in 1852 as a French villa for William Shepard Wetmore by Seth Bradford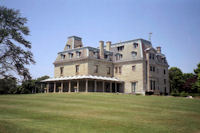 Cocumscussoc Archeological Site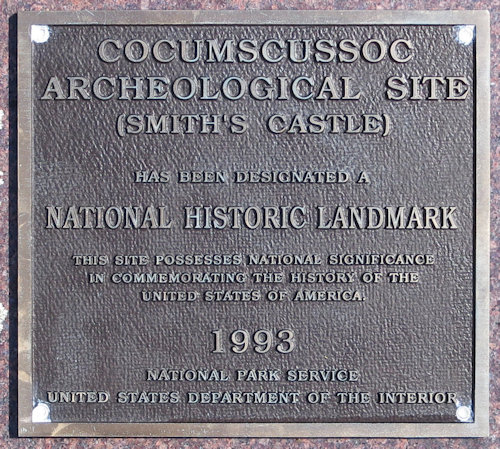 (Wickford) - 10/12/2014
The house Smith's Castle is one of the oldest houses in RI, and digs in the vicinity have yielded significant artifacts and information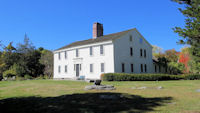 College Hill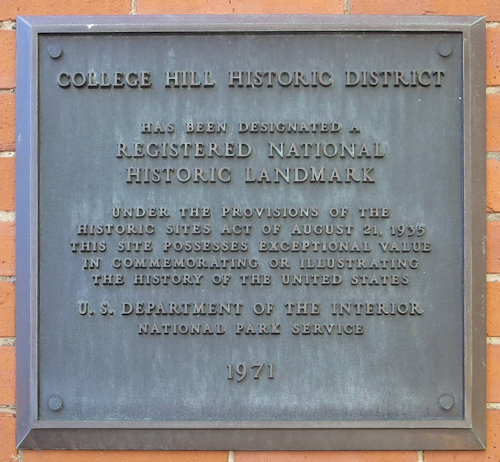 (Providence) - 10/12/2014
The area marks the original settlement of Roger Williams in 1636 on the banks of the Providence River after he was banished from Massachusetts, with a number of schools atop the hill, giving it its name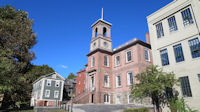 Corliss-Carrington House (Providence) - 10/14/2014
Built in 1812 for John Corliss, it is significant as a high-quality and well-preserved example of a Adamesque-Federal style town house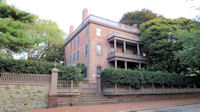 Crescent Park Looff Carousel (Riverside) - 10/12/2014
The hand-carved carousel, in hippodrome building with onion dome, was built in 1895 by Charles I. D. Looff in Brooklyn, NY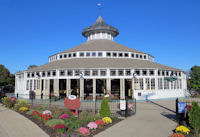 Edward King House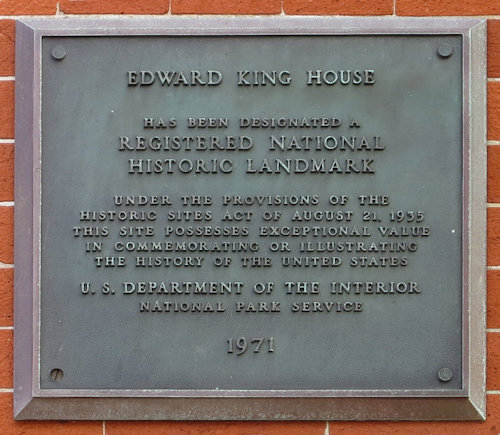 (Newport) - 10/13/2014
The 1845 "Italian Villa" style was the largest and grandest house in Newport when it was built for the landowner, making his fortune through the China Trade
Eleazer Arnold House (Lincoln) - 5/26/2019
A "stone-ender" house built by the tavern keeper in about 1693, still closely resembling its form from early Rhode Island settlement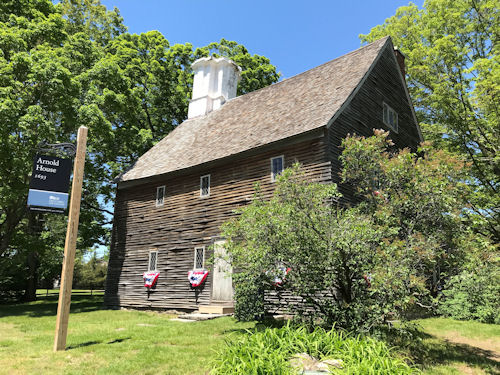 The Elms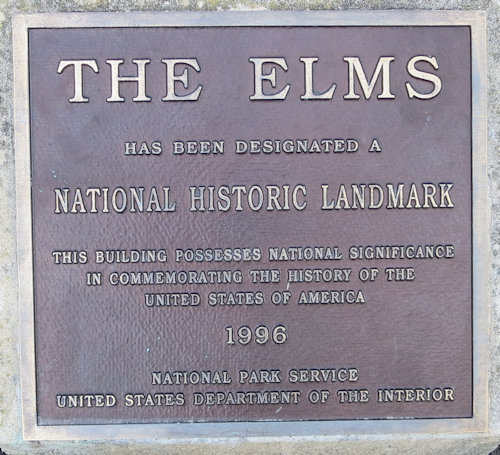 (Newport) - 10/13/2014
A large mansion, or "summer cottage", designed for the coal baron Edward Julius Berwind in French style, and completed in 1901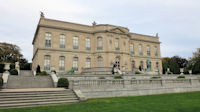 First Baptist Meetinghouse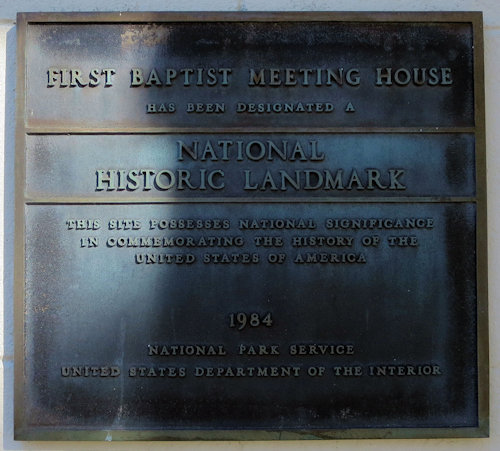 (Providence) - 10/12/2014
Hosting the oldest Baptist church congregation in the U.S., founded by Roger Williams in 1638, the present church building was erected in 1774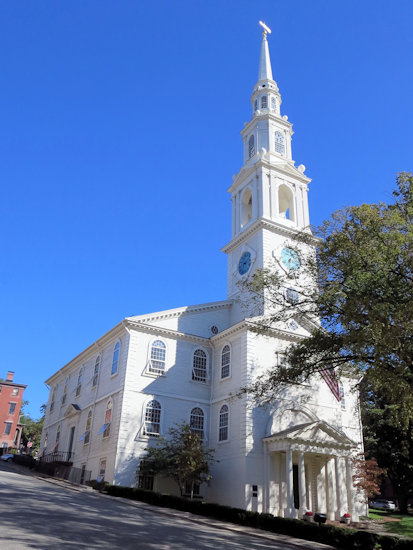 Fleur-De-Lys Studios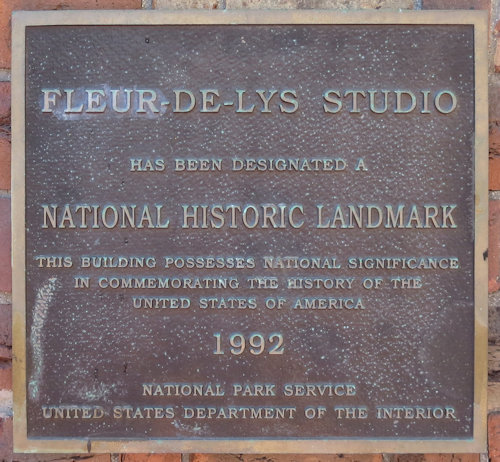 (Providence) - 10/12/2014
This is an historic art studio, and an important structure in the development of the Arts and Crafts Movement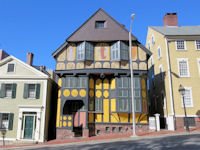 Flying Horse Carousel (Watch Hill) - 10/12/2014
Built around 1876, it is the oldest operating carousel in which the horses are suspended from chains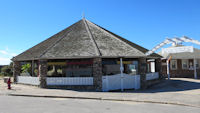 Fort Adams - 10/3/2017
A former Army post established on July 4, 1799 as a First System coastal fortification, named for President John Adams

General Nathanael Greene Homestead (Coventry) - 10/12/2014
The home of Revolutionary War general Nathanael Greene from 1770 to 1776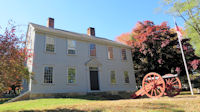 Gilbert Stuart Birthplace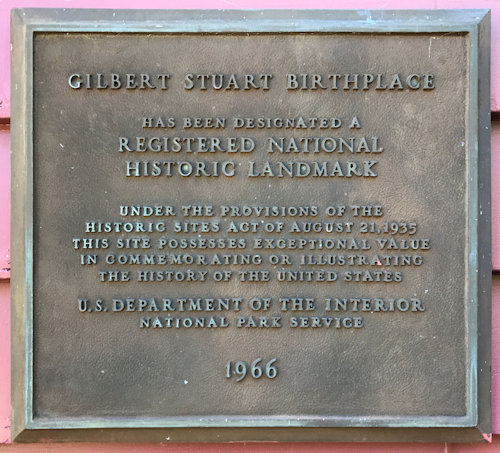 (Saunderstown) - 10/2/2017
The famous American portraitist of the 18th and 19th centuries, born in 1755, lived here for six years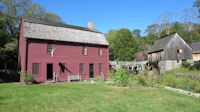 Governor Henry Lippitt House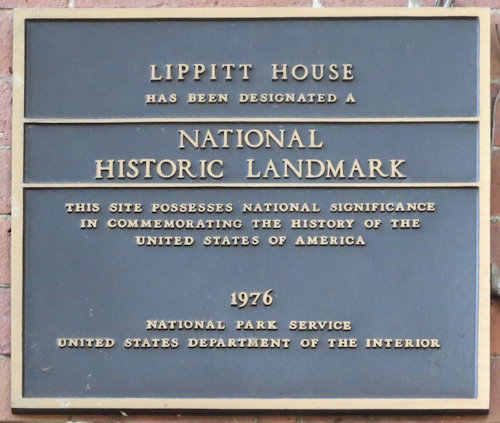 (Providence) - 10/14/2014
The 1865 house is one of the finest Italianate mansion houses in the state, and is notable for its association with the wealthy textile mill owner and 33rd Governor of RI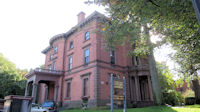 Hunter House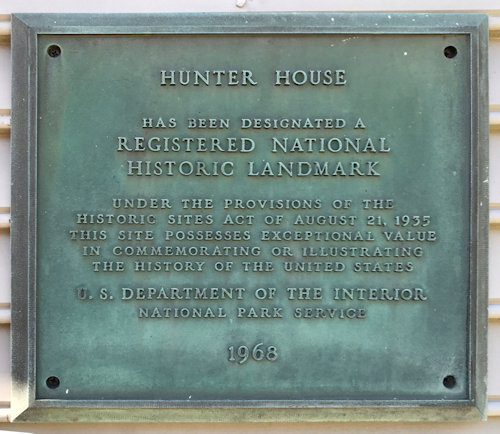 (Newport) - 10/3/2017
Built in 1748, the house was bought by William Hunter after the Revolution, who transformed it into a Georgian Mansion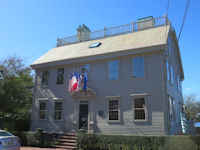 Isaac Bell House Jr. House (Newport) - 10/13/2014
The home of the successful cotton broker and investor was built during the Gilded Age and is an outstanding example of Shingle Style architecture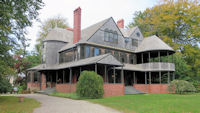 John Brown House (Providence) - 10/14/2014
The first mansion built in Providence (1786), and named after the original owner and one of the early benefactors of the University, the early American merchant, statesman and slave trader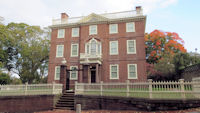 John N. A. Griswold House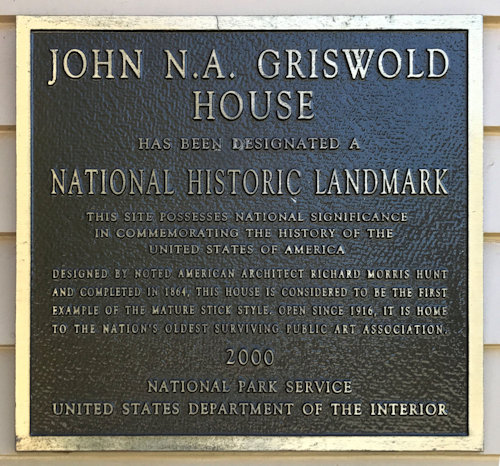 (Newport) - 10/2/2017
Completed in 1864, this is a seminal work architect Richard Morris Hunt and is considered to be the first example of the mature Stick Style of architecture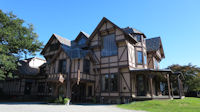 Joseph Reynolds House (Bristol) - 10/12/2014
Built around 1700, the three story wood frame house is one of the oldest buildings in Bristol and the oldest known three-story building in Rhode Island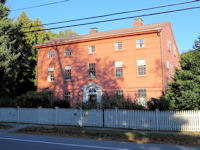 Kingscote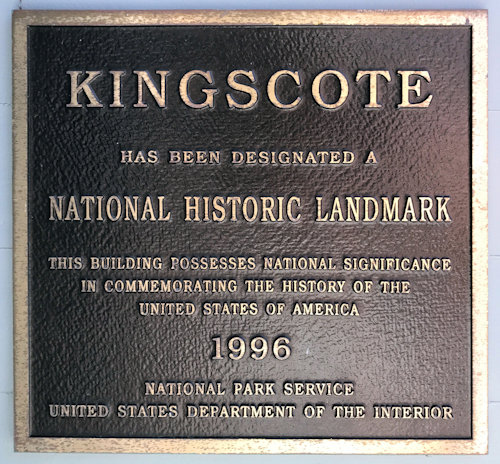 (Newport) - 10/3/2017
Designed by Richard Upjohn and built in 1839, the Gothic Revival mansion was one of the first summer "cottages" constructed in Newport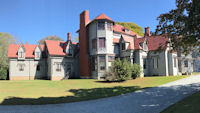 Marble House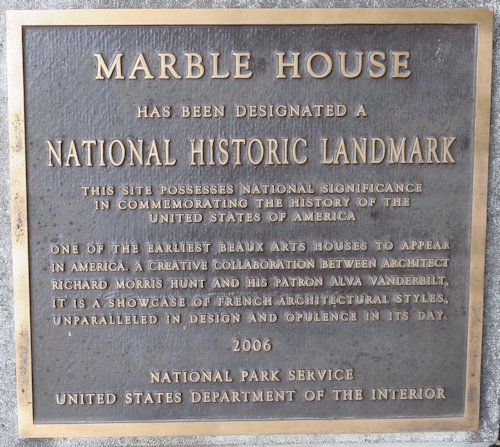 (Newport) - 10/13/2014
The 50 room, Beaux-Arts architecture Gilded Age mansion was built as a summer "cottage" retreat between 1888 and 1892 for Alva and W. K. Vanderbilt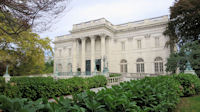 Nelson W. Aldrich House (Providence) - 10/14/2014
A Federal-style house that was the home of the U.S. Senator from 1881 to 1911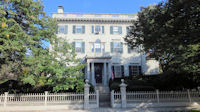 Newport Casino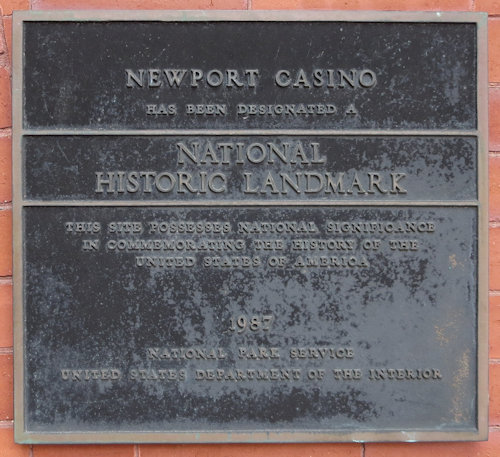 (Newport) - 10/13/2014
The social club complex was commissioned in 1880 by James Gordon Bennett, Jr. and designed by McKim and White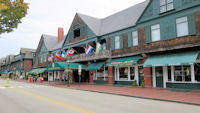 Newport Historic District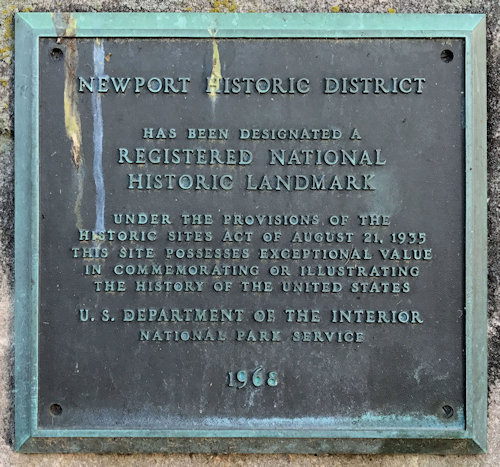 (Newport) - 10/2/2017
An extensive and well-preserved assortment of intact colonial buildings dating from the early and mid-18th century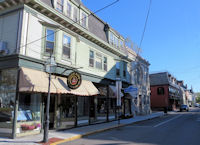 Nightingale-Brown House (Providence) - 10/14/2014
Built in 1792 by Captain Joseph Nightingale, and purchased in 1814 by Nicholas Brown, Jr.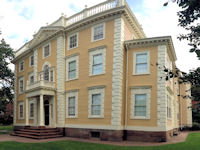 Ocean Drive Historic District (Newport) - 10/3/2017
Includes houses on large lots that overlook the beaches and ocean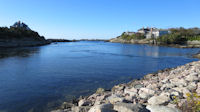 Old Slater Mill (Pawtucket) - 8/24/1996
The first water-powered cotton spinning mill in North America to utilize the Arkwright system of cotton spinning

Old State House (Newport) - 10/2/2017
A brick Georgian-style building completed in 1741; from independence to the early 20th century the state legislature alternated its sessions between here and Providence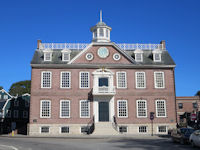 Redwood Library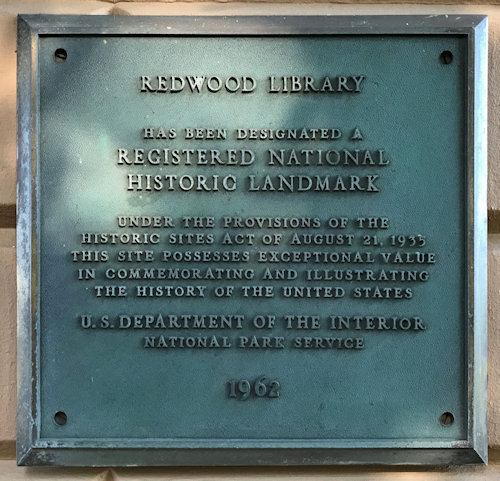 (Newport) - 10/2/2017
Founded in 1747, it is the oldest community library still occupying its original building in the U.S.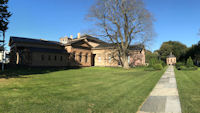 Thomas P. Ives House (Providence) - 10/14/2014
An extremely well-preserved and little-altered example of Adamesque-Federal style, built for the wealthy merchant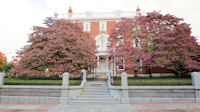 Trinity Church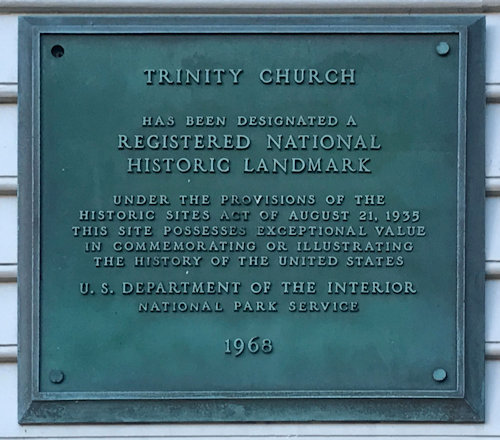 (Newport) - 10/2/2017
The oldest Episcopal parish in the state; the present Georgian church building was constructed in 1725 based on designs of Sir Christopher Wren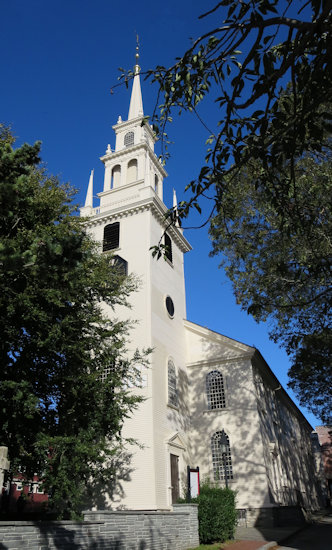 United Congregational Church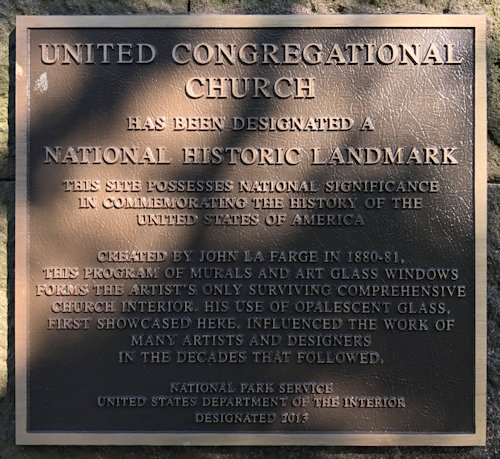 (Newport) - 10/2/2017
Designed in a Lombard Romanesque style and built in 1857, it is an expression of a mid-19th-century sentiment to embrace Romanesque architectural forms from early Christianity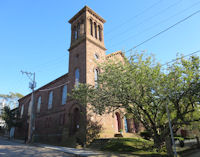 Wanton-Lyman-Hazard House (Newport) - 10/2/2017
Built ca. 1697, it is the oldest surviving house in Newport and is also one of the oldest surviving houses in the state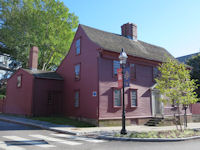 William Watts Sherman House (Newport) - 10/13/2014
Built by the banker in 1875 and generally acknowledged as the prototype for what later became known as the Shingle Style in American architecture