---
Route 66
---
Route 66 extends from Chicago to Santa Monica, running through the states of Illinois, Missouri, Kansas, Oklahoma, Texas, New Mexico, Arizona, and California. Route 66, also known as the "Mother Road" and the "Main Street of America" was commissioned in 1926, the year U.S. numbered highways came into existence. It was deactivated in 1984 but remains a popular historic "destination".
Unlike the Lincoln Highway, I have not made a very concerted effort to travel Route 66 in its entirety. With the exception of a few large segments, most of the time it was more of just happening to be on it. Maybe in the future I can finish the whole thing.
Here are my log entries for what I've done, and below is a map of those segments. The map waypoints are labeled by date and 'S'tart or 'E'nd.
---
5/17/98 Stopped in Kingman for Denny's dinner. Got on historic Route 66 here, and drove about 50 miles through wonderful mountain areas, and through the little town of Oatman with mules wandering around. Joined up with the interstate at the Colorado River, into California and all the way to Barstow.
5/18/98 [from St. John's Episcopal and St. Vincent's churches in Los Angeles] Drove up to Sunset Boulevard which at that point was part of Route 66. Followed it to Santa Monica and took that all the way down to the ocean - the end of 66.
---
5/21/00 On the way, near Joplin at Galena, got on old Route 66 for a while. [to Riverton]
5/22/00 Went into Carthage for a drive around the old section to look at Victorian homes, and went along Route 66 for a little.
---
5/22/01 Another quick stop at K-Mart [in Albuquerque], then drove Route 66 through the historic area to near Old Town and the Museum of Natural History and Science. Walked the Trip Through Time museum exhibit, saw excellent large screen movie "Lost Worlds", and then equally good planetarium show about the universe. Got back on 66, good lunch at Mac's then continued on 66 to I40 and the Acoma Sky City. ... Back on the road to near Gallup and checked in the Best Western Red Rock on 66.
5/23/01 Down 66 through Gallup, then up to Canyon De Chelly NM in Arizona. ... Left the [Petrified Forest National] park as it closed, and headed into Holbrook on I40, the westbound Route 66. Had dinner at Denny's on Route 66, then checked in a Best Western Adobe, also on 66.
---
5/21/02 Headed west [from Oklahoma City] on Route 66 to El Reno, stopping for ice cream on the way.
5/22/02 Drove into town [Elk City], with a detour to see a bit more of R66. Saw the National Route 66 Museum (not as good as the OK), as well as a little recreated town and a good farm implement museum. A little shopping at Walmart, then headed out on R66 to the interstate.
5/23/02 ... then to the Cadillac Ranch to see the 10 Cadillacs buried in a field (scratched our names on one). From there on R66 into an older area [of Amarillo] for a little more souvenir shopping.
---
7/28/06 ... before crossing the Mississippi [from Illinois into Missouri] on I270, starting my Route 66 trek. Immediately off, parking just a bit downstream at the Chain of Rocks bridge, the original R66 crossing (now closed). Walked about 2/3 of the mile to the Illinois side, looking up river to the nearby I270 bridge and down to St. Louis. Couldn't take the heat, so in the car for the long drive on R66 (programmed into the GPS). Only a short stretch interstate west of St. Louis, getting off briefly for a look at Route 66 State Park (near Eureka) and an old building on R66, now a visitor center and museum. The rest of the way was on frontage roads, meandering north and south of the interstate through little towns, past now dead gas stations and motels – very cool! Wound up in Rolla (after 125 miles on R66) and checked in the Hampton (on Route 66!).
---
5/26/07 Followed Route 66 out of town all the way to Grants. Most of the way on frontage roads, at times on tight, curvy roads around rocks. In Grants, got coffee (on Route 66), then went to the NW New Mexico Visitor Center (part of NPS/BLM/FS). Got good info for where I was headed, then back on R66 and a short stretch of interstate. Headed SE on Route 6, part of the older stretch of R66. [Ended Route 66]
---
2/22/11 Headed back south and east on Interstates then off onto Route 66. We followed this west-ish, winding through country roads, 6-lane commercial areas and back roads, all staying on Historic Route 66. We did see some old-timey buildings and such, as we zigged and zagged around northwest OK City. We hit the spot where I had previously started heading west, but continued a little further in search of a sign in the rapidly-growing dark. I finally spotted one in the median of a divided road above a traffic light, so Ken pulled in and I walked back for a photo. Navigated off R66 ... .
---
My traveled segments on Google Earth:
Full Map -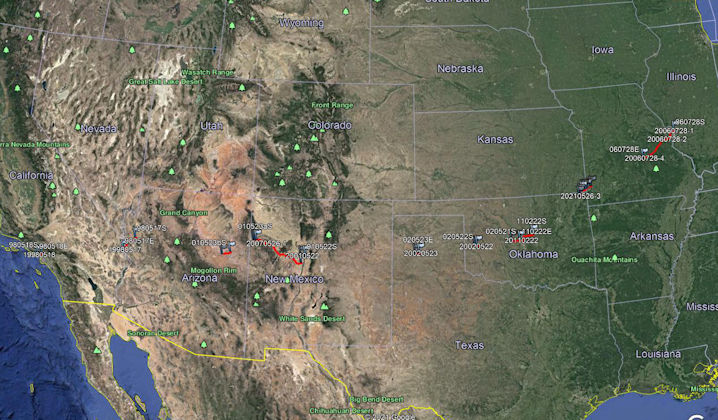 Section 1 -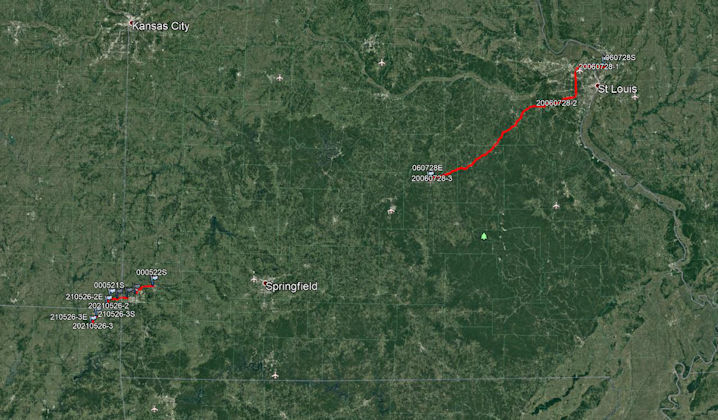 Section 2 -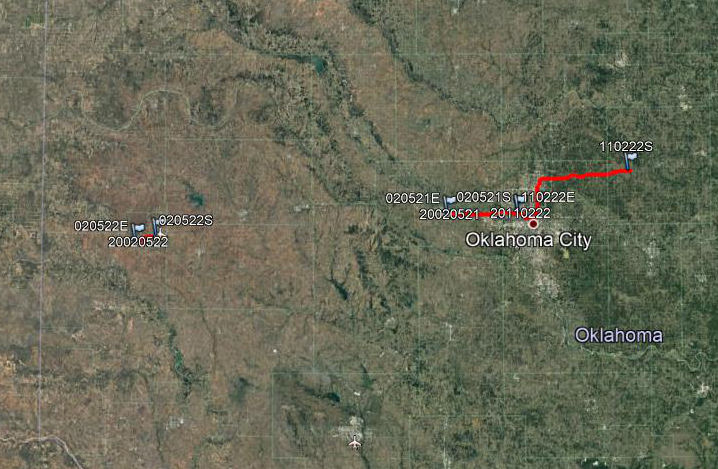 Section 3 -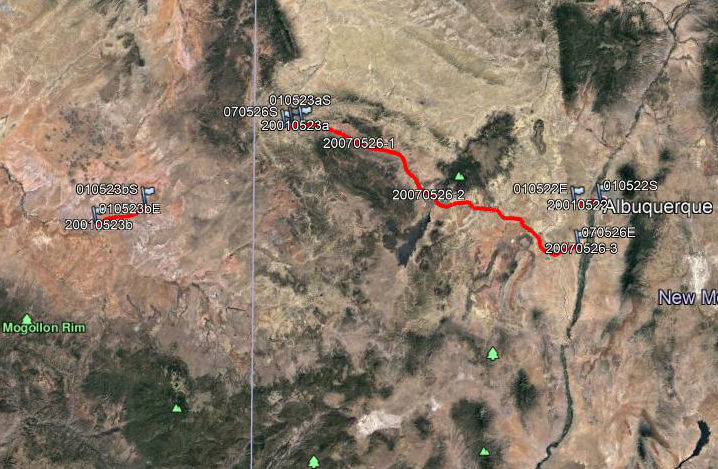 Section 4 -